2023-24 Indiana basketball player profile: Malik Reneau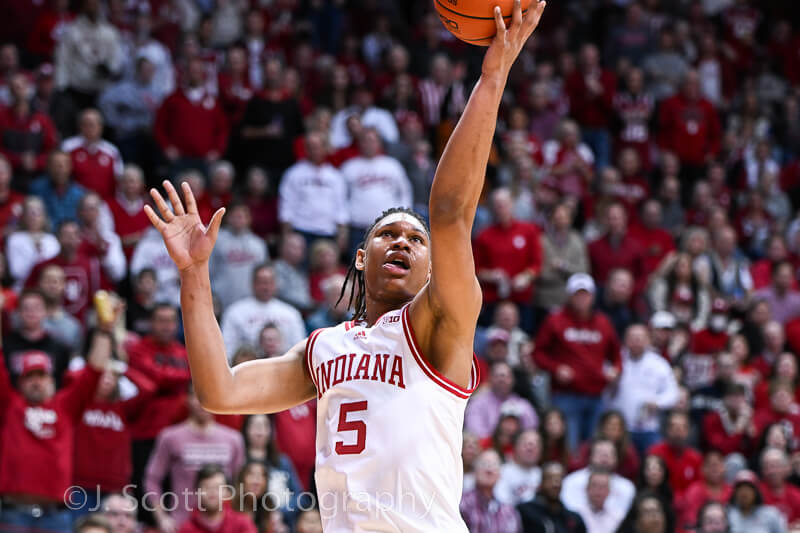 With the start of college basketball season on the horizon, we've transitioned from our look at other Big Ten programs to our player-by-player previews of the 2023-24 Indiana roster.
Today, our player profiles continue with a look at sophomore Malik Reneau.
Previously: Jakai Newton, Mackenzie Mgbako, Gabe Cupps, Kel'el Ware
Malik Reneau is expected to make a significant impact on the court this year for the Hoosiers, and if his work in the weight room is any indication, he's well on his way to being a breakout player.
The 6-foot-9 sophomore showed off his gains over the summer on X (formerly Twitter), sharing that his vertical jump increased by 4.5 inches and his body fat is down by 3.5 percent. He can also do ten more pull-ups and 14 more reps on the 185-pound bench press, a testament to his increased upper body strength and stamina.
1 Year Transformation ??? pic.twitter.com/s0ZbbPZTmx

— Malik A. Reneau (@MalikReneau) August 8, 2023
"His body is in much better shape than it was his freshman year," Mike Woodson said at Big Ten media day. "I'm expecting big things out of him because he's very talented and can do a lot of things on the floor. So he's just got to continue to work."
Reneau had a somewhat tumultuous first year, flipping between taking full advantage of his time on the floor to show off his skillset and falling victim to silly, self-induced mistakes. As one of only three Hoosiers to appear in all 35 games, the forward averaged 6.1 points and 3.7 rebounds per game. Reneau was a highly effective defensive rebounder and had a combination of footwork and moves in the post that made him a big threat despite just being a freshman.
However, putting Reneau out on the court also required an understanding that there would be turnovers and fouls. He led the team with 89 personal fouls on the season and committed 48 turnovers, many of which came from bad passes and travel calls. Those mistakes and an overly physical style of play may be allowable for a freshman coming off the bench, but Reneau can't afford to continue that kind of play this season.
With the departures of Trayce Jackson-Davis and Race Thompson, Reneau is squarely in position for a starting and leading role in Indiana's frontcourt. Only a sophomore, Reneau is among the few players on the team with experience playing for Woodson. It's a trait that sets him apart from the rest of his teammates and makes him a de facto leader, as he can help the others adjust to Woodson's kind of coaching.
Oregon transfer Kel'el Ware will join Reneau in the frontcourt and has the skill set to help Reneau reach that next level that Woodson and the Hoosiers need him to. With an agile partner like Ware, who can hustle up and down the floor, there's a good chance that Reneau can focus more around the rim and up against the glass — the places he shone last season.
Along with his relationship with Ware, which is already very solid, Reneau's physical transformation will be a major key to his game, and the success of Indiana as a whole. Someone will need to step up in a big way on the rebounding front, and Reneau is in a prime position to do just that with his height and ability to be physically assertive.
Despite all of the signs pointing to a breakout season from the sophomore, the fact remains that Reneau will need to have cleaned up his overall game to have a successful year. He will need to control his fouls and turnovers to ensure he can stay on the floor for as long as necessary. He won't be able to panic when the game speeds up around him, as he was wont to do last season.
There is also the question of his stamina; Reneau didn't play more than 24 minutes in a game his freshman year, averaging about 15 minutes per game. Off-court growth and work in practice can only do so much to prepare for the real thing, and whether or not Reneau can play well consistently will remain a question until the season gets underway.
But hopes are high for the ambitious and talented Montverde Academy product. He's proven he has the moves and the skills to compete and has made great strides in the offseason because he knows the expectations on his shoulders.
"They count on us," Reneau said about his coaches' expectations. "They expect us to do the right thing at all times. So when I go into the weight room or if I go into practice, I'm trying to give my all, all the time."
Bottom Line: Reneau is in a perfect position to have a breakout season. He seems to be doing everything right on and off the court to earn the trust and respect of his coaches and build his game to be a mature and confident starter. His tendencies to commit fouls and make silly mistakes were things almost any freshman deals with, so the true test will be if he has fixed those behaviors. If he has, Reneau will be as big of a threat as anyone on Indiana's roster.
Quotable: "Coach Woodson threw me out in the fire the first year. Playing behind Race and Trayce definitely was a big eye-opener for me to see how the game is. Coach Woodson put me in some situations where I had to come out and be strong and be mentally tough in the games, and on and off the court. So I think that really helped me for this year coming up and just being one of those guys that he can rely on this year." – Reneau at IU media day last month.
Filed to: 2023-24 season preview, Malik Reneau