2023-24 Indiana basketball player profile: Kel'el Ware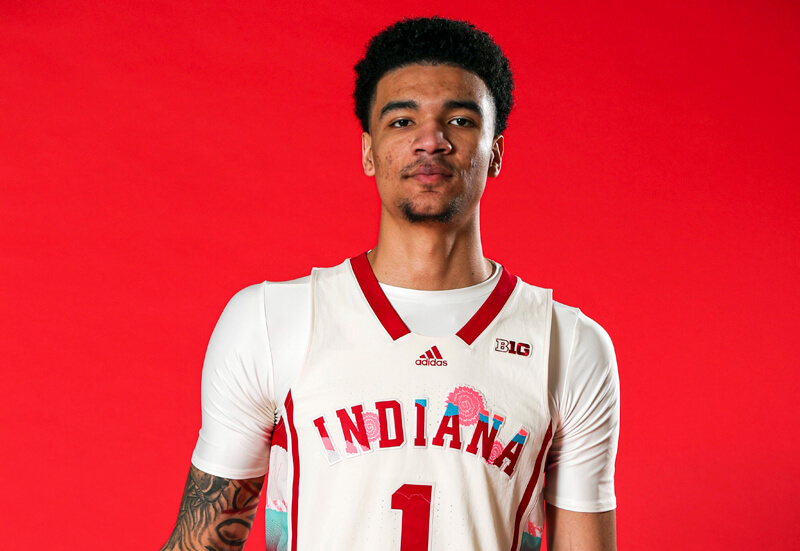 With the start of college basketball season on the horizon, we've transitioned from our look at other Big Ten programs to our player-by-player previews of the 2023-24 Indiana roster.
Today, our player profiles continue with a look at sophomore Kel'el Ware.
Previously: Jakai Newton, Mackenzie Mgbako, Gabe Cupps
Kel'el Ware enters the 2023-24 season with high expectations. There are expectations that he'll adequately replace his predecessor, Trayce Jackson-Davis at center. Expectations are also there that he'll live up to a top-10 ranking out of high school. Finally, his skill set is expected to reach its ceiling and help IU win games.
These may be lofty for anyone not named Ware, but for him, it's what stands between him and the NBA.
When the Little Rock, Arkansas native announced his commitment to Indiana out of the transfer portal on April 10, a sigh of relief echoed through the Hoosier fanbase; the feeling was that Ware would be a stellar replacement for the All-American. Jackson-Davis had started at the five for four consecutive seasons in Bloomington and now it's Ware's turn to provide Indiana with a different look.
Ware struggled to find his footing in Dana Altman's rotation as an Oregon Duck in his first season of college basketball. The 7-footer only started four games in Eugene, averaging 6.6 points, 4.1 rebounds and 1.3 blocks in 15.8 minutes a contest. Ware, who has a smoother stroke than he displayed, shot 45.7 percent from the field and 27.3 percent on 3-pointers.
Finding consistent minutes was a problem for Ware, who entered his freshman season as a projected lottery pick. His leash was short and towards February and March, he barely played in big minutes down the stretch of games. Some of Ware's best performances of the season came in early winter when he scored a season-high 18 and snatched nine boards against the eventual national champions — UConn. He scored 17 points a day later and cleaned the glass nine times against Michigan State. Ware only scored more than 10 points twice in a game after January 7.
The media questioned Ware's motor during his time at Oregon as Altman publicly mentioned his disappointment in his effort.
"When I recruited that young man I told him, 'you cannot go back and get what happened the year before. You can't,'" Mike Woodson said last month at IU's media day. "The word is out; they knocked you and said, 'hey, you're lazy, you don't work hard,' and if you make a commitment to me, that's got to change," Indiana head coach Mike Woodson said at media day.
"I'm not always the easiest coach to play for, but I'm in your corner and I'm fair and I want what's best for you and my ballclub, and he made the commitment to me, and I'm going to push him to play at a higher level to help us win basketball games."
Ware's high level of skill and natural talent is evident. With his soft touch from the outside, he's a threat to stretch the floor. He also proved to be terrific in rim protection on the help side at times. The key for Ware will be consistency. Can he show up game in and out with a stellar and hard-nosed performance? This winter will answer that question.
"He's a very versatile big. He can shoot threes, and he can pick-and-pop, pick-and-roll, so that's big time in the pick-and-roll game with me," IU's captain point guard Xavier Johnson said last month.
The pick-and-roll had been a consistent part of Woodson's offense in Bloomington with TJD, but now, with Ware's ability to stretch the floor, it gives the third-year head coach more options. And that's what the addition of Ware does for this Indiana team; it provides the Hoosiers with options and flexibility.
The pairing of the former McDonald's All-American and fellow sophomore forward Malik Reneau will be critical. The pair's bond has grown since Ware arrived in B-Town as they go fishing and play NBA 2K, and their skillsets may be the perfect match.
Reneau was good in back-to-the-basket situations last season, whereas Ware was better away from the basket. Indiana could have a fun frontcourt if both can stay on par defensively.
The key for the former five-star will be consistency. If he can steadily show what he did at the beginning of last season, he may find a drastic role change from his freshman to sophomore year. Indiana might see itself winning games if that happens, too.
Bottom Line: Ware's name already has a buzz in 2024 NBA mock drafts and one good season may be all it takes to get his name back in the lottery. However, a daunting role change precedes that. Ware did not play in many big games last season, especially as Oregon pushed to be on the NCAA tournament bubble. He'll have to show a consistent effort on both ends of the floor and showcase his elite skillset every night.
Quotable: "Just to prove that everybody was wrong. Just to show everybody that I have a motor, I can keep going on the floor and for the people that think I'm lazy, I can show them that I'm not lazy…Woody just wants me to be the best athlete I can be. Every day in practice, he's pushing me, even in workouts." – Ware on what he has to prove this upcoming season at Indiana.
Filed to: Kel'el Ware