2023-24 Indiana basketball player profile: Mackenzie Mgbako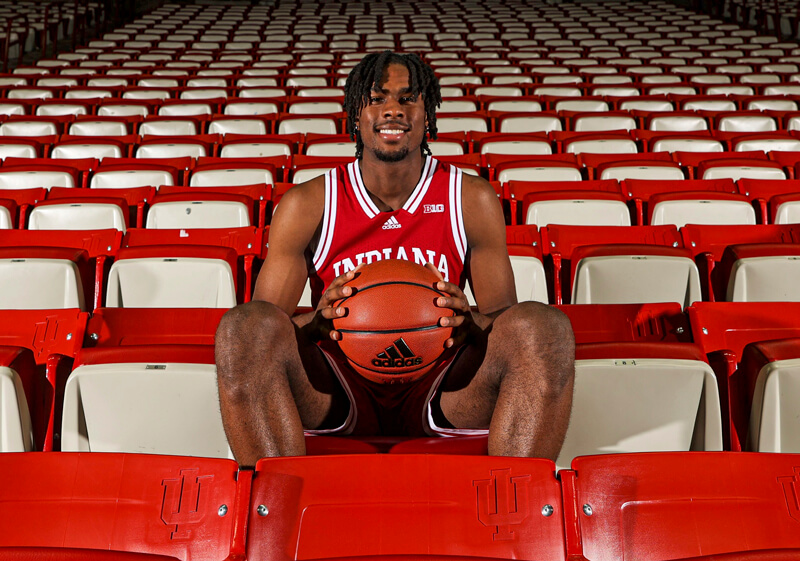 With the start of college basketball season on the horizon, we've transitioned from our look at other Big Ten programs to our player-by-player previews of the 2023-24 Indiana roster.
Today, our player profiles continue with a look at freshman Mackenzie Mgbako.
Previously: Jakai Newton
Another offseason for Mike Woodson, another quick recruitment of top-flight, five-star freshman talent. This year it came in the form of New Jersey native Mackenzie Mgbako. The No. 8 player in the class per 247's composite ranking, Mgbako gives the Hoosiers something this team has lacked in recent years: a bucket-getter on the wing.
Mgbako was originally a Duke signee, but after Kyle Filipowski returned unexpectedly for a sophomore season, Mgbako chose to move on for more playing time and opportunity. The story goes that Mgbako's mom reached out to Woodson to start the process …. and the rest was history, Woody playing the role of closer once again.
Mgbako doesn't display explosive athleticism. Still, his blend of size and length, coupled with a plethora of offensive skills, make him a projected one-and-done player. His NBA dreams are a fact he's made no secret concealing. His goal is to make the league after this season.
Mgbako can shoot the 3-ball. He can get to the bucket and slam it home. He can finish through contact. His size and physical maturity for a freshman also make him a threat in the post and mid-range, putting smaller guys on his back and hitting fadeaways and jump hooks. His game has shades of Jayson Tatum, a player he's been compared to. He also counts another high-level scoring wing as a confidant: Carmelo Anthony.
The freshman's wingspan (6-foot-10) and muscular frame provide him the physical tools to be a strong defender by switching onto multiple positions and blocking shots. Mgbako has also shown a penchant for rebounding pretty well for his position.
The main questions heading into the season for this talented freshman: How does he fit in? And how quickly does it all come together? Mgbako will need to blend in with another talented NBA prospect, Kel'el Ware, as well as a sixth-year point guard in Xavier Johnson who's new to both of them. It's a good problem to have, one Indiana has not been used to, and how it all shakes out remains to be seen. That said, Woodson's more pro-style offense, one featuring a healthy dose of high ball screens and one that leans on his best players to go to work, might make this less of an issue than it looks on paper.
Additionally, Woodson holds a high standard for his players on defense, another wrinkle Mgbako will need to be prepared for as he adjusts to the college game.
Bottom line: With Trayce Jackson-Davis and Jalen Hood-Schifino departed for the NBA, Mgbako's commitment to the Hoosiers filled a massive need for a scoring punch via a high-usage player. He's a likely starter from the opening tip this season and has a ton of skill and promise. Just how much he fulfills that promise could be the determining factor in whether he heads to the NBA or not after his freshman campaign.
Quotable: "Mac is extremely — I would use the word 'deadly' — because he has a different look in his eye when he gets the ball. He always puts pressure on the rim. The moment he catches the ball as a defender you always have to be ready because he can attack you from so many different angles, so many different ways. He's such a talented scorer. And his work ethic is beyond something that I could even fathom. " – Anthony Walker on Mgbako at IU media day
Filed to: 2023-24 season preview, Mackenzie Mgbako