2023-24 Indiana basketball player profile: Jakai Newton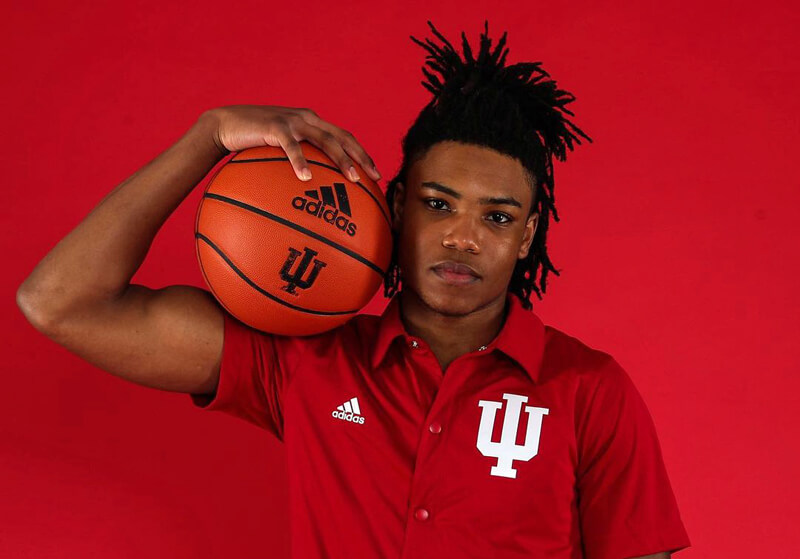 With the start of college basketball season approaching, we've moved from our look at other Big Ten programs to our player-by-player previews of the 2023-24 Indiana roster.
Today, our player profiles begin with a look at freshman Jakai Newton.
The first player to commit to Indiana in the 2023 recruiting class, Jakai Newton looked like a player capable of making an instant impact.
A 6-foot-3 guard from Newton High School in Covington, Georgia, his high school film showed a player with the strength and athleticism to compete from day one in the Big Ten.
An under-the-radar prospect early in his prep career, Indiana associate head coach Yasir Rosemond helped Newton raise his profile as a recruit.
"The first time I heard of Coach Ya was before the high school season last year," Newton said in the fall of 2021. "He did a podcast with me when I had no interest, no offers or nothing. He helped me get my name out there."
That pre-existing relationship helped Indiana when Mike Woodson hired Rosemond. By the summer of 2021 – months after Woodson and Rosemond arrived at IU – Newton's recruitment had taken off.
Scholarship offers had poured in from numerous high-major programs: Alabama, Auburn, Cincinnati, Clemson, Georgia, Georgia Tech, Indiana, Ole Miss, Vanderbilt and Xavier.
In the fall of 2021, Newton gave his pledge to the Hoosiers.
"I could just feel the energy and the love from the fans, the coaches," Newton said after announcing his decision. "And then just seeing the program and talking to Woody (Mike Woodson), it just feels like the perfect fit."
Injuries, however, have derailed Newton's career and his status for his freshman season in Bloomington is uncertain.
In May of 2022, Newton suffered a torn meniscus and cartilage issue that required surgery. He missed his final summer of basketball on the Under Armour Association circuit and played limited minutes during his senior high school season.
In August 2023, Newton underwent surgery to treat what IU called "a pre-existing injury." At last month's media day at Assembly Hall, Newton was wearing a large knee brace and was on crutches.
"It's been going good so far (the rehab)," Newton told reporters. "Just looking forward to getting off of crutches."
There's no expectation for Newton to play as a freshman given how recent his surgery took place. At this point, all Indiana has said publicly is "there is no timetable for his return at this point."
Bottom Line: Given Indiana's lack of guard depth, Newton would likely have been in line for minutes as a freshman. But injuries have cast doubt on his future. The best-case scenario for Newton seems to be taking this season to get healthy and ensuring his knee is 100 percent healed. If he can return to the form he exhibited before his injury, he should be a firm part of the program's plans in the backcourt moving forward.
Quotable: "Jakai is an outstanding two-way player who takes pride in his ability to be a lockdown defender. He has tremendous athleticism and is aggressive at getting to the rim. He is well-coached and comes from a very well-thought-of high school program. He continues to improve and better himself with an outstanding work ethic. He has quick feet, a 6-10 wingspan, and a tremendous ability to elevate which will help him on both ends of the floor. He is a skilled player with a great build that should translate well to the Big Ten." – Woodson on Newton in November of 2022.
Filed to: 2023-24 season preview, Jakai Newton