2023-24 Indiana basketball player profile: Gabe Cupps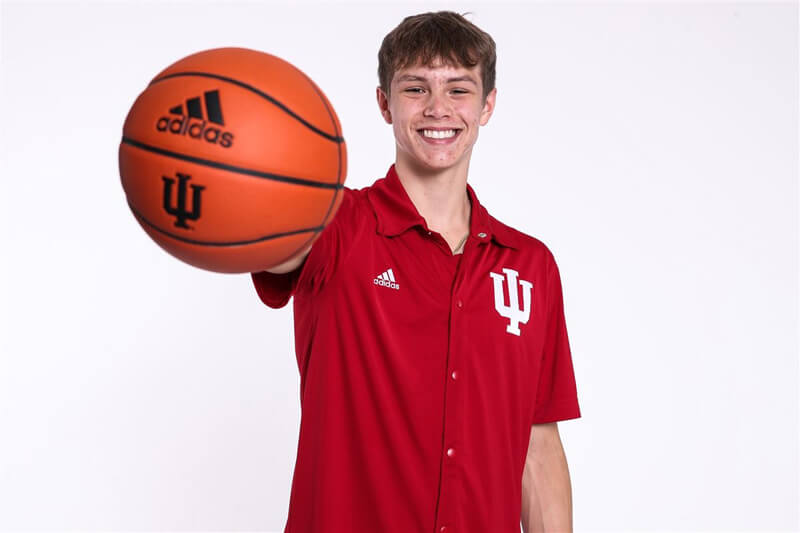 With the start of college basketball season on the horizon, we've transitioned from our look at other Big Ten programs to our player-by-player previews of the 2023-24 Indiana roster.
Today, our player profiles continue with a look at freshman Gabe Cupps.
Previously: Jakai Newton, Mackenzie Mgbako
Gabe Cupps is a well-known name across the basketball world and he hasn't even played in a college basketball game yet. Challenging LeBron James to a 3-point shooting contest in middle school and playing on a team with his son tends to do that to a person because that means you've got the skill to back it up.
Cupps, a four-star recruit, committed to Indiana in November 2021 and has since racked up even more accomplishments, including the title of Mr. Ohio Basketball in 2022. Now, the Dayton native can make himself even more well-known and accomplish even more as a Hoosier.
With Xavier Johnson's return and Jalen Hood-Schifino's departure, Cupps is expected to act as a backup point guard behind Johnson. Hopes are high for the freshman coming into his first season with Indiana, as he's already proven his ability on and off the court.
Cupps stood out in the weight room immediately after arriving in Bloomington, confirming his reputation as a dedicated and driven person by pulling out 17 reps on the 185-pound bench press. Cupps is listed as 175 pounds on the IU Athletics website.
Since practices began, Cupps has been going up against top-level competition in players like Johnson and Trey Galloway, who have shown him the ropes and made him work hard every day.
"The best thing that Xavier's done for me is not take it easy on me," Cupps said at IU Media Day. "I'm a super competitive guy, so if you're at that level then I'm going to try to meet you and I'm going to try to compete against you."
Woodson also took note of the fiery competition between the two, saying that's "how it should be".
"He knows how to play, man," Woodson said about Cupps at Big Ten Media Day. "I have no complaints about him at all. He works, and he's just smart as hell."
Cupps' numbers from his senior year of high school represent that work ethic and high basketball IQ. He averaged 15.4 points, 6.2 assists, 4.5 rebounds and 2.2 blocks per game, shooting 49.5 percent from field goal range and 39.5 percent from deep. So while Cupps' primary role will likely be as some kind of point guard, he's shown he can fill other areas and be called upon to do so this season.
The transition to college ball has come easier to Cupps than to others, as he's been able to be present at Indiana's games and practices over the last few years since his commitment. He already has a close bond with Mike Woodson and the rest of the coaching staff and is ready to do whatever it takes to win at a high level.
"I think I adjust pretty well to whatever team I'm on," Cupps said. "Just doing the little things that help teams win."
Cupps referenced Indiana Pacers guard T.J. McConnell as the kind of NBA player he could become, saying the two share similar levels of scrappiness and willingness to do anything to win. Being a role player and making a positive impact are pretty surefire ways to stick around with a team, and Cupps recognizes that already.
Despite all of the signs pointing to Cupps' success, the fact remains that he is still a freshman who hasn't played a minute of college basketball. There will still be growing pains and learning curves, and the 6-foot-2 guard will see many taller and more experienced opponents.
The biggest questions yet to be answered are what exactly will be Cupps' role with the team and how quickly will he adjust to college-level basketball? He'll have to gel well with the rest of his teammates and be comfortable enough to be a leader in the point guard position to fulfill the high expectations placed on him by Woodson and the rest of the program.
But if there's anyone who knows what that will take and is ready to put the work in, it seems like Cupps is the guy.
Bottom Line: Cupps' road to consistent playing time seems like a longer one, as the senior presences of both Johnson and Galloway would likely make them the go-tos for Woodson and his staff. But that works to lessen the pressure on Cupps and allows him time to learn the college game through and through. He is still being "thrown into the fire" in practice to build his skills, and holds a lot of promise for the future of Indiana basketball.
Quotable: "He's a guy that I want to bring under my wing, because I'm an older guy and he's going to be the next guard that's going to hold Indiana down…he's a great kid, he's a great teammate." – Xavier Johnson on Cupps at IU media day.
Filed to: 2023-24 season preview, Gabe Cupps