2023-24 Indiana basketball player profile: Payton Sparks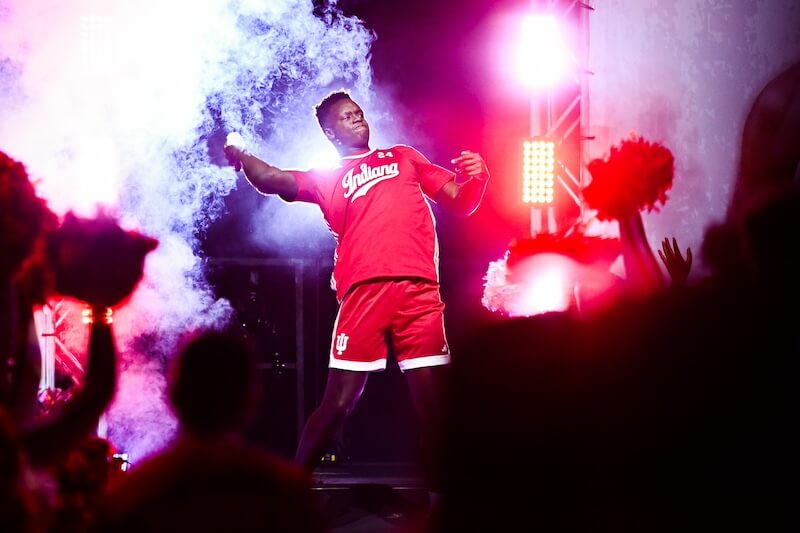 With the start of college basketball season on the horizon, we've transitioned from our look at other Big Ten programs to our player-by-player previews of the 2023-24 Indiana roster.
Today, our player profiles continue with a look at junior Payton Sparks.
Previously: Jakai Newton, Mackenzie Mgbako, Gabe Cupps, Kel'el Ware, Malik Reneau, Kaleb Banks, CJ Gunn
The first of three transfer portal additions for the Hoosiers last spring, the enthusiasm of Payton Sparks to become a Hoosier was unquestioned.
A native of Winchester, Sparks spent his first two seasons at Ball State where he was one of the best big men in the Mid-American Conference. A two-time all-conference performer for the Cardinals, Sparks started all 62 games in Muncie, posted 22 double-doubles and scored in double figures 47 times.
But after two seasons at Ball State – his second season was under former Hoosiers Michael Lewis – Sparks wanted to play at a higher level. With a one-time transfer without needing to sit out now available in college basketball, Sparks put his name into the transfer portal.
"I went into the transfer portal because I wanted to play at the highest level of college basketball," Sparks told Inside the Hall last spring. "I wanted to go power five."
The process for Sparks to commit to Indiana was quick and straightforward. He committed just a few days after a visit to campus in late March.
"IU has always been a dream school growing up," Sparks said after committing to the Hoosiers. "I watched all of the greats come through. And just being able to get a chance to even come to IU has been mind-blowing for me. It's been crazy. IU was just a dream school for me and I couldn't pass up on that chance."
With the season quickly approaching, the dream of playing at Indiana for Sparks is now a reality.
Listed at 6-foot-10 and 258 pounds on IU's updated roster for this season, he's expected to be an impact piece in the frontcourt off the bench.
The fact that Sparks will likely be coming off Indiana's bench speaks to the depth and quality of the backcourt Mike Woodson has assembled this season.
In addition to Sparks, Indiana has Malik Reneau and Kel'el Ware, a pair of former 5-star prospects.
The ability of Sparks to rebound and finish in the paint should translate immediately to the Big Ten. Last season, he ranked third in the MAC in both offensive and rebounding percentage. He also made nearly 59 percent of his 2s and ranked 10th in the league in block percentage.
Sparks has good hands, solid footwork and will be one of the hardest-working players on the roster. With those traits, his impact on Indiana's roster should be positive.
Bottom Line: Sparks is excited to be a part of Indiana basketball as suiting up in Bloomington has been a lifelong dream. He has the size and frame to compete in the frontcourt of the Big Ten, which is only sometimes the case for players who are transferring up a level. His teammates spoke highly of him and his ability at media day and he should quickly develop into a leader in the locker room.
Quotable:  "I feel like they have a great offense and it's a great fit for me on defense, too. And the people at IU are great in general. I feel like the people at IU really care and really mean what they say. I just felt at home when I was making the decision." – Sparks on his decision to choose the Hoosiers.
Filed to: Payton Sparks