Seven former Hoosiers will be on opening night NBA rosters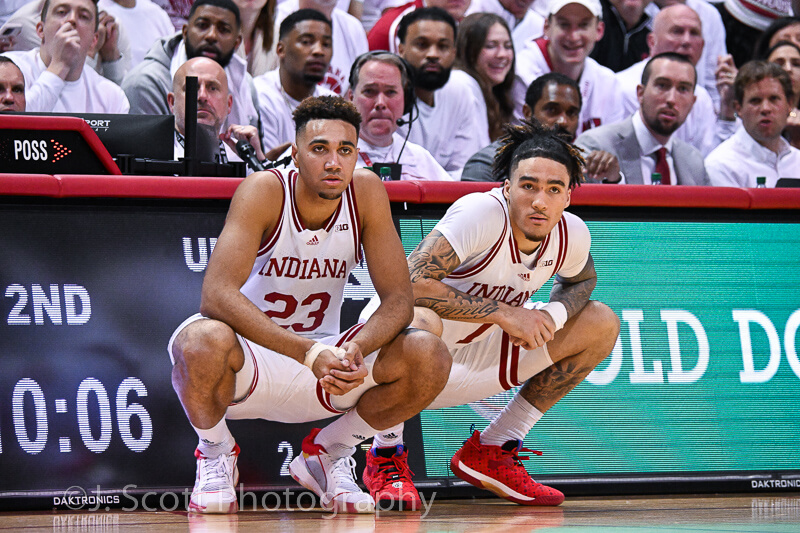 Indiana basketball will have seven former players on opening night rosters for the 2023-24 NBA season.
The seven players are Victor Oladipo (Houston), OG Anunoby (Toronto), Thomas Bryant (Miami), Eric Gordon (Phoenix), Cody Zeller (New Orleans), Jalen Hood-Schifino (Los Angeles Lakers) and Trayce Jackson-Davis (Golden State).
Romeo Langford had a training camp deal with Utah but was waived last week.
The 2023-24 NBA season begins Tuesday, October 24. Here's a little more on each of the six former Hoosiers in the NBA:
• Oladipo: Oladipo suffered a season-ending injury last season in Miami and then was traded twice in the offseason. He's now with the Houston Rockets, but is still rehabbing and won't be ready for the start of the season. Now in his 11th NBA season, he holds career averages of 16.9 points, 4.5 rebounds, 3.9 assists, 1.6 steals. He's a career 43.6 percent shooter.
• Anunoby: A member of the 2022-23 NBA all-defensive second team, the former Hoosier forward is entering his seventh professional season. He's spent his entire career with Toronto and owns career averages of 11.6 points, 4.3 rebounds, 1.5 assists and 1.2 steals per game on 47.1 percent shooting. If Toronto gets off to a slow start and falls out of playoff contention, look for Anunoby to be a priority trade target for teams.
• Bryant: A former second round pick, Bryant is entering his seventh season and first in Miami. Bryant started last season with the Lakers, but was traded to Denver prior to the trade deadline. He won an NBA championship with the Nuggets. The former IU center has averaged 10.1 points, 5.7 rebounds and 1.1 assists in the NBA. His career field goal percentage is 59.8.
• Gordon: Now in his 16th season, Gordon has amassed career earnings of more than $175 million. After spending seven seasons in Houston, he was traded last season to the Los Angeles Clippers prior to the trade deadline. Gordon signed with Phoenix over the summer after entering free agency. His career averages are 16 points, 2.8 assists and 2.4 rebounds per game. He's a career 37.1 percent 3-point shooter.
• Zeller: Now in his 11th NBA season, it looked like Zeller might be on his way out of the league last season. But Miami signed him in February and he went on to play a role on the Heat's run to the NBA Finals last June. He signed with New Orleans as a free agent in the offseason. The No. 4 pick in the 2013 NBA draft, Zeller has averaged 8.4 points, 5.9 rebounds and 1.4 assists over his career.
• Hood-Schifino: The No. 17 pick by the Lakers, Hood-Schifino is entering his rookie season in Los Angeles. Last season's Big Ten freshman of the year, Hood-Schifino will be attempting to carve out a role on a Lakers squad with championship aspirations. He'll be out for at least the first week of the season with a right patella contusion.
• Jackson-Davis: The No. 57 pick by the Wizards, Jackson-Davis was a part of an NBA draft night trade that sent him to the Warriors. He's been impressive in the preseason and seems to have earned the respect of his teammates and coach Steve Kerr. Jackson-Davis could earn minutes as a rookie on one of the NBA's best teams.
Putting on a show in the league. ?#ProIU pic.twitter.com/5TWgKkDjtf

— Indiana Basketball (@IndianaMBB) October 23, 2023
Filed to: Cody Zeller, Eric Gordon, Jalen Hood-Schifino, O.G. Anunoby, Thomas Bryant, Trayce Jackson-Davis, Victor Oladipo