2023-24 Indiana basketball player profile: Anthony Leal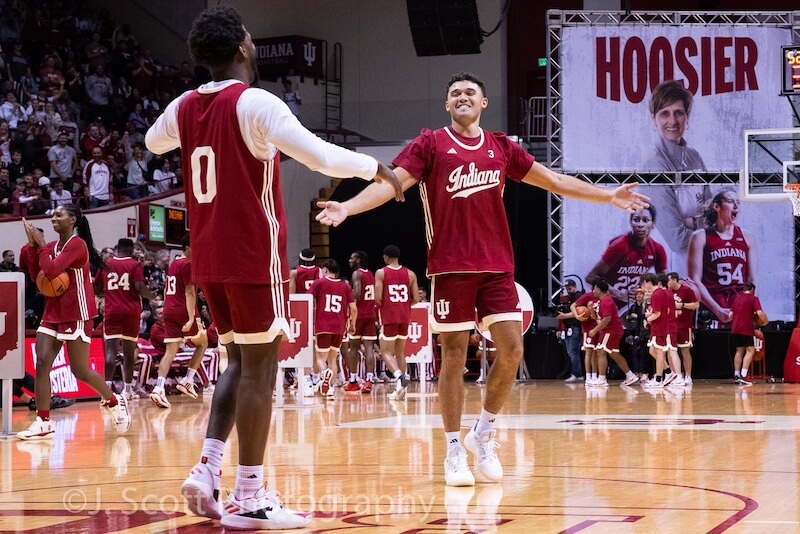 With the start of college basketball season on the horizon, we've transitioned from our look at other Big Ten programs to our player-by-player previews of the 2023-24 Indiana roster.
Today, our player profiles continue with a look at senior Anthony Leal.
Previously: Jakai Newton, Mackenzie Mgbako, Gabe Cupps, Kel'el Ware, Malik Reneau, Kaleb Banks, CJ Gunn, Payton Sparks
The 2020 Mr. Basketball in Indiana, Anthony Leal is entering his fourth season at Indiana.
A Bloomington native, the 6-foot-5 guard was the 155th-best prospect in the country coming out of high school, according to the 247Composite.
But after a freshman campaign when he averaged 11.2 minutes per game, Leal's on-court role for the Hoosiers has been minimal the past two seasons.
The primary strength of Leal's game coming out of high school was his shooting ability. As a senior at Bloomington South, he made 37 percent of his 3s and averaged over 18 points per game.
But the shooting didn't translate over Leal's first two seasons at Indiana. As a freshman, he connected on just nine of his 30 3-point attempts and in his second season, he shot just 7-of-22 from distance.
After averaging double-figure minutes his first two seasons over a total of 37 games, Leal logged a total of 24 minutes as a junior.
As Indiana nears the opening of the 2023-24 season – tip-off is just two weeks away – the Hoosiers need depth at guard.
Indiana attempted to recruit guards in the transfer portal last spring but was unsuccessful. And with Jakai Newton's injury, the Hoosiers are thin at the position with Xavier Johnson, Trey Galloway, CJ Gunn, Gabe Cupps and Leal as the only scholarship options.
So what are expectations for Leal in Bloomington as he enters his fourth season?
Leal wasn't a part of the coaching staff's plans for last season's team, but that could change this winter given the limited depth behind the starters. He'll need to prove he can knock down shots more consistently and defend at a level suitable to Mike Woodson, but Leal certainly possesses the talent to make an impact.
Bottom Line: Leal's on-court impact in Bloomington has been minimal, but he's a valued member of the Indiana locker room. He's well-liked by his teammates, brings positivity and loves being a part of the Indiana program. While he was rarely used last season, that could change this season with Indiana's lack of guard options off the bench. While Gunn figures to get the first look at backup guard minutes off the bench, Leal could find an opportunity for spot minutes if he can knock down perimeter shots.
Quotable: "You'll have your stats and all this stuff you earn on the court, but where you really impact people is what you do besides that. So I try to set a good example, be a great friend, be a great person and in terms of the way I am on the bench… I just imagine if I were out there playing I would want my bench to support me and cheer me on and support me no matter what happens. So I try to start that and kinda get a trend going where guys are all supporting each other and the energy's contagious. So I try to invoke some passion and I think it has helped and will continue to help." – Leal last preseason talking about his role for the Hoosiers.
Filed to: 2023-24 season preview, Anthony Leal