2023-24 Indiana basketball player profile: Kaleb Banks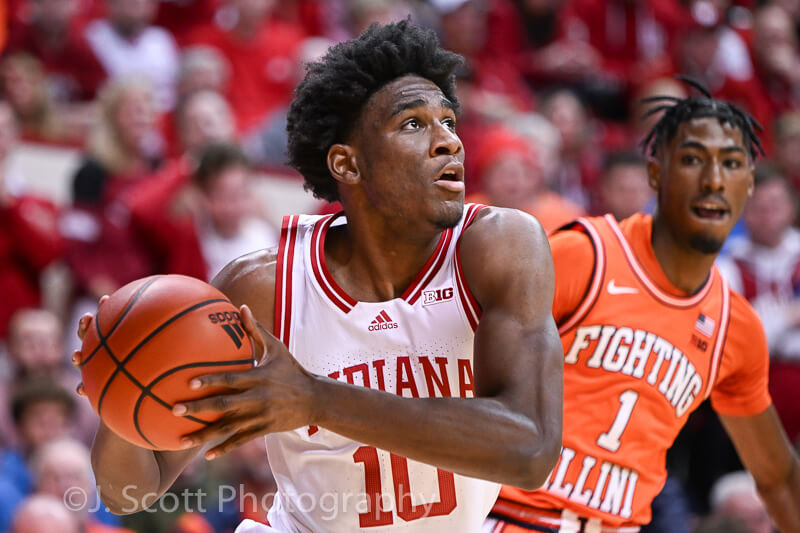 With the start of college basketball season on the horizon, we've transitioned from our look at other Big Ten programs to our player-by-player previews of the 2023-24 Indiana roster.
Today, our player profiles continue with a look at sophomore Kaleb Banks.
Previously: Jakai Newton, Mackenzie Mgbako, Gabe Cupps, Kel'el Ware, Malik Reneau
The 2022-23 season was one of adjustment for Kaleb Banks.
The 6-foot-8 forward from Fayette County (Ga.) arrived in Bloomington as the Georgia Class 4A player of the year and a four-star recruit.
But Banks had to adjust to a new role as a college freshman after being the star of his high school team – one that finished as the Class 4A state runner-up in Georgia.
While Jalen Hood-Schifino and Malik Reneau had immediate paths to minutes in their debut seasons, Banks was on the fringe of the rotation as a freshman. He was primarily behind Miller Kopp on the depth chart and the fifth-year senior played a ton of minutes due to his shooting ability, experience and underrated defense.
"It was definitely a big adjustment," Banks said last month at IU's media day. "I just learned to fight through adversity. When times get tough, you gotta battle. There's going to be a bright light at the end."
Banks appeared in just 24 of Indiana's 35 games and averaged two points, 0.9 rebounds, 0.3 assists in 5.6 minutes of playing time. His two highest-scoring outputs were eight points against Bethune Cookman and Elon, two non-conference bottom dwellers.
But in a transfer portal era that can lead to players opting to move on quickly if immediate minutes don't materialize, Banks stayed put and is hopeful he'll get a chance to show more in his second season.
"I'm not gonna lie, sometimes it was (hard to stay patient)," Banks said last month. "It ended up all paying off at the end. I'm glad I did (stay patient)."
Now a sophomore, Banks could carve out a more consistent role in his second season under Mike Woodson.
Banks fits the profile of a prototypical forward in modern college basketball with his size, athleticism and motor. He attacks the glass hard on both ends, isn't afraid to go to the rim and has the length to be disruptive as a defender.
What is still uncertain about his game, however, is his shooting ability from the midrange and beyond.
Banks only took five 3-pointers as a freshman and connected on two of them. But his free throw shooting – a larger sample size – wasn't as encouraging. Banks did a great job of getting to the line – 28 free throw attempts versus 29 field goal attempts – but only connected at a 53.6 percent clip.
"I feel like I can bring a lot," Banks said of his potential impact this season. "Just doing anything coach (Woodson) really asks me to do. I can play multiple positions, I can switch one through four, I feel like."
Bottom Line: Banks will likely come off the bench again this season but should have a chance to carve out a more consistent role. While he showed flashes of his potential last season, he never was on the floor for enough minutes to get comfortable. His versatility should allow him to play both forward spots. If he defends, rebounds and attacks the rim consistently, it will be hard for the coaching staff to keep him out of the rotation.
Quotable: "I feel like this year I'm more comfortable. More comfortable making plays for myself and for teammates. I feel like this year I'm going to show that I'm a better shooter than I was last year. Better rebounder, better defender and being able to lock down the main guy." – Banks at IU's media day.
Filed to: 2023-24 season preview, Kaleb Banks