2023-24 Indiana basketball player profile: CJ Gunn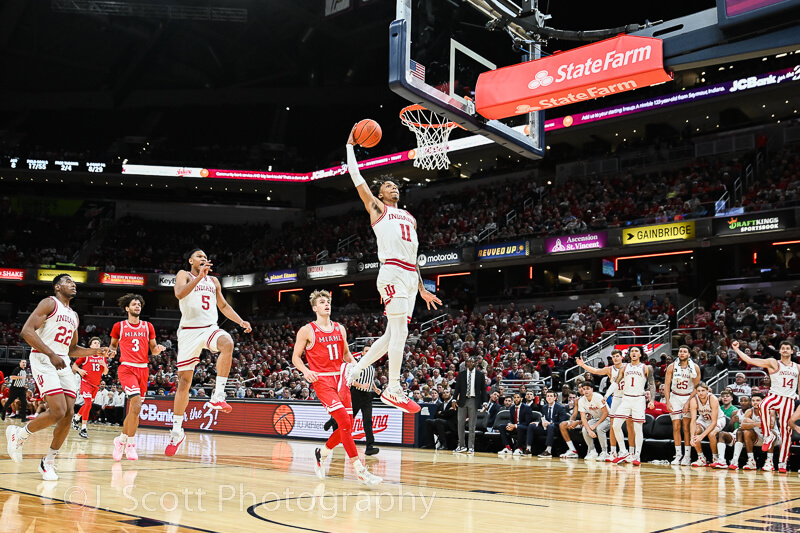 With the start of college basketball season on the horizon, we've transitioned from our look at other Big Ten programs to our player-by-player previews of the 2023-24 Indiana roster.
Today, our player profiles continue with a look at sophomore CJ Gunn.
Previously: Jakai Newton, Mackenzie Mgbako, Gabe Cupps, Kel'el Ware, Malik Reneau, Kaleb Banks
CJ Gunn's confidence never wavered throughout his freshman season.
"I feel like I can shoot the mess out the ball," Gunn told reporters at IU basketball media day.
The 6-foot-6 guard came to Indiana as a guy with outside scoring potential who could use his wiry frame to slash through the lane and be active on the defensive end. Moments of this were there a season ago. The consistency could have been better. Gunn shot 2-for-24 or 8.3 percent from long distance and only scored more than two points three times.
Gunn did not make a 3-pointer after December. He still put them up, though. At 6-foot-6 and just under 200 pounds, Gunn struggled in the lane and on the defensive end. But over the offseason, Gunn has added weight, telling Inside the Hall he's gained 20 pounds since the start of last season.
Gunn's profile has plenty to like: his quick release, shot mechanics, frame, and effort. The Lawrence North product scored 11 points and put up three rebounds, three assists and two blocks in 20 minutes against Elon last December, making five field goals. He also showcased arguably his best moment of the season that night when he soared for a put-back dunk off a missed three at the end of the first half.
Gunn is undoubtedly athletic. He's got hops, and it's noticeable on his jump shot elevation. The shooting woes could be somewhat attributed to nerves in his first season.
"I feel like last year I rushed a lot of things," Gunn said. "And that showed in my shooting numbers and stuff like that. So just being more comfortable, more poised and patient. And taking the right shots and being more comfortable with the ball in my hands. That's been the emphasis for me."
Indiana's 2022 recruiting class of Jalen Hood-Schifino, Malik Reneau, Kaleb Banks and Gunn may be one where each guy has a different timetable. Hood-Schifino and Reneau found valuable minutes immediately, whereas Banks and Gunn scrapped for minutes off the bench. For most newcomers, the first year of college is a challenge. The freshman-to-sophomore-year jump is infamous in college basketball, and Gunn is ready to take that leap. Former Hoosier wing Armaan Franklin did something similar a few years ago in Bloomington, improving his scoring average by 7.7 points from his freshman to sophomore seasons.
"I was comfortable in practice. In practice, I'd be knocking the shot down. But I feel like coming into the game, you start to worry about messing up," Gunn said. "I feel like I was chasing my buckets… and not letting it come to me."
Gunn's given himself the opportunity to carve out a more extensive role. He's stronger and more mature, takes care of his body, and gets in the gym consistently.
"I've got a bunch of young players that I've got to teach. A couple of sophomores that were freshmen last year that I'm expecting big things from," Mike Woodson said during Big Ten media day.
The departure of Miller Kopp and Tamar Bates fills a need for Indiana — 3-point shooting and depth at the wing. Gunn must fill that void efficiently if he wants to play big minutes later in the winter.
Bottom Line: As a top-200 player out of high school, Gunn was expected to take a little bit longer to develop at the Big Ten level. With a year of nerves and firsts behind him, Gunn will see his role increase. He must be consistent from beyond the arc and show good energy and activity on the defensive end.
Quotable: "The first practice I watched film with him. The first day we got training sessions in. So me and his bond is already tight. He's really rooting for us… I watched coach Cheaney's film also. He really lived in the midrange in the league and that's really one of my specialties with my ability to leap off the floor and raise above my opponents. He's really teaching me how to be more effective with one-to-two dribbles." — Gunn on his relationship with former IU star and current director of player development Calbert Cheaney.
Filed to: C.J. Gunn