Indiana freshman Mackenzie Mgbako arrested early Sunday morning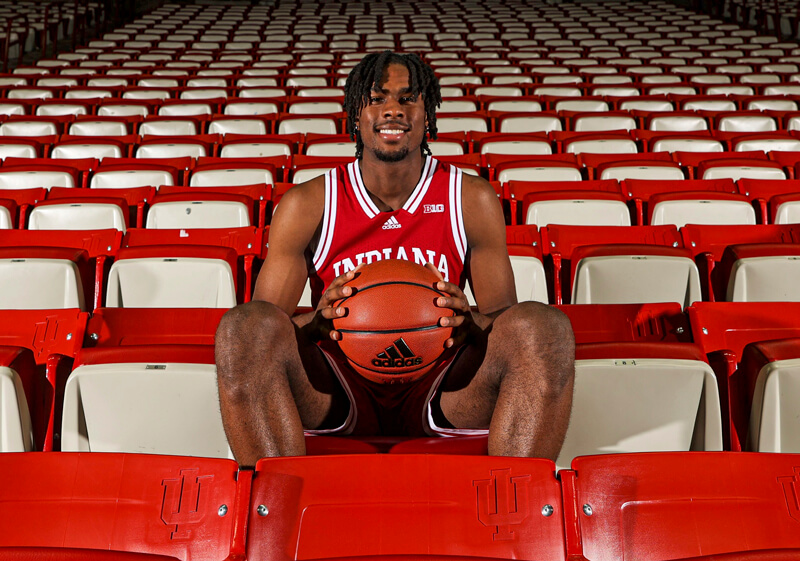 Indiana freshman forward Mackenzie Mgbako was arrested early Sunday morning, according to an officer at the Monroe County jail.
Mgbako, 18, was booked at 3:16 a.m. on charges of criminal trespass and resisting law enforcement.
"IU Athletics is aware of the situation," an athletic department spokesperson said. "We will continue to gather facts, cooperate with and monitor the legal process, and take further action as the evolving situation warrants."
Both charges are class A misdemeanors.
Mgbako posted bond at 5:25 a.m. and is no longer in custody.
The arrest was made by the Bloomington police department, according to an offer at the Monroe County jail.
Mgbako, a five-star recruit, originally signed with Duke last fall but reopened his recruitment in April. He chose the Hoosiers in May after also considering Kansas.
—
Here's a statement on Mgbako's arrest from Bloomington Police Department captain Ryan Pedigo:
"On October 22nd at approximately 2:15 a.m., officers responded to Taco Bell, located at 3001 E Third Street, in reference to a man refusing to leave the property. Upon arrival, officers were advised by Taco Bell management that they were refusing service to the man in a vehicle in the drive-thru due to him cursing at and being rude to employees. Officers made contact with the man, who refused to identify himself but told officers that he was 18-years-old. The man was later identified as Mackenzie Mgbako. Officers asked Mgbako to move his vehicle from the drive-thru line, which he agreed to do and moved the vehicle into a parking space in the Taco Bell lot. Upon speaking further with management, they requested that officers tell Mgbako to leave the property. Officers explained to Mgbako that he needed to leave the property and he refused to do so and kept the windows closed on his vehicle. At one point, Mgbako began to drive out of the lot, but then reversed his vehicle and parked again in a parking space on Taco Bell property. He was told repeatedly that he needed to leave the property by officers, but failed to comply and stayed on Taco Bell property for approximately 15 minutes.
"Officers determined that Mgbako would be arrested for trespassing, but he then moved his vehicle to a nearby lot and parked again. Officers approached his vehicle and advised him that he was under arrest and that he needed to exit his vehicle, but he refused to do so. Officers had to use a baton to break the passenger side window of the vehicle to unlock the doors. Upon opening the driver's door, Mgbako was given commands to exit the driver's seat, but he refused to do so. Officers had to forcibly remove him from the vehicle and he tensed his arms and would not allow officers to secure him in handcuffs. Officers were able to eventually place him in handcuffs and he was then transported to the Monroe County Jail, where he was remanded for criminal trespass, class A misdemeanor, and resisting law enforcement, class A misdemeanor."
Filed to: Mackenzie Mgbako