2023-24 Indiana basketball player profile: Trey Galloway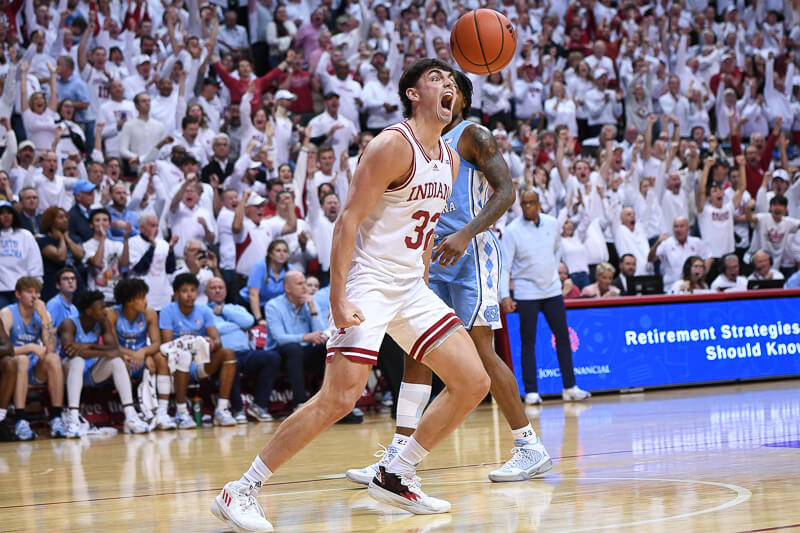 With the start of college basketball season on the horizon, we've transitioned from our look at other Big Ten programs to our player-by-player previews of the 2023-24 Indiana roster.
Today, our player profiles continue with a look at senior Trey Galloway.
Previously: Jakai Newton, Mackenzie Mgbako, Gabe Cupps, Kel'el Ware, Malik Reneau, Kaleb Banks, CJ Gunn, Payton Sparks, Anthony Leal
Indiana basketball's "Crazy Man" is back, and he has even more eyes on him than before. Trey Galloway will be one of the most experienced Hoosiers on the 2023-24 squad, and he's going to have to play like it.
The senior guard is coming off his best season yet, where he appeared in 32 games and started in 25 of them while averaging 6.7 points, three rebounds and 2.1 assists per game. Galloway's 3-point shooting statistics also shot up between his sophomore and junior seasons. His 30 3-pointers, shot at a 46.2 percent clip, were a marked improvement from the 6-for-28 shooting he posted in the 2021-22 season.
Galloway stepped up in a significant way as Indiana's secondary ball-handler after Xavier Johnson was sidelined with an injury for most of the 2022-23 season. He took on the role of point guard at times, and while it wasn't an area in which he excelled, he performed well enough to earn the confidence and respect of Mike Woodson and his team.
There's no question that Galloway has consistently improved in just about every area throughout his time at Indiana. But he's going to have to make the biggest jump of his career heading into his senior season to lead the Hoosiers to success. Named a co-captain alongside Johnson, Galloway has a significant amount of responsibility and pressure on his shoulders.
He's already taken on the role of a mentor to his younger teammates, specifically working with CJ Gunn and Gabe Cupps in the offseason to help the guards improve and adjust to the program. That leadership is expected to be a crucial part of Galloway's game this season, on and off the court.
"I'm a senior, and I've been here the longest with this coaching staff," Galloway said at media availability in July. "I know what it takes…I'm a veteran now, so I need to know every spot and know where to be on offense and defense."
With the overwhelming majority of Indiana's offensive production now gone, Galloway will need to become a greater offensive presence. That also means the team as a whole will have new strategies to get the ball to the guard more consistently — they don't have the luxury of sending it to Trayce Jackson-Davis or Jalen Hood-Schifino anymore. The good thing about Galloway is that he has the potential for a lot of flexibility on the court.
The uptick in his 3-point shooting shows a willingness and determination to expand his game. Galloway needs to continue to making perimeter shots as the Hoosiers lost several of their best perimeter shoots in the offseason.
"I've focused on doing a lot of things to make gamelike shots," Galloway said at IU's media day. "I think that's been a big thing for me, just getting those reps that are gamelike and being ready to shoot it when it comes, because I feel like there were a lot of shots that I did pass up that I could have shot last year."
If Galloway's confidence and shot-making ability have improved as expected, the Hoosiers will be able to fill a wide-open hole on the perimeter, and who better to take that spot than a veteran who has proven he can perform in big moments? Galloway has also shown he can drive to the basket for buckets and slam dunks, and could very well pose an all-around threat this season.
And, of course, you can't forget about the style of play that earned him the moniker "Crazy Man."
Galloway's tenacity on defense proved to be a crucial part of many of Indiana's victories throughout the 2022-23 season. He isn't afraid to press opponents, race all around the court or battle at the basket.
That doggedness has sometimes put him in foul trouble, however, and Galloway can't afford to have that happen this season. He'll have to balance playing aggressively while staying smart and not committing silly fouls because Woodson will need him on the floor as much as possible.
Bottom Line: Galloway always plays with maximum effort and determination, and his dedication to the game is evident. He works hard and is always trying to improve, and he has the chance to show off just how much he's done this offseason. There's little doubt Galloway's role will look at least slightly different this year as a leader and someone Woodson will rely on to play hard in all areas of the game. But Galloway has proven his ability to fill whatever role he needs to and has the tenacity and work ethic to be a major player for the Hoosiers this season.
Quotable: "One thing I really try to focus on is my defense, and to win games you've got to be able to play defense. So I think just keeping that a big focus in my game is huge, but also just showing what I can do on the offensive end as well, keep expanding. I know there's a lot of things I can do, and I want to show that this year. I think Coach has put that trust in me to really go out there and play my game. So I think being able to prove that this year is going to be big." – Galloway at Big Ten media day.
Filed to: Trey Galloway