2023-24 Indiana basketball player profile: Anthony Walker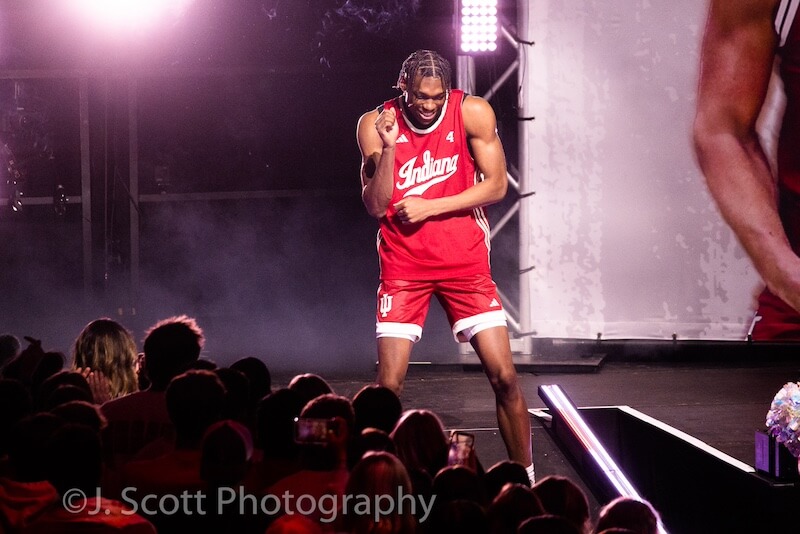 With the start of college basketball season on the horizon, we've transitioned from our look at other Big Ten programs to our player-by-player previews of the 2023-24 Indiana roster.
Today, our player profiles continue with a look at graduate student Anthony Walker.
Previously: Jakai Newton, Mackenzie Mgbako, Gabe Cupps, Kel'el Ware, Malik Reneau, Kaleb Banks, CJ Gunn, Payton Sparks, Anthony Leal, Trey Galloway
With an attentive smile, Anthony Walker spoke like a fifth-year senior when asked why he chose IU at the program's media day.
"I would say (Mike) Woodson and "X' (Xavier Johnson). Because Woodson is a prestigious coach, obviously, we all know who coach Mike Woodson is and the dent he's made in the sport," Walker said. "So just me being able to ask him questions and pick his brain for a year, I feel like is an opportunity I couldn't pass up on.
"I've known 'X' for four or five years going now…I shadowed him on my visit to Pitt when I was in high school. Coming down here, hanging out with him, and seeing his dedication, his will and his want to win made it (the decision) so much easier."
The 6-foot-8 forward arrived in Bloomington in the late summer after completing his University of Miami (FL) degree. With the Hurricanes, Walker averaged 4.9 points, 2.5 rebounds and 0.5 blocks in 15.1 minutes per game. Back in the 2020-21 season, Walker had a more prominent role, starting 16 games and averaging 9.6 points, but aside from that season, he's only been in the starting lineup three other times. He averaged 10.1 minutes a game this past season — the lowest of his career.
In IU's 85-69 loss to the Canes in the NCAA tournament second round, Walker put up four points and two rebounds in 13 minutes.
With a muscular build at 215 pounds, Walker can be physical in the post, but he's also a solid slasher and cutter. Forty-two percent of his field goal attempts come at the rim, where he finished 65 percent of the time. With a good jab and a long first step, he can drive to the basket off the dribble against bigger and slower defenders, but he isn't someone Mike Woodson would want to be handling the ball consistently.
Walker shot 3-for-24 (12.5 percent) from beyond the arc last season. But, his shooting woes have been a focus since arriving in Bloomington. Walker said Woodson and the rest of the staff want him to feel comfortable shooting open 3s, putting the ball on the floor and driving from the perimeter.
But Indiana shouldn't need him to be able to knock down shots at a 33+ percent clip. Walker can cause a lot of trouble for opposing defenses running the baseline and in the dunker spot. He'll be valuable on a scramble possession where Indiana moves the ball well on the perimeter.
The transition game is another area where he can excel. Walker is a solid rim runner who can get up and down the floor. Defensively, he's not the greatest rim protector and could do a better job on the weak and help sides down low, but his length and athleticism cause some problems for guards when he gets the switch or has to hedge in the pick and roll.
A starting role is not expected of Walker in the cream and crimson. But his length, experience and athleticism are all ways he can find consistent minutes.
"I plan to be the fastest guy in the Big Ten," Walker said. "I take pride in trying to be the first guy back on defense and the first guy under the rim on offense."
Walker does have something that no one else on Indiana's roster has: experience with a deep run in the NCAA tournament. The Baltimore native's winning experience under Jim Larrañaga should be helpful for an Indiana group that has built some postseason expertise in recent years but hasn't reached the Sweet Sixteen since 2016.
Walker was engaged and animated as one of 10 newcomers during IU's media day. He's a self-proclaimed dancer who hopes Woodson isn't a stickler for his fun antics on and off the floor. When describing the game and his teammates, he talks like a former coach and could be a glue guy for the Hoosiers off the bench.
Bottom Line: There's no question that Indiana's frontcourt will look vastly different this season. Only one player returns from last year's rotation, Malik Reneau. Walker has a skill set similar to Jordan Geronimo and will fit that role nicely, but his experience sets him apart. He won't be expected to play 20+ minutes a game, but if he can bring consistent energy and enthusiasm to the floor, he'll fit in nicely.
Quotable: "Of course I'ma try to be the most athletic, be myself. That's joyful, goofy; I'm going to make sure everyone is always loose, even in very tough adversity situations I'm going to make sure everyone's always loose and comfortable. That's something I take pride in." – Walker on what he can bring to Indiana away from the court.
Filed to: 2023-24 season preview, Anthony Walker