6-Banner Sunday: Indiana lands commitment from five-star forward Liam McNeeley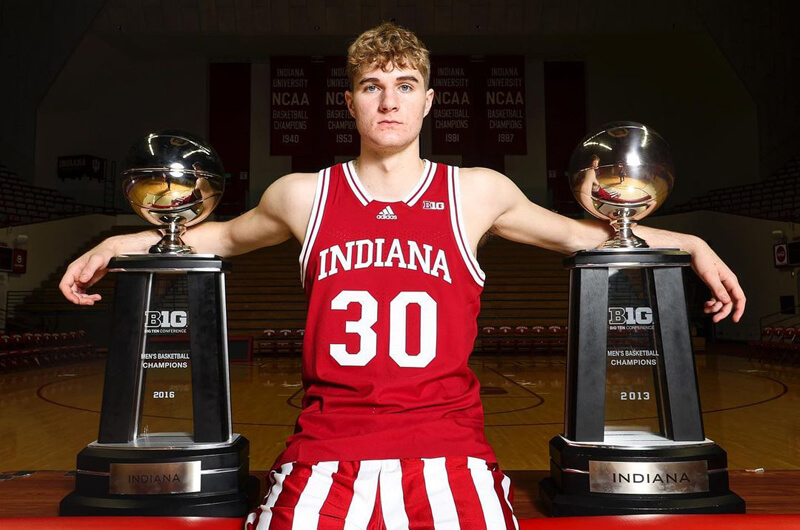 6-Banner Sunday is Inside the Hall's weekly newsletter in partnership with The Assembly Call. Almost 10,000 Indiana fans receive the newsletter each week. In addition to appearing each week on the site, you can receive 6-Banner Sunday by email. A form to subscribe via email is available at the bottom of this week's 6-Banner Sunday.
Welcome to another edition of 6-Banner Sunday, a joint production between The Assembly Call and Inside the Hall, and presented by our friends at Trueblood Real Estate, where we highlight the five most essential IU basketball stories of the past week, plus take a look at how the other IU sports programs are doing.
Decision day came for two prospects Indiana was heavily targeting and the team batted .500 with the announcements. The other big story was Hoosier Hysteria kicking off the men's and women's basketball seasons on Friday night.
In other news, projections came out, Inside the Hall continued its player preview series, and ITH and Assembly Call had new shows. We will as usual conclude with a look at other IU sports led by a thrilling week for men's soccer.
In a brief nugget, Romeo Langford was waived by the Utah Jazz and the future of his NBA career is potentially in peril.
• IU lands McNeeley, loses out on Fland
• Hoosier Hysteria tips off season
• KenPom ratings released
• Inside the Hall player previews
• Podcast on the Brink and Assembly Call shows
• Hoosier Roundup
IU men's basketball will play five games this season on the Peacock and the women will play seven, making the streaming service essential for IU basketball fans. Sign up for Peacock using Inside the Hall's link to help support the site and also enjoy Big Ten hoops all season long! (The link is an Inside the Hall affiliate link, so a commission will be paid to ITH if you click and subscribe to Peacock. We appreciate your support!)
Banner #1 – IU lands McNeeley, loses out on Fland
The Hoosiers went into this week hoping to land two big-time 2024 recruits but had to settle for one. It started on Sunday with the announcement that IU was getting a commitment from a five-star prospect. However, on Friday another five-star headed elsewhere.
As expected, Liam McNeely pulled the trigger for Indiana and in doing so became the second elite player to choose the Hoosiers over Kansas in less than a year. Last spring, Indiana beat out the Jayhawks for incoming freshman Mackenzie Mgbako. Now in McNeely, Indiana has another top-15 prospect according to the 247Sports composite rankings and the dead-eye shooter they have lacked for a long time.
Heading into the weekend, things went against the Hoosiers as Boogie Fland will take his talents to Kentucky rather than Indiana. While it looked for a while like IU might win the Fland sweepstakes, the winds started blowing the other way on Monday when the announcement was set for a few days later than expected. While it appeared the Hoosiers might have a chance still, the inevitable blow was dealt Thursday night when several so-called recruiting experts said Fland would become a Wildcat.
Where the Hoosiers go next on the recruiting trail is an open question. IU still has a shot at McNeely's teammate Derik Queen. Beyond that, the best chance may be in the spring where Indiana coach Mike Woodson has thrived with late signees and players in the transfer portal during his tenure.
Banner #2 – Hoosier Hysteria tips off season
The yearly tradition of Hoosier Hysteria took to the court on Friday for men's and women's basketball. While the days of it being televised are long over and it was only streamed on BIG+ (which is still available to watch for subscribers in the archives), it is nonetheless a big event in Bloomington on homecoming weekend.
It was a full night that began with player introductions and also featured a skills competition that was won by Anthony Leal and Lenee Beaumont. Also, the three-point contest had big scores from Gabe Cupps and Mgbako. Finally, a concert by well-known rapper Gucci Mane concluded the festivities.
There were also several recruiting prospects in attendance and Woodson spoke. Inside the Hall was at the event and had a detailed photo gallery of the action.
Banner #3 – KenPom ratings released
With Hoosier Hysteria now in the rearview mirror, the first exhibition game is a week away. With the beginning of the 2023-2024 season so close, several rankings and preseason awards were released in the last few days.
The Hoosiers open at No. 49 in the well-known KenPom ratings, which is only good for ninth in the Big Ten. While unranked in the first top-25 poll, they received a few votes. No. 3 Purdue, No. 4 Michigan State, and No. 25 Illinois were featured in it as the teams from the conference.
The women, on the other hand, have much hype going into 2023-2024 once again. They are ranked for the fifth straight preseason and are ninth in the Associated Press top 25 poll, which they have appeared in for 75 consecutive weeks. Several individuals were honored as well, with sharpshooters Yarden Garzon and Sara Scalia both named to watch lists. Finally, star center Mackenzie Holmes is a candidate for the Lisa Leslie Award for the third straight year.
Banner #4 – Inside the Hall player previews
Inside the Hall continued its series, previewing each IU player individually. This week, Kaleb Banks, Cupps, CJ Gunn, Malik Reneau, and Kel'el Ware were featured.
Banner #5 – Podcast on the Brink and Assembly Call shows
Podcast on the Brink and Assembly Call were both on air this week. POTB talked about recruiting with Rob Cassidy of Rivals.com.
Meanwhile, Assembly Call had three shows this week. A special episode on Sunday discussed McNeely's commitment and AC Radio was done Thursday as per usual which was a flag-planting show for the hosts. Finally, Doing The Work had Inside the Hall's Amanda Foster on to preview Maryland and Illinois.
Banner #6 – Hoosier Roundup
• Men's soccer topped Ohio State and Maryland in thrilling matches that featured game-winning goals in the final ten minutes. With two matches left, IU now controls its destiny for the Big Ten title. Also, Joey Maher was named Big Ten defender of the week.
• Women's soccer beat Michigan before falling to league-leader Penn State. They are now 19th in the polls and can likely clinch a conference tourney match at home next Sunday with a win at last-place Maryland today. Finally, Piper Coffield was named the league's defender of the week for a third time in 2023.
• Volleyball fell to Purdue but rebounded Saturday with a nail-biting victory over Ohio State. They sit at 16-7 overall and 6-4 at the halfway point of Big Ten competition. This puts them in a solid position to end their 13-year NCAA tournament drought if they continue playing at this level. Also, Ramsey Gary and Camryn Haworth were honored by the conference this week.
• Men's golf continued its high-level play this fall by finishing third at the Quail Valley Invitational.
• Football was again blown out as they were overwhelmed by middling Rutgers on homecoming. On a positive note, Aaron Casey continues to stand out both on and off the field, resulting in him being nominated for the Wuerffel Trophy.
• Field hockey fell to both Ball State and Rutgers.
• Men's tennis competed at the exhibition ITA Ohio Valley championships.
• Wrestling's Jacob Moran will compete at the U23 World championships.
Thanks for your continued support for The Assembly Call and Inside the Hall. We'll be back next weekend with a new roundup.
Now go enjoy yourself a 6-banner Sunday.
Aaron (Ari) Shifron
Assembly Call Contributor
Filed to: