Announcement primer: Class of 2024 guard Boogie Fland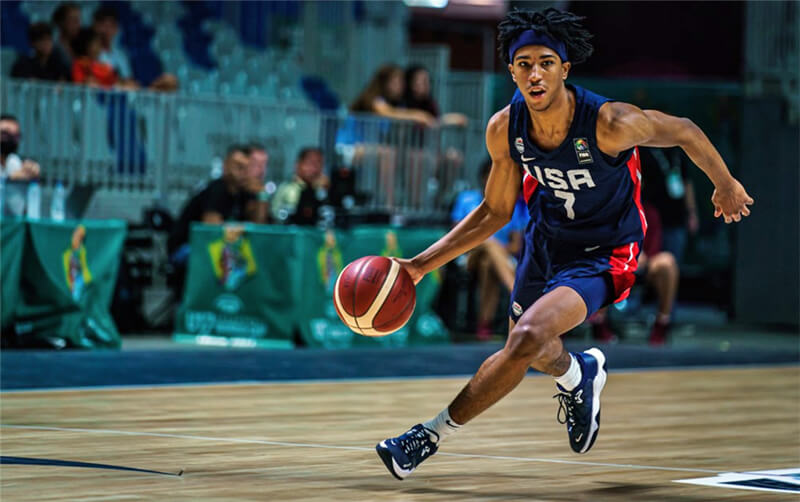 On Friday, October 20, class of 2024 Archbishop Stepinac (N.Y.) guard Boogie Fland will announce his college decision.
The announcement is expected to take place at 2 p.m. ET at Archbishop Stepinac.
The essentials
Guard, 6-3, 175-pounds, Archbishop Stepinac (N.Y.), PSA Cardinals
247Composite: 5-star (29); 247Sports: 4-star (33); On3: 5-star (15); On3 Industry Ranking: 5-star (20); ESPN: 5-star (18); Rivals: 5-star (10)
Numbers to know
As a junior, Fland averaged 18.1 points, 4.2 rebounds, 3.7 assists and two steals at Archbishop Stepinac.
He averaged 14.4 points, five rebounds, 2.7 assists and 1.9 steals as a sophomore and 9.8 points and 4.8 rebounds as a freshman.
Fland averaged 15 points, 3.8 rebounds, 2.8 assists and 1.7 steals for the PSA Cardinals in the EYBL. He shot 33.3 percent on 3s and had a pair of 20-point games and also two 30-point games.
The primary contenders
The 17-year-old Fland will choose between Alabama, Indiana and Kentucky. Indiana and Kentucky appear to be the two main schools in the mix to land his commitment. He took official visits to Alabama and Kentucky this fall and an official visit to Indiana in June.
His initial list of top eight schools also included Maryland, Michigan, North Carolina, St. John's and UConn.
Other schools that offered Fland include Auburn, Florida, Georgia, Georgia Tech, Illinois, Kansas, Kansas State, LSU, Miami (FL), Oregon, Pittsburgh, Syracuse, TCU, Villanova and Virginia Tech.
The timing
Fland completed official visits to his top schools and has now taken some time to think before announcing his decision.
Announcing before the official start of his high school season will allow him to focus on his final high school season with his recruitment settled. He can also sign a National Letter of Intent in the early signing period, which begins November 8.
The scouting reports
"Boogie Fland plays with a New York flair. He has a good handle and is able to shoot the ball from each level. He has deep range off the bounce and will pull up if you give him an inch. He sees the floor well, gets his teammates in evolved, and takes care of the ball, valuing possessions. There is a floater game in there as well, with a one and two dribble pull-up. He will need to continue getting stronger, and he is a solid athlete and has average length. The confidence is sky-high, and the skill set is obvious. He has a comfort playing on the ball or off the ball in a two-guard lineup. Never afraid of the spotlight. Charismatic."
Adam Finkelstein of 247Sports:
"Boogie Fland is a skilled, shot-making guard. He's not only one of the best tough shot-makers in the class but he's long, young for his grade and evolving as a handler."
"From the start of the day, you couldn't help but notice Boogie Fland. His energy in every drill and game was very notable but it wasn't just his energy and engagement throughout that stood out. In competitive drills and games, Fland was making an impact on both ends of the floor. He was competing on defense, crashing the glass, pushing the ball up the floor and creating and making shots from deep. Fland seemed to make the right play each time the ball touched his hand."
Predictions
The 247Sports Crystal Ball does not have any predictions registered for Fland.
The Rivals Future Cast has three picks logged for Fland to Indiana.
On Tuesday's episode of Podcast on the Brink, Rob Cassidy of Rivals.com gave Kentucky a slight advantage to land Fland.
Fland highlights
How to follow the announcement
Fland will announce his decision Friday afternoon at his high school at approximately 2 p.m. ET. If a live stream becomes available, we will update this post with details on how to follow the announcement.
In closing, please remember to adhere to the comment standards that have been set over the past 16 years here on Inside the Hall regardless of the outcome of Fland's announcement.
Filed to: Boogie Fland