Five-star class of 2024 forward Liam McNeeley commits to Indiana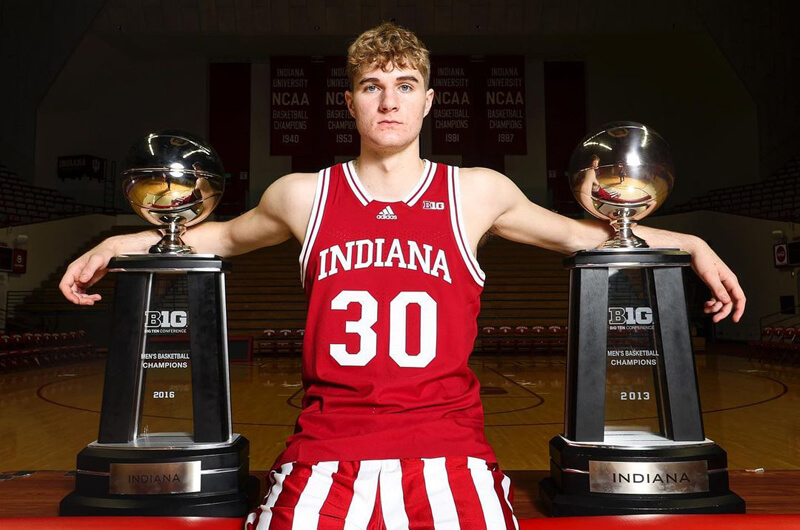 Class of 2024 Montverde Academy (Fla.) forward Liam McNeeley is a Hoosier.
McNeeley, a 6-foot-7 forward, announced his commitment to Indiana on an ESPN broadcast this afternoon at the GEICO Top Flight Invite in Las Vegas, Nevada.
"Coach Woodson has been recruiting me for a really long time," McNeeley said on the ESPN broadcast. "Their interest in me has never wavered. They've been the most consistent in recruiting me and I feel really comfortable with them."
The Richardson, Texas native is considered one of the top players in the country. In the latest 247Composite rankings, McNeeley is the No. 13 player and a five-star prospect.
The five-star forward is Indiana's first commitment in the 2024 recruiting class. The Hoosiers are still in pursuit of lead guard Boogie Fland and big man Derik Queen. Fland has completed his official visits and is in decision-making mode. Queen still has a visit left to Maryland.
McNeeley told ESPN's Paul Biancardi on the ESPN broadcast that he would be talking to Queen and Fland about joining him in Bloomington.
5?? Liam McNeeley (no. 13 ESPN ?) has committed to Indiana ??? #IUBB@liammcneeley30 | @IndianaMBB pic.twitter.com/xs3tAtQnGw

— SportsCenter NEXT (@SCNext) October 15, 2023
Indiana hosted McNeeley for a pair of official visits before his decision. The first visit was before his junior season; more recently, he was on campus from September 8-10.
The five-star forward also considered scholarship offers from Kansas, Texas, Michigan, Alabama and Oklahoma.
McNeeley began his high school career at Pearce High School, near Dallas, Texas. He transferred to John Paul II in Plano, Texas and then to Montverde beginning with his junior season.
As a sophomore at John Paul II, he averaged 17 points, nine rebounds and two blocked shots per game.
According to MaxPreps, he averaged 12.4 points, four rebounds and 2.2 assists last season for Montverde. The Eagles are expected to be a national contender this winter with a roster that includes McNeeley, Queen, Cooper Flagg, Asa Newell, Rob Wright, Curtis Givens III and several others.
McNeeley played with Drive Nation and the Florida Rebels on the Nike Elite Youth Basketball League (EYBL) circuit over multiple seasons.
Other top 15 recruits to commit to Indiana since 1998 include Eric Gordon, Romeo Langford, Noah Vonleh, Jared Jeffries, Cody Zeller, Mackenzie Mgbako, Bracy Wright, D.J. White and Dane Fife.
Here are some scouting reports on McNeeley from the national services:
McNeeley is as versatile as they come in the 2024 class. He has the handle and feel to run an offense and with his textbook shooting stroke, he has the capability to be a knockdown three-point shooter. The best area of his game is his passing as his vision is above average and he is willing to find the open man. He is unselfish to a fault, but he plays the game the right way. A high IQ prospect who can bring something to the table at either forward position, McNeeley should excel as a reliable complimentary option at the collegiate level.
Liam McNeeley has one of the best combinations of skill and basketball acumen in the national class. He came up the ranks known as a shooter – and for good reason as he has clean mechanics, a compact release, and shot over 40% from behind the three-point line in both the NIBC and EYBL seasons – but he's far more versatile than just a specialist. He's particularly adept at coming off screens, making instinctual reads, and then attacking defenders while they are on the move. That can mean movement threes, but it can also mean curls, dribble penetration, and an ability to get downhill at times.
McNeeley has a high natural feel for the game and is a good passer who can also facilitate for others around him. In fact, Montverde frequently made him the featured player of their half-court offense during his junior season and relied on his ability to make decisions with the ball in his hands, not necessarily as a primary ball-handler, but as the first domino in many of their actions.
Physically, he's not especially long or athletic, but he has legit size at over 6-foot-7 with his shoes on, a sturdy base, and increasingly strong and cut upper body. He's made strides being able to stay in front of more athletic wings on the defensive end, in large part because he's aware enough to be in the right spots and take the right angles. Overall, McNeeley may not have the ideal physical measurables of a prototypical five-star prospect, but he is one of the most consistently productive and reliable basketball players in the class.
Liam McNeeley can shoot the basketball. That is probably his feature tool, but he is more than just a shooter. With good positional size, 6-foot-7, he can straight line drive a sloppy close-out, knock down a one, and two-dribble pull-up, and is a smart off-ball cutter. McNeeley is a good team defender; he understands footwork and angles well. He also rotates properly and is not afraid to step in and take a charge. While there will be on-the-ball questions, he is good with deflections and defending off the ball. His hips appear a little stiff, which comes into play with some change of direction situations. Mom played D-1 basketball, and so did two uncles and grandfather.
Filed to: Liam McNeeley