2023-24 ITH Season Preview: Purdue Boilermakers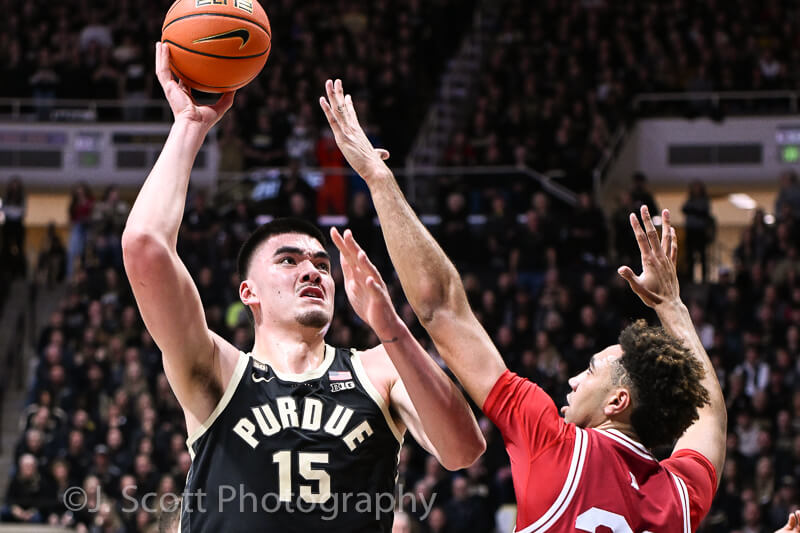 With the start of college basketball season approaching, we'll look at the conference at large and Indiana's roster over the next month.
Today, our team previews conclude with Purdue.
Previously: Penn State, Minnesota, Rutgers, Michigan, Nebraska, Iowa, Ohio State, Maryland, Northwestern, Wisconsin, Illinois, Michigan State
Purdue was one of the best stories in college basketball before the NCAA tournament last season.
The Boilermakers, unranked in the AP preseason top 25, won the Big Ten regular season and tournament titles and earned a No. 1 seed.
Unfortunately for Purdue, the lasting memory is the NCAA tournament loss to 16th-seeded Farleigh Dickinson in Columbus, Ohio. The Boilermakers became just the second No. 1 to lose in the round of 64, joining Virginia.
Matt Painter is hopeful Purdue can bounce back as Virginia did after its stunning loss to UMBC in 2018. The Cavaliers won the national title in 2019.
The trends in the NCAA tournament for Purdue haven't been great. The Boilermakers have lost to lower-seeded teams in three straight tournaments. Purdue fell to Saint Peter's in 2022 and North Texas in 2021.
Purdue returns the national player of the year Zach Edey, now in his fourth season in West Lafayette. The 7-foot-4 big man tested the NBA draft waters but opted to attempt to end his career on a higher note in postseason play.
Edey averaged an incredible 22.3 points, 12.9 rebounds and 2.1 blocks last season. His conditioning was vastly improved, as he logged 31.7 minutes per game. That led the team.
Mason Gillis, Trey Kaufman-Renn and Caleb Furst will join Edey in the frontcourt.
The 6-foot-6 Gillis is an excellent glue guy who can stretch the floor and finishes his limited opportunities in the paint. Gillis made 37.3 percent of his 3s in Big Ten play last season and 66.7 percent of his 2s.
Kaufman-Renn redshirted his first season and came off the bench last season to average 4.5 points, 1.8 rebounds. He shot 49.6 percent from the field. The 6-foot-9 forward is talented but needs to be more consistent.
"He really had a great summer. He's leaned out," Painter told Field of 68. "He's really working toward the defensive piece because that's what we need."
Furst was a major recruiting win for Purdue out of high school but has been a role player through two seasons. He made close to 61 percent of his 2s last season, averaging 5.5 points and 4.6 rebounds per game.
The backcourt will again be led by Braden Smith and Fletcher Loyer, who started as freshmen from day one last season.
The 6-foot Smith logged 30.3 minutes per game last season, averaging 9.7 points, 4.4 assists and 4.2 rebounds per game. He shot 37.6 percent on 3s and should be even better this season with last year's experience.
Loyer is the team's second-leading scorer from last season. He averaged 11 points and made 59 3-pointers, although he connected at just a 32.6 percent clip.
"He can really score, but he's gotta learn to play in advantageous scenarios," Painter told Field of 68. "Beat people on close-outs. Getting angles from his cuts. Get things in transition. He's in a great spot. You always want to play with a great point guard, and you always want to play with a great center. I think he's going to make a big jump."
Guard Ethan Morton also returns, freshman Myles Colin arrives along with Southern Illinois transfer Lance Jones.
Morton doesn't fill up the stat sheet, but he plays solid defense, doesn't make many mistakes and is a great passer. The 6-foot-5 Colvin is a good athlete who is a top-100 recruit from Heritage Christian in Indianapolis.
Jones, a fifth-year player, played the last season at Southern Illinois in the Missouri Valley Conference. He's 6-foot-1 and knows how to score. He averaged 13.8 points last season, can defend at a high level, made 65 3s and has scored over 1,500 points in his career.
Two other Boilermakers who could looks in the rotation are forward Brian Waddell and redshirt freshman Camden Heide. Playing time for both players could hinge on their ability to knock down perimeter shots. Defenses will collapse all season on Edey and the Boilermakers need players in the rotation who can make defenses pay.
Bottom Line: Purdue is the clear favorite to win the Big Ten and will be a popular Final Four pick. Edey is the nation's most dominant player, Smith and Loyer should be improved as sophomores and the rest of the roster has enough talent to win plenty of games. Ultimately, however, the Boilermakers will be judged by what happens in March. After three straight disappointing March Madness exits, there's pressure to get the job done in what will likely be Edey's last season.
Quotable: "You don't want to say what you really feel (in the moment) because you don't want to take anything away from your opponent I've got a lot of respect for anyone who laces them up. It's embarrassing. We've fought to get into the best position, and we've squandered it. It eats at you. That's the bad part of coaching. You should cherish the Big Ten championship and you should cherish the (conference) tournament championship. But you just think about that. And you should. We need to do something about it." – Painter to Field of 68 last month.
Filed to: 2023-24 Big Ten preview, Purdue Boilermakers