2023-24 ITH Season Preview: Rutgers Scarlet Knights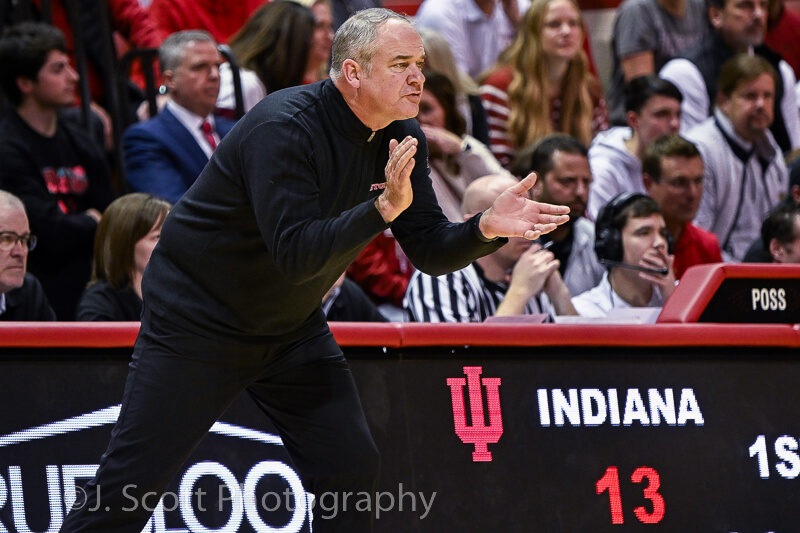 With the start of college basketball season approaching, we'll look at the conference at large and Indiana's roster over the next month.
Today, our team previews continue with Rutgers.
Previously: Penn State, Minnesota
Rutgers will have a new-look roster when it takes the floor at Jersey Mike's Arena this season.
After narrowly missing the NCAA tournament last spring, Steve Pikiell lost Cam Spencer (UConn) and Paul Mulcahy (Washington) to the transfer portal. And Caleb McConnell, the program's best perimeter defender, graduated.
Despite the roster turnover, the Scarlet Knights have the pieces to contend for a March Madness berth.
Rutgers will have one of the Big Ten's best frontcourt players in Clifford Omoruyi, who is back for a fourth season in Piscataway. The 6-foot-11 senior averaged 13.2 points, 9.6 rebounds and 2.1 blocks last season. Omoruyi led the Big Ten in block percentage last season (9.4) and ranked in the top five of the conference in offensive and defensive rebounding percentage.
The revamped backcourt will likely consist of the trio of sophomore Derek Simpson, UMass transfer Noah Fernandes, FIU transfer Austin Williams and freshman Gavin Griffiths.
The 6-foot-3 Simpson will have an opportunity for an expanded role after flashing potential in his first season. He scored in double figures in the season's final four games, including 18 points against Purdue in the Big Ten tournament in Chicago.
Fernandes, a fifth-year senior coming off of a knee injury, averaged 13.4 points, 4.1 assists, 2.5 rebounds and 1.3 steals last season in just 11 games in the Atlantic 10. The 5-foot-11 point guard shot 45.2 percent on 3s last season.
"I think Noah gives us a veteran guard from UMass that can really shoot the ball," Pikiell said in July. "He's been really mature."
Williams, a 6-foot-4 guard, is now at his fourth school. He began his career at Marist, transferred to Hartford and FIU and is now with Rutgers for his final season of eligibility. Williams never took the floor last season for FIU due to a knee injury, but he's a career 1,000-point scorer and was a first-team All-America East player at Hartford.
Griffiths, who is listed at 6-foot-8, was a top 50 recruit in the 247Composite for the 2023 class. The Kingswood-Oxford School (Conn.) product was a major recruiting win for Pikiell and his staff as Rutgers beat out a long list of schools in his recruitment. Griffiths averaged 17.3 points during a summer trip to Senegal and Portugal. His scoring ability should translate immediately, a welcome boost for a Rutgers program that has struggled to put points on the board in recent seasons.
"Gavin is special in a lot of ways," Pikiell said in July. "Very athletic, can really shoot the basketball and has a real good competitive spirit about him."
Freshman Jamichael Davis could also get a look for minutes as a backup point guard off the bench. Davis is a 6-foot-2 guard from Georgia who Pikiell has praised in interviews for his energy and quickness.
Rutgers also returns fifth-year senior Aundre Hyatt and senior Mawot Mag. Hyatt averaged 8.8 points last season, but his offensive game needs more efficiency. The 6-foot-6 forward shot only 37.4 percent from the field.
Mag was recently cleared for non-contact activities, a significant step in a long road back from a torn ACL he suffered in early February. The 6-foot-7 forward is an elite defender who can guard multiple positions. At the time of his injury last season, Rutgers was 15-7 and 7-4 in the Big Ten.
Other Scarlet Knights who should be in the rotation include forwards Oskar Palmquist, Antwone Woolfolk and Antonio Chol. Palmquist's minutes will likely depend on Mag's health, while Woolfolk will be a backup to Omoruyi in the post. Chol redshirted last season, but Pikiell called him a "big-time shooter" when the program signed him.
Bottom line: Rutgers is viewed as a likely NCAA tournament bubble team entering the season, which feels fair given the roster turnover. Omoruyi will be the centerpiece on the roster, but the Scarlet Knights will need the revamped backcourt to shine to exceed expectations. Simpson is a breakout candidate in the backcourt, Fernandes will need to run the team at the point guard position and Griffiths and Williams will need to score. Rutgers should again be one of the best defensive teams in the Big Ten.
Quotable: "He (Omoruyi) wanted to come back, wanted to come back to graduate. Which, in this day and age, it's refreshing to hear that he wants to come back to graduate, get his degree and to continue the great career that he has had. I think he's one of the best big men in the entire country. We're just thrilled and honored to have him back for another season. I tell Rutgers Nations to enjoy him. He's gotten better, too. It'll be his team moving forward." – Pikiell in July.
Filed to: 2023-24 Big Ten preview, Rutgers Scarlet Knights