2023-24 ITH Season Preview: Northwestern Wildcats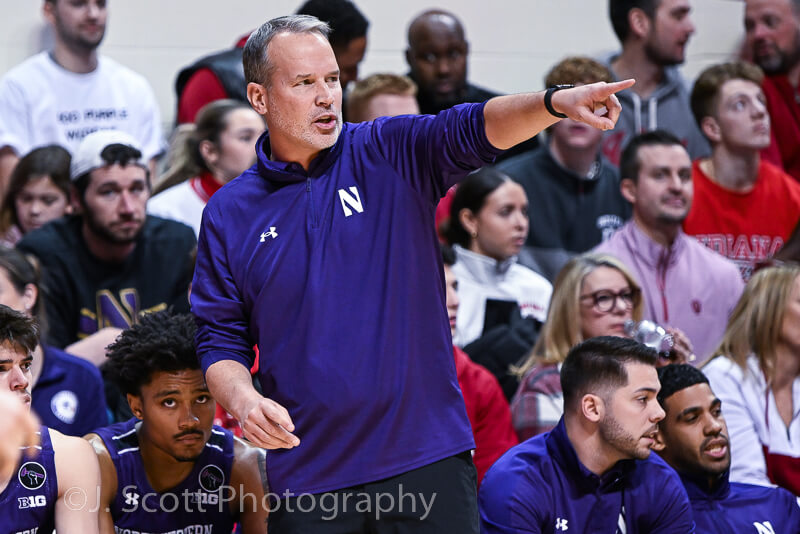 With the start of college basketball season approaching, we'll look at the conference at large and Indiana's roster over the next month.
Today, our team previews continue with Northwestern.
Previously: Penn State, Minnesota, Rutgers, Michigan, Nebraska, Iowa, Ohio State, Maryland
The surprise team in the Big Ten last season, Northwestern has aspirations of reaching the NCAA tournament in back-to-back seasons for the first time in program history.
The Wildcats finished 22-12 overall last season, 12-8 in the Big Ten and advanced to the round of 32 before falling to UCLA in Sacramento. Defense was the catalyst as Northwestern finished the season with the nation's 22nd-best defense, according to KenPom's adjusted defensive efficiency rankings.
Despite some notable roster attrition – Chase Audige and Robbie Beran are gone – Northwestern is well-positioned for season 11 of the Chris Collins era.
After testing the NBA draft waters, Boo Buie returned to Evanston for a fifth season. The 6-foot-2 guard was among the league's best guards last season, finishing fourth in assist rate and first in free throw percentage. Buie averaged 17.3 points, 4.5 assists, 3.4 rebounds and 1.1 steals in 34.9 minutes.
"Certainly when you get an All-Big Ten-caliber player who's a point guard going into his fifth year to come back and lead your team, it's great news," Collins said in May. "But the thing I'm most proud about for him is, he's coming back the right way. He wants to get better, he wants to win. He wants to continue to add to his legacy here at Northwestern, which is pretty awesome."
Fourth-year guard Ty Berry, who saw his perimeter shooting regress last season, will join him in the backcourt. Berry shot 38.3 percent from 3 in his second season, but that number fell to 29.1 percent a season ago. Northwestern needs him to regain his shooting and continue defending at a high level to reach its ceiling as a team. The 6-foot-3 guard finished sixth in the Big Ten in steal percentage last season and averaged 8.5 points, 4.8 rebounds and 1.4 steals in 28.3 minutes.
Indiana native Brooks Barnhizer should be elevated to a starting role after a stellar sophomore season. The 6-foot-6 wing from Lafayette averaged 7.6 points and 4.9 rebounds in 24.3 minutes off the bench. He shot 40 percent on 3s in Big Ten play and was one of the better defensive rebounders in the conference.
Big man Matthew Nicholson returns after a breakout junior season. Nicholson barely saw the floor in his first two seasons but started last season and averaged 6.3 points, 5.4 rebounds and 1.2 assists in 21 minutes per game. He has a limited offensive game, but he plays hard, runs the floor and finishes the limited opportunities to score he receives.
"When you have a big guy who's committed to working, and also you have a big guy who's competitive and tough and wants to be, then they get better," Collins said of Nicholson last March. "That's what Matt has done. He's a competitive guy. He really cares. He works really hard."
Sophomore wing Nick Martinelli, an Illinois native, will provide backup depth at the four and was a regular in the rotation down the stretch as a freshman. The 6-foot-7 forward plays 16 minutes over the team's two NCAA tournament games.
Collins will rely on three transfers to help fill out the rotation. Ryan Langborg arrives from Princeton, Blake Preston transferred in from Liberty and Justin Mullins comes to Evanston after a one-year stint at Denver.
Langborg was a member of Princeton's Sweet 16 team last season. The 6-foot-4 guard averaged 12.7 points in 31.3 minutes for the Tigers and could start in the backcourt with Buie and Berry if Collins elects to go with a smaller lineup.
Preston is a 6-foot-9 graduate student who averaged 6.7 points and 5.1 rebounds for the Flames. He'll likely serve as a backup for Nicholson.
Mullins is a 6-foot-6 Chicago native who averaged 9.8 points and shot 36.5 percent on 3s last season at Denver.
Bottom Line: The last time Northwestern made the NCAA tournament, the Wildcats finished just 15-17 the following season. That type of regression is unlikely to occur again, but losing Audige leaves a hole in the backcourt and will impact the team's defense. Buie will be one of the Big Ten's best guards again, but the pieces around him like Berry, Nicholson and Barnhizer all have to raise their level of play for Northwestern to return to March Madness.
Quotable: "Sure they'll be more expectations. I'm not sure we'll be picked last again, which is fine. Low expectations, high expectations, I always tell our guys that we have to keep an even keel. I tell them all the time, even after big wins, 'Don't be so happy and joyful about good things that are said about you, and when you're not doing well, the same people are gonna report how you're struggling.' That's the nature of how this is, especially with social media and the attention on these guys. Especially with Boo coming back, we'll return a great core with some of the additions that I think will really help us. There will be expectations we maybe haven't had in the past couple of years, and that will be different for our guys." – Collins during a media availability last May.
Filed to: 2023-24 Big Ten preview, Northwestern Wildcats