2023-24 ITH Season Preview: Nebraska Cornhuskers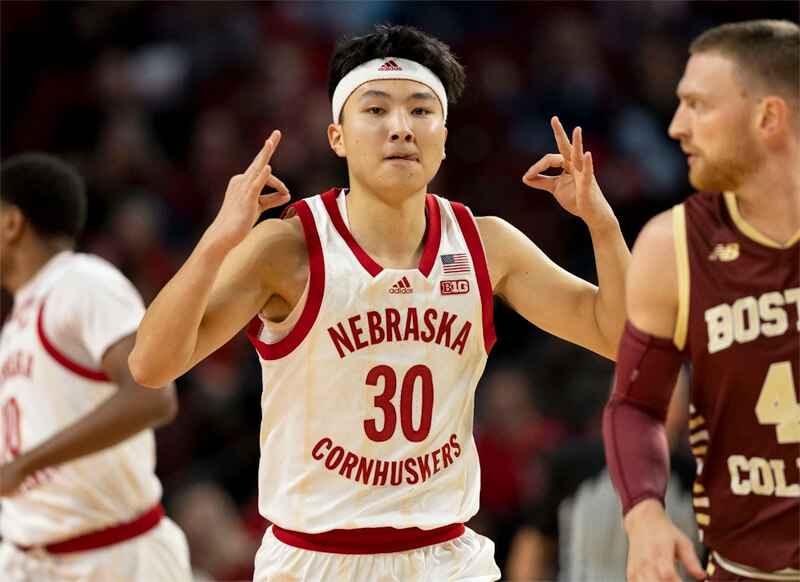 With the start of college basketball season approaching, we'll look at the conference at large and Indiana's roster over the next month.
Today, our team previews continue with Nebraska.
Previously: Penn State, Minnesota, Rutgers, Michigan
Is there finally a reason for optimism for Nebraska basketball under Fred Hoiberg?
After three underwhelming seasons to begin the Hoiberg era in Lincoln, the Huskers finally showed improvement last winter.
Nebraska rebounded from a 2-6 start in conference play to finish 9-11 in the Big Ten and 16-16 overall. By the end of the season, no one in the Big Ten wanted to play the Huskers. Despite some key roster losses – Derrick Walker, Emmanuel Bandoumel and Sam Griesel all graduated – a mix of returnees and transfer additions could help Hoiberg sustain the momentum built late last season.
Guard Keisei Tominaga will lead the Huskers after averaging 13.1 points and shooting 40 percent on 3s (on 165 attempts) a season ago. The crafty 6-foot-2 guard knows how to move without the ball and get open. Over the final 15 games last season, Tominaga averaged 17.3 points per game.
Over the summer, Tominaga helped lead Japan to a berth in the 2024 Paris Olympics with his play in the FIBA World Cup. He averaged 11.4 points on 45 percent shooting over five games in the event. Japan won three games for the first time in the FIBA World Cup.
Juwan Gary, who suffered a season-ending shoulder injury last season, is also back as is guard C.J. Wilcher. The 6-foot-6 Gary averaged 9.5 points and 6.5 rebounds in 17 games last season. Hoiberg recently said Gary is back healthy and called him one of the "elite offensive rebounders in the country."  Wilcher, a 6-foot-5 guard, averaged eight points in 27.2 minutes per game.
While Gary and Wilcher will be in the rotation, a couple of incoming transfers may have a higher upside.
Charlotte transfer Brice Williams should immediately impact the wing after averaging 13.8 points and 5.3 rebounds last season for the 49ers. Williams shot 39.7 percent on 3s last season on a 22-win Charlotte team and should be one of the league's most impactful transfers.
"With his size, a 6-foot-8, gives us great versatility all over the floor," Hoiberg said of Williams at Nebraska's media day.
Forward Josiah Allick is a fifth-year senior who previously played at UMKC and New Mexico before transferring to Lincoln for his final season. The 6-foot-8 forward is a Lincoln native who finishes nicely – he shot 64.4 percent on 2s last season – and also attacks the offensive glass.
Bradley transfer Rienk Mast will replace Walker as the starting center. The 6-foot-10 big man averaged 13.8 points, eight rebounds and 2.4 assists last season in the Missouri Valley. Unlike Walker, Mast can step out and knock down perimeter shots. Over three seasons at Bradley, Mast connected on 82 triples and he's also made 57.3 percent of his 2s in his career.
Freshman Eli Rice, a 6-foot-8 wing from IMG Academy, averaged 16 points per game during the team's offseason trip to Spain.
Look for guards Jamarques Lawrence and Jarron Coleman to battle for the point guard minutes. Ahron Ulis also transferred in, but was involved in a sports betting probe while at Iowa and is unlikely to play.
The 6-foot-5 Coleman averaged 14.3 points, 4.9 rebounds and 3.8 assists last season at Ball State. Lawrence, a 6-foot-3 sophomore from New Jersey, knocked down 36.7 percent of his 3s last season for the Huskers in Big Ten play.
Bottom Line: Nebraska has yet to reach the postseason under Hoiberg, but the Huskers could finally be in line for a run at the NIT this season. That would be significant progress for a program that has yet to sniff the postseason under Hoiberg thus far. The talent on the roster still isn't up to the standard of many Big Ten teams, but there's enough to move up a few spots in the Big Ten standings. Tominaga is one of the country's most entertaining players, and Williams might be the best Big Ten transfer nobody is talking about.
Quotable: "One thing that I've really been impressed with this group is the competitive spirit. Every day you know exactly what you're going to get from these guys. There's a physicality with this group, there's a lot of experience with this group. We have nine players on our roster that have four years or more experience. We're the oldest team in the Big Ten and that matters." – Hoiberg earlier this week at the program's media day.
(Photo credit: Nebraska Athletics)
Filed to: 2023-24 season preview, Nebraska Cornhuskers