2023-24 ITH Season Preview: Michigan Wolverines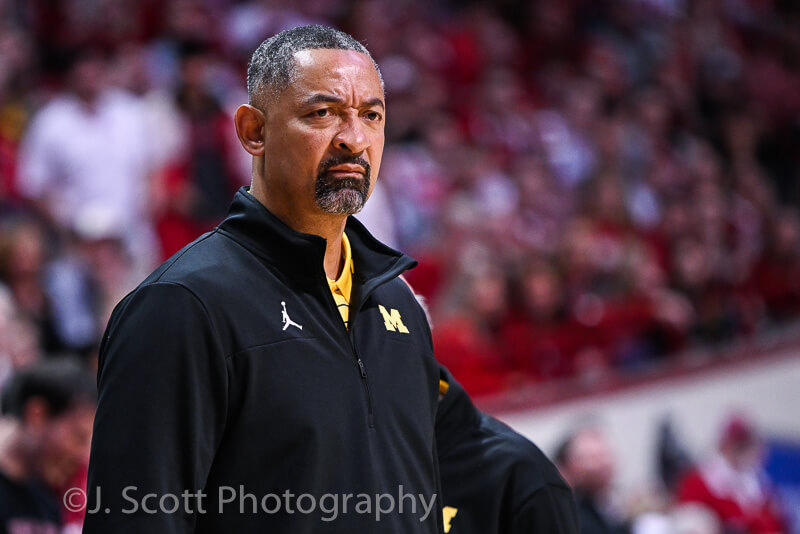 With the start of college basketball season approaching, we'll look at the conference at large and Indiana's roster over the next month.
Today, our team previews continue with Michigan.
Previously: Penn State, Minnesota, Rutgers
Michigan basketball got off to a strong start under Juwan Howard.
The program was headed for an NCAA tournament appearance in 2020 when the COVID-19 pandemic canceled the end of the season. The Wolverines were in the Elite Eight in Howard's second season and followed that up with a Sweet Sixteen appearance in year three.
Last season, however, represented a step in the wrong direction. Despite having two top 15 NBA draft picks and an All-Big Ten big man on the roster, Michigan missed the NCAA tournament.
The NBA draft picks – Jett Howard and Kobe Bufkin – are gone. And Dickinson, the program's centerpiece for the last three seasons under Howard, is now playing for Bill Self at Kansas.
As year five of the Howard era approaches, the program's momentum has stalled and there are legitimate questions about Michigan's ability to get back to the NCAA tournament this season.
This season's version of the Wolverines is built around transfers and a few key returnees. One of those transfers was expected to be Caleb Love, but the former North Carolina guard is now at Arizona after issues arose with his admission to Michigan.
Sophomore point guard Dug McDaniel will captain the backcourt. The 5-foot-11 McDaniel had a strong debut season, averaging 8.6 points, 3.6 assists and 3.1 rebounds per game. If Michigan is going to exceed expectations, McDaniel has to take a significant step forward and become a more efficient player. As a freshman, he shot less than 40 percent on 2s.
Alabama transfer Nimari Burnett is a graduate student who averaged 5.6 points in 14.7 points last season for the Crimson Tide. The former McDonald's All-American will need to provide a scoring punch from the wing to make up for the production Bufkin and Howard provided. He'll likely draw the challenging defensive assignments on the perimeter.
Tennessee transfer Olivier Nkamhoua could be Michigan's best player and can score in various ways. He should be in a more prominent role in Ann Arbor. The fifth-year forward, who is 6-foot-9, averaged 10.8 points, five rebounds, and two assists for Rick Barnes in Knoxville last season.
Sophomore big man Tarris Reed Jr. should be the starter at the five after playing less than 13 minutes per game last season behind Dickinson. The 6-foot-10 center won't be the scorer Dickinson was, but he's a better shot blocker, which will aid Michigan's defense.
Seton Hall transfer Tray Jackson can step out on the perimeter and make 3s. The 6-foot-10 forward shot 37.5 percent from distance last season and averaged 6.5 points in under 15 minutes per game. He'll likely be a frequent target for McDaniel to find on the perimeter.
Veteran forward Terrance Williams is better suited coming off the bench as an energy guy as his offensive game is too limited to justify starter minutes. Williams started 26 games last season.
Jaelin Llewelyn, returning from an ACL tear he suffered in a loss against Kentucky last season, could be looking at a reserve role if Michigan opts for more size in the starting lineup. The 6-foot-2 guard can play both guard spots, but his 3-point shooting percentage for his career is in the low 30s.
Others who could figure into the rotation are freshman guard George Washington III, sophomore forward Youssef Khayat and redshirt sophomore forward Will Tschetter. Washington could get minutes if he can make perimeter shots. Tschetter and Khayat are looking at spot minutes behind Jackson or Nkamhoua when needed.
Bottom Line: Michigan's mediocre performance last season has expectations low for the program entering year five of the Howard era. The Wolverines were an elite defensive team in Howard's first two seasons, but ranked 74th and 47th the last two seasons in KenPom's adjusted defensive efficiency rankings. If Michigan is going to get back to the NCAA tournament, defense is the key. The roster will struggle to replace the offensive production vacated by the departures of Bufkin, Howard and Dickinson.
Quotable: "Watching this team and watching the pieces, I think me and Dug are going to be lethal in the ball screen, because we can create in any situation. If he wants to get to the cup, I can stay back. If we're both getting to the cup, we both have the pick-and-roll on live with the low passes. Playing with a big like T-Reed, I can space the floor and give him room to operate down low. But then, at the same time, because of his size, speed and athleticism, if I can catch it on the block and I go to work and his guy comes to help, I can drop it off and I know that's an easy dunk. I know we will be able to play off each other really well." – Nkamhoua over the summer.
Filed to: 2023-24 Big Ten preview, Michigan Wolverines