New faces: Indiana's frontcourt building relationships on and off the court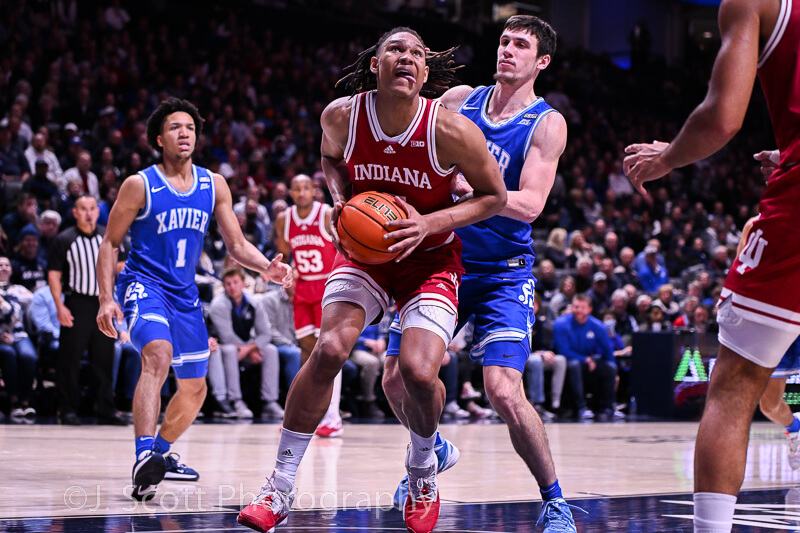 Despite only being a sophomore, Indiana forward Malik Reneau has been in Bloomington longer than any other member of the Hoosier frontcourt.
It's weird to think about it that way, but welcome to modern college basketball.
Like many coaches did last spring, Mike Woodson and his staff hit the transfer portal. Indiana added three players above 6-foot-8: Kel'el Ware from Oregon, Anthony Walker from Miami (FL) and Ball State's Payton Sparks.
Strangely for Reneau, being put in a leadership role like this feels earlier than expected. The Miami (FL) native is only 20 years old and five weeks into his third semester of college.
"I realized, alright, my position on this team is definitely changing," Reneau told reporters last week at IU's media day. "I'm going to be one of the guys they're looking up to to help them out with all the stuff on and off the court."
Last season, it was Trayce Jackson-Davis and Race Thompson showing then-rookie Reneau the ins and outs of Bloomington and the Indiana basketball program. Now, it's Reneau leading the way for his fellow big men.
It's been important for Reneau to take on that challenge. Thompson and Jackson-Davis started in the front court together for three years. All four big men on this year's roster will compete for playing time in November. When it's open season for minutes, things could trend in a negative direction personally. The 6-foot-9 sophomore doesn't want that to happen.
Even at 10:00 A.M. on a Saturday, Ware and Reneau bond over NBA 2K's MyPark. The 7-foot Oregon transfer's MyPlayer build, dressed as Harry, the Atlanta Hawks mascot, is a floor-spacing slasher. In contrast, Reneau, a hybrid defender, dons the look of Crunch, the mascot of the Timberwolves. And no, these are not indicative of their roles as Hoosiers but more so a manifestation of something they could never be on the court.
"For how me and 'Lik go, just with me and him playing the four and the five, we're that bond and we're closest to each other," Ware said last week. "Hanging out with each other on the game and off the court…you gotta grow that bond and connect that way."
Reneau, the Montverde product, also addressed the need for connection off the court.
"It's not only just playing on the basketball court but doing stuff other than basketball, whether it's playing the game, going out, getting food and stuff like that," Reneau explained. "So when we get in the game, we have that connection."
Ware added that the four big men have all gone out to eat together and even gone on fishing trips.
A fifth-year player, Walker isn't much of a fisherman, but he will game with Ware and Reneau on NBA2K.
"I'm the gamer…we got a little crew, we play 2K, of course," Walker said. "If we're not in the gym and we're not at practice, we're not lifting — we're on the game."
The Baltimore native has heralded himself as one of, if not the best, trash talkers on the team. Reneau and Ware get a full load of that while playing in 2K's MyPark, but some of it has also come onto the actual court. Of course, it is all in good fun.
Walker is paired with Sparks as his roommate, which might be a perfect match because of their differing personalities.
Walker, the veteran, is confident and comfortable. His facial expressions can be spotted from yards away and he discusses his teammates with positivity and honesty. Sparks is quiet at 6-foot-10 and 258 pounds and wears a humble, grateful, soft-spoken demeanor. Walker even claimed Sparks had caught him by surprise on the basketball floor, expecting him to be strong and slow. But, the Ball State transfer has quick feet, is a good cutter and according to Walker is "extremely explosive."
Walker calls his roommate a "soft giant" because of his quiet and calm manner.
It's all been good fun for the big men group. The trash talk and banter doesn't cross any lines and it's a welcome sight for Indiana fans who may worry about team chemistry in the transfer portal era.
In 2023, college basketball can lack connection and camaraderie. Gone are the days of four-year seniors regularly sticking out their whole college career in one spot and leaving with the friends they came in with. It's still there occasionally with guards Anthony Leal and Trey Galloway as current examples on the IU roster. But, new faces, including freshmen and transfers, will enter the program each offseason. This puts players like Reneau in an interesting spot as a sophomore. He'll have to be a leader as an underclassman.
It's imperative Indiana's on-court hunger for playing time doesn't become more than just that. The frontcourt rotations were tight during Woodson's first two years as head coach. He stuck with two or three players he trusted and didn't look much further — especially once Big Ten started. Early November may be open season for the four big men and at some point separation must occur.
So, Walker will dance and talk trash, Reneau and Ware may be a lethal duo on NBA2K MyPark, and Sparks will go out to eat and raise his teammates' eyebrows in practice. But, only time will tell if it will translate onto the floor in November.
Filed to: