2023-24 ITH Season Preview: Iowa Hawkeyes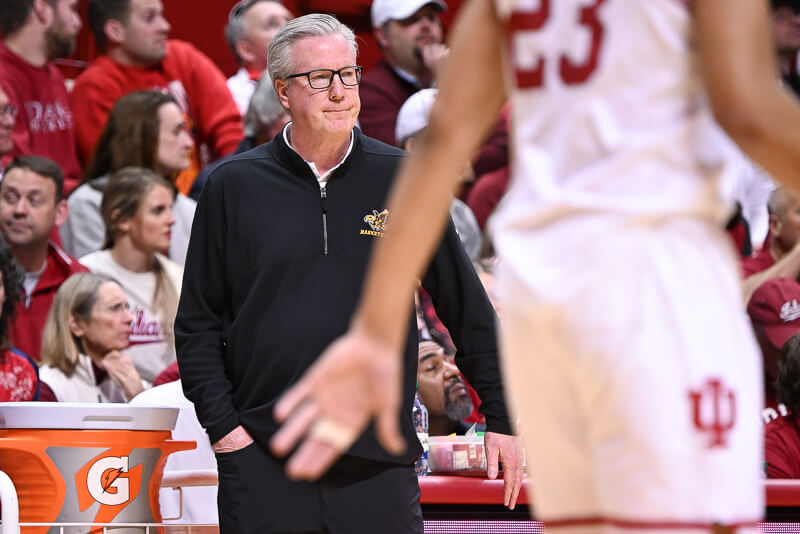 With the start of college basketball season approaching, we'll look at the conference at large and Indiana's roster over the next month.
Today, our team previews continue with Iowa.
Previously: Penn State, Minnesota, Rutgers, Michigan, Nebraska
The expectation was for Iowa to take a step back last season after losing Keegan Murray, Jordan Bohannon and Joe Touissant from a team that finished ranked in the KenPom top 15.
The Hawkeyes regressed without Murray, but his twin brother Kris provided enough scoring punch and star power to guide Iowa back to the NCAA tournament as a No. 8 seed. The Hawkeyes suffered another disappointing loss in March, falling 83-75 to Auburn on March 16.
Now Kris Murray is in the NBA as a member of the Portland Trailblazers, and a return to the NCAA tournament is no certainty in Iowa City.
Iowa has a strong returning nucleus to build around in Tony Perkins, Payton Sandfort, and Patrick McCaffery but lacks a go-to scorer like Luka Garza or the Murray twins.
Sandfort is a prime breakout candidate after putting up 10.3 points in 20.8 minutes per game as a sophomore. The 6-foot-7 wing shot 39.3 percent on 3s in Big Ten games and scored 21 points in the season-ending loss to Auburn.
Perkins, a 6-foot-4 guard from Indianapolis, is back for a fourth season. He's excellent at getting into the lane and drawing fouls. He ranked 13th in the Big Ten last season in free throw rate (FTA/FGA) and connected at an 82.4 percent clip from the stripe.
McCaffery is a versatile wing who can shoot it from the perimeter  – 36.7 percent in Big Ten games – and can be a mismatch problem because of his 6-foot-9 frame and ability to put the ball on the floor.
Point guard Dasonte Bowen should be in line for more time following the transfer of Aaron Ulis. As a freshman, the 6-foot-2 Bowen averaged 3.1 points in just under 10 minutes per game last season. Brock Harding, a 6-foot freshman, is a top 150 recruit from Moline, Illinois, who averaged 11.3 points and 3.3 assists during an offseason trip to Europe.
Wings Josh Dix and Pryce Sandfort will provide shooting from the perimeter. The 6-foot-5 Dix shot 40 percent from distance last season as a freshman. Sandfort, the younger brother of Payton, shot just 7-for-24 on 3s during Iowa's trip to Europe but will be a threat as he becomes more comfortable at the college level.
In the frontcourt, Ben Krikke arrives as a transfer from Valparaiso with major expectations. The 6-foot-9 graduate student averaged 19.4 points, 5.4 rebounds and 2.1 assists last season for the Beacons.
He'll be joined in the rotation by 6-foot-10 freshman Owen Freeman and Even Brauns, a 6-foot-9 transfer from Belmont.
Freeman averaged 10.3 points and 12.3 rebounds on Iowa's trip to Europe and could play alongside Krikke if Iowa goes with a bigger lineup at times. Brauns is an Iowa native who is 6-foot-9 and averaged seven points and 5.3 rebounds last season at Belmont.
Bottom line: Iowa is a program built on offense under McCaffery. The Hawkeyes last had a top 50 KenPom defense in the 2015-16 season and ranked 168th in the country last season. While Iowa could be slightly better defensively this season, the Hawkeyes should have an elite offensive team again. Iowa will play with pace, shoot the ball well from the perimeter and put pressure on Big Ten opponents with a high-octane offense. Most preseason projections have Iowa as a bubble team, which feels like a fair projection with so many newcomers and the loss of Murray to the NBA.
Quotable: "Well, the timing couldn't have been better. With six new guys, and of course two of them are veteran players but they are new to this program, we really have great expectations with all six of them because we lost our frontline essentially in Connor McCaffery, Kris Murray and Filip Rebraca. Those guys played 3,000 minutes. That's a lot of minutes for three guys. We need these young guys to step up and our transfers to step up. We can start workouts in June, but when you go overseas and you can do that once every four years and for us it's been six because we didn't go during the pandemic or the year following, you get extra practice time. So we feel like we've been at it for a while." – McCaffery on the benefit of taking an offseason trip.
Filed to: 2023-24 Big Ten preview, Iowa Hawkeyes