2023-24 ITH Season Preview: Wisconsin Badgers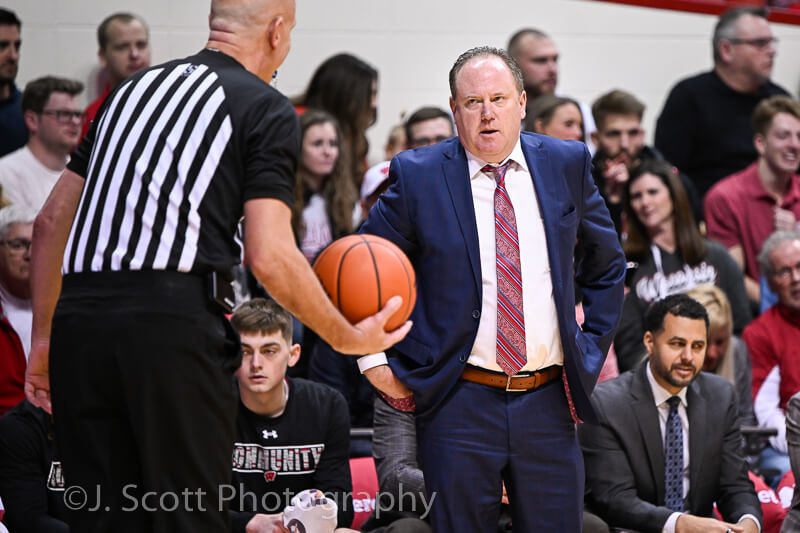 With the start of college basketball season approaching, we'll look at the conference at large and Indiana's roster over the next month.
Today, our team previews continue with Wisconsin.
Previously: Penn State, Minnesota, Rutgers, Michigan, Nebraska, Iowa, Ohio State, Maryland, Northwestern
After a disappointing 2022-23 season and an NCAA tournament miss, there's pressure on Greg Gard this season in Madison.
The Badgers finished last season 20-15 overall, but just 9-11 in Big Ten play. Wisconsin's season ended with an NIT semifinal loss to North Texas in Las Vegas.
Fortunately for Gard, every notable contributor besides Jordan Davis returns to Madison for another season.
6-foot-9 Tyler Wahl and 7-footer Steven Crowl will anchor the Wisconsin frontcourt. Wahl dealt with an ankle injury last season that forced him to miss three games in January. Wahl didn't look 100 percent for a good part of the stretch run and the numbers confirm something wasn't right with his health. He shot just 31.2 percent on 3s and 42.4 percent in Big Ten play. The Badgers need him to bounce back and be the guy who made almost 59 percent of his 2s as a junior in league play.
Crowl is a dependable big man who is an excellent defensive rebounder and solid finisher who can pass out of the post. He averaged 12.1 points, 6.9 rebounds and 2.5 assists last season.
The guard rotation will feature point guard Chucky Hepburn, Max Klesmit, Connor Essegian and newcomer AJ Storr, who transferred from St. John's.
The 6-foot-2 Hepburn only averaged 2.8 assists – a number that needs to increase – last season and shot a worse percentage on 2s (36.8 percent) than 3s (39.8) in Big Ten play. With scoring options around him, Hepburn must become a better facilitator in his third season.
The primary scoring options for the Badgers might be Essegian and Storr. The 6-foot-4 Essegian shot nearly 36 percent on 3s last season on 192 attempts. After coming off the bench for the first 16 games last season, Essegian played his way into the starting lineup as the team's most efficient wing scorer.
"Yeah, I think overall, more confident," Gard told reporters of Essegian last week. "I think it's not only the areas he's done really well, but the areas that he's struggled, too. He knew he had to get stronger, he knew he had to get more durable, and he's been able to do that. I think he'll be able to be better on the defensive end of the floor, play longer stretches of the game."
The 6-foot-7 Storr is transitioning from one of the nation's fastest tempos to Wisconsin's deliberate system. But he's wired to score and gives the Badgers an athlete on the wing who can make perimeter shots and get a bucket. He made 40.4 percent of his 3s last season in the Big East.
"He's been awesome," Gard told the Wisconsin media recently. "He's really coachable. He's like a sponge."
Klesmit started all 33 games he played in last season after transferring from Wofford. He's a career 35.7 percent 3-point shooter who knows how to play his role.
The Badgers played a tight rotation last season and 6-foot-7 forward Carter Gilmore is the only other returning Badger who averaged double-figure minutes.
The freshman class, which includes a top 100 prospect in Gus Yalden, looks to have some promise. The No. 128 player in the 247Composite for the 2023 class, Yalden is 6-foot-9 and 240 pounds and could see some time as Crowl's backup.
Nolan Winter, a Minnesota native, is a 6-foot-10 forward ranked No. 151 in the final 247Composite. The Badgers beat out Minnesota, Oregon and Stanford to land him. And John Blackwell, a 6-foot-4 guard from Bloomfield Hills, Michigan, could provide athleticism in the backcourt if given an opportunity.
Bottom Line: The pieces are in place for Wisconsin to return to the NCAA tournament this season. This is one of the more experienced rosters in the Big Ten that doesn't rely much on the transfer portal. The ceiling for this group might not be as high as the league's elite teams this season, but the Badgers have a solid top six in the rotation. There's pressure on Gard to return the program to March Madness after failing to meet expectations a year ago.
Quotable: "It's so competitive, the parity level is so tough across the board, college basketball, you better bring your 'A' game most nights. And with our schedule, we might have to bring our 'AA' game for some of those. But, there's a lot that goes into it. Finishing has been one word that I've talked about a lot. It's been everything that we've gone through, and we had leads in many of them in the last three or four minutes. So, it's getting to the foul line more, converting at the foul line more, getting a defensive stop in a crucial situation. Depth is a part of that, over the course of the season, over 35 games. You can be deeper, you can maybe be fresher in the last four to five minutes of a game in late February. So, I don't think there's one specific thing, and then guys getting better. Everyone talks about the three freshmen and AJ Storr coming in, but the guys coming back, too, whether they've gotten bigger, smaller, whatever the case may be. They've all come back and gotten better." – Gard after a recent Wisconsin practice.
Filed to: 2023-24 Big Ten preview, Wisconsin Badgers