2023-24 ITH Season Preview: Ohio State Buckeyes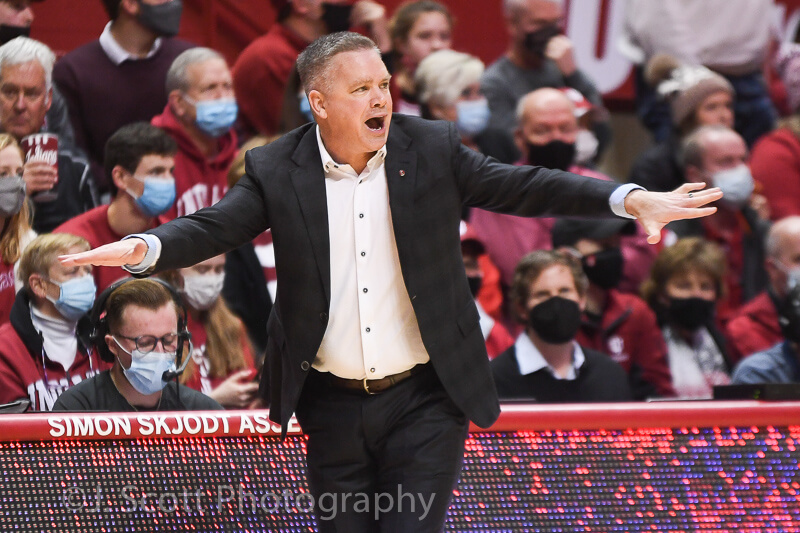 With the start of college basketball season approaching, we'll look at the conference at large and Indiana's roster over the next month.
Today, our team previews continue with Ohio State.
Previously: Penn State, Minnesota, Rutgers, Michigan, Nebraska, Iowa
Ohio State started last season 10-3, but completely fell apart in Big Ten play. The Buckeyes finished just 5-15 in conference games and finished the season 16-19.
It was the first NCAA tournament miss for Chris Holtmann, who is entering his seventh season in Columbus.
"There can be real power in the pain we went through last year," Holtmann said recently. "I don't think you can go through what we went through last year and not feel that way if you're a competitive guy."
The Buckeyes look like a strong candidate to bounce back this season thanks to a strong recruiting nucleus, several key transfers and a loaded freshman class.
Ohio State can offer different looks in the post with the duo of Zed Key and Felix Okpara. Key battled injuries last season but still managed to average 10.8 points and 7.5 rebounds in under 25 minutes per game. He's undersized at 6-foot-8 but knows how to use his body and relies on solid footwork to get positioning in the paint.
The 6-foot-11 Okpara shot close to 59 percent from the field as a freshman and provides rim protection. He's far less polished as a scorer than Key but is much more athletic. Holtmann said recently that Ohio State could look at playing Key and Okpara together.
Minnesota transfer Jamison Battle is a proven Big Ten wing scorer who needs to become a better defender and rebounder to reach his potential. The 5th year forward battled through injuries to average 12.4 points last season for the Gophers.
Freshman Scotty Middleton should be one of the league's premier freshmen. The 6-foot-7 wing can make an immediate impact as a defender with his lengthy wingspan and size.
Devin Royal, another freshman, was a top 50 recruit who should challenge immediately for minutes. The Pickerington Central (Ohio) product can step out and make perimeter shots and is also a solid finisher at 6-foot-7.
Sophomore Bruce Thornton is a clear breakout candidate at point guard after a solid freshman campaign. The 6-foot-2 guard averaged 10.6 points, 2.7 rebounds and 2.6 assists in 30.5 minutes last season. He shot 37.5 percent on 3s and all of the experience he gained in his first season should pay dividends in year two.
Baylor transfer Dale Bonner, freshman Taison Chatman and sophomore Roddy Gayle Jr. will fill out the rest of the backcourt rotation.
The 6-foot-2 Bonner made 37.2 percent of his 3s last season at Baylor and averaged 4.7 points in 19.4 minutes per game. He'll likely be a reserve.
Chatman, a top 40 recruit and Gayle Jr., who had a tremendous finish to last season, will likely battle it out for the starting spot at the two. The 6-foot-4 Chatman can play both guard spots and the scouting reports call out his tremendous poise.
Gayle Jr. scored 35 points over Ohio State's final two games last season, including 15 in a win against Michigan State and 20 in a loss to Purdue. Gayle Jr. is a slasher but also shot 42.9 percent on 3s last season on 49 attempts. If he can continue to keep defenses honest from the perimeter, he's a difficult cover because of his ability to make plays in transition and get into the lane.
"I expect him to make a real positive jump, and I think there's going to be a lot asked of him," Holtmann said recently of Gayle.
Penn State transfer Evan Mahaffey could also challenge for minutes after a freshman season where he averaged 2.8 points and shot 57 percent from the field. The 6-foot-6 guard has length and can provide energy off the bench.
Bottom Line: The Ohio State fanbase is beginning to lose patience with Holtmann, who made it a habit to get to the NCAA tournament prior to last season. His lack of NCAA tournament success – he hasn't taken Ohio State to the second weekend – coupled with last season's disastrous results, have some Buckeye fans wondering if he's the right man for the job. Ohio State must make major strides defensively after finishing last season ranked 106th in KenPom's adjusted defensive efficiency rankings. This season is crucial for Holtmann to regain the trust of the fanbase and the pieces are in place for a return to the NCAA tournament.
Quotable: "I'm really excited about the potential of this group. … I think if our team takes steps in those areas we feel like we have to improve in, I'm excited about what we can be." – Holtmann in a recent press conference.
Filed to: 2023-24 Big Ten preview, Ohio State Buckeyes