Tip times, TV designations announced for 2023-24 IU basketball season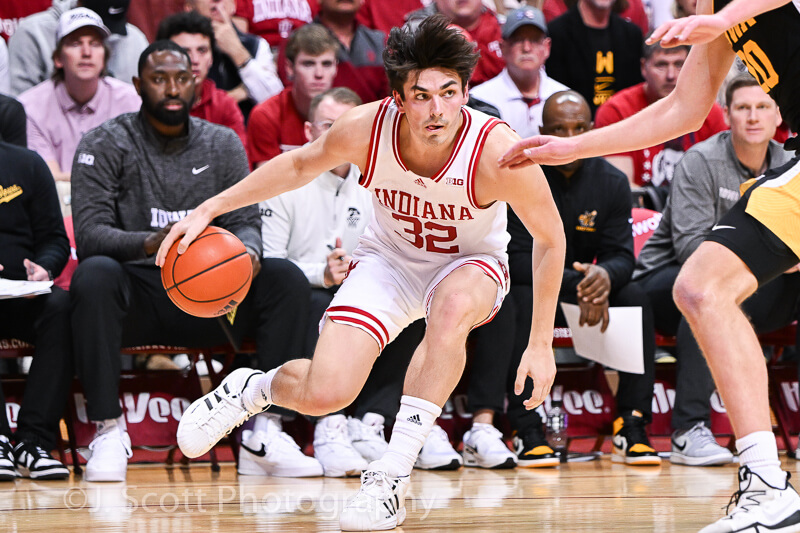 Tip times and TV designations were announced on Tuesday by the Big Ten for most games on the 2023-24 schedule.
(The Big Ten's full announcement is available here.)
Our 2023-24 Indiana basketball schedule page will be updated with all of the known tip times and TV designations.
Here's the full release from Big Ten:
ROSEMONT, Ill. — The Big Ten announced the start times and television designations for the 2023-24 men's basketball conference schedule on Tuesday, which include all 140 contests set to be broadcast nationally. The conference also revealed tip times and network assignments for select non-conference games.
The Big Ten Conference season begins on Dec. 1, with 12 conference games played between Dec. 1-10. Following a break in conference play, Big Ten action will resume on Jan. 2.
Conference play will build up to the 2024 Big Ten Men's Basketball Tournament, set for March 13-17 at the Target Center in Minneapolis, marking the first time the city will host the event. All 14 teams will advance to the tournament, with two first-round games slated for Wednesday, March 13. The top four teams will receive first- and second-round byes and advance to the quarterfinals on Friday, March 15.
The 2023 basketball season marks the first with a new set of broadcast partners that will deliver exciting matchups to fans across broadcast, cable and direct-to-consumer platforms. In addition to broadcast platforms CBS and FOX, the Big Ten Network and FS1 will continue to carry games on cable networks. NBCUniversal's direct-to-consumer platform, Peacock, will also carry Big Ten games live for the first time.
The Big Ten Network will open its conference schedule on Friday, Dec. 1, as Maryland visits Indiana at 7 p.m. ET, followed by a meeting between Purdue and Northwestern in Evanston, Ill. at 9 p.m. ET.
Peacock's initial conference games take place on Tuesday, Dec. 5, with Michigan State playing host to Wisconsin and Indiana visiting Michigan. Games are scheduled for 7 p.m. and 9 p.m., respectively.
FOX Sports will debut conference action this season with Illinois making the trip to Purdue on Jan. 5 at 8:30 p.m. ET on FS1.
CBS Sports will present a total of 15 Big Ten games on CBS and Paramount+, including its first conference match-up of the season with Maryland hosting Michigan State on Jan. 21 at 12 p.m. ET.
Peacock will televise the opening two games of the 2024 Big Ten Men's Basketball Tournament, with second-round and quarterfinal games on Thursday and Friday slated for Big Ten Network. For the 27th consecutive year, CBS Sports will broadcast the semifinals and championship game on CBS, with those games also streaming live on Paramount+.
All Big Ten Network, FOX, and FS1 on-air games will also be streamed nationwide via the web, smartphones, tablets and connected devices on the FOX Sports App. CBS Sports' broadcast coverage will be available to stream live on Paramount+. Games broadcast on Peacock will be available exclusively on the platform.
And the release from IU:
BLOOMINGTON, Ind. – The Big Ten Conference announced the times and television designations for the men's basketball season on Tuesday morning.
The Hoosiers will be featured on BTN or B1G+ 15 times this season, including home conference tilts against Maryland (Dec. 1) and Iowa (Jan. 30). B1G+ will carry both exhibition games and the home game against Kennesaw State (Dec. 29).
FOX and FS1 will showcase the Cream and Crimson seven times, including primetime game slots against Ohio State (Jan. 6) and at Purdue (Feb. 10).
Peacock will hold the rights to five IU games. The Hoosiers will debut on the streaming platform at Michigan (Dec. 5) while also hosting Purdue (Jan. 16) and Wisconsin (Feb. 27).
Indiana will play three times on CBS, including the return game against Kansas (Dec. 16) and the season finale against Michigan State (March 10).
The ESPN family of networks will house the Hoosiers for both contests in the Empire Classic Benefitting the Wounded Warrior Project Presented by Continental Tire. Indiana will also be broadcast on ESPN2 for the Holiday Hoopsgiving matchup with Auburn (Dec. 9).
Peacock will air the first round of the 2024 Big Ten Tournament. The second round and quarterfinal round will be shown on BTN, while the semifinals and championship games will be broadcast on CBS.
?? Tip times + tv

Details: https://t.co/JCBipbn6Bh pic.twitter.com/i4REQS25Ha

— Indiana Basketball (@IndianaMBB) October 3, 2023
Filed to: 2023-24 schedule