2023-24 ITH Season Preview: Michigan State Spartans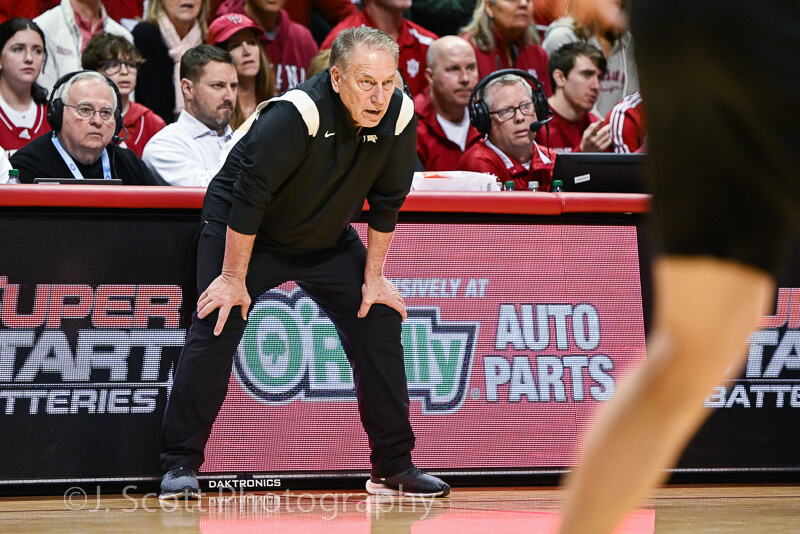 With the start of college basketball season approaching, we'll look at the conference at large and Indiana's roster over the next month.
Today, our team previews continue with Michigan State.
Previously: Penn State, Minnesota, Rutgers, Michigan, Nebraska, Iowa, Ohio State, Maryland, Northwestern, Wisconsin, Illinois
As the last Big Ten program to cut down the nets in 2000, Michigan State has aspirations to end the league's NCAA title drought this season.
The Spartans have the ingredients to contend for a league title and a Final Four run: elite coaching, guard play and experience.
Tom Izzo didn't add anyone from the transfer portal this offseason, a rarity in the current landscape. Instead, Izzo chose to develop the guys already in his program and infuse the program with talent from the high school ranks.
Michigan State will have one of the nation's best backcourts with A.J. Hoggard, Tyson Walker, Jaden Akins, Tre Holloman and Jeremy Fears.
Hoggard, Walker and Akins are the likely starters, with Holloman and Fears as key reserves.
The 6-foot-1 Walker is one of the premier guards in the country and is entering his third season in East Lansing after transferring from Northeastern. Walker averaged 14.8 points, 2.9 assists and 1.1 steals last season and shot 41.5 percent on 3s.
Hoggard is one of the best facilitators in the country. He ranked sixth in the country in assist rate last season (38.7 percent) and can also get to the free throw line. Hoggard ranked third in the Big Ten last season in free throw rate (FTA/FGA), making 81.3 percent of his attempts from the line in league play.
The 6-foot-4 Akins is a wing wired to score. He made 42.9 percent of his 3s last season in conference play. Akins averaged 9.8 points as a sophomore and is a strong candidate to take a leap forward this winter.
Holloman is a sophomore point guard who saw limited minutes off the bench last season but figures to be a key piece in the future after Walker and Hoggard move on. Fears is a highly-ranked freshman point guard who will learn from two of the league's best guards in Walker and Hoggard.
"Fears is my Mateen Cleaves 20 years later," Izzo said at Michigan State's media day. "Has all the qualities to be a hell of a guard here."
Do-it-all forward Malik Hall returns for a fifth season on the wing after dealing with a foot injury last season. A career 37.5 percent 3-point shooter who also likes to crash the offensive glass, the 6-foot-8 Hall provides toughness and experience.
Freshman Coen Carr is an exceptional athlete and will be one of the top lob threats in college basketball from day one. The 6-foot-7 forward was a top-40 recruit and will provide energy on the wing and transition.
Big man Mady Sissoko returns for a fourth season and will have to fight off freshman Xavier Booker and sophomores Jaxon Kohler and Carson Cooper for minutes.
The 6-foot-9 Sissoko has little back to the basket post game but does finish well (61.2 percent on 2s). He ranked and in the top seven of the Big Ten in offensive and defensive rebounding percentage.
Booker, an Indianapolis native, was the No. 14 player in the 2023 class according to the 247Composite rankings. Talent has never been a question with Booker, but he'll have to rebound, defense and play with the motor that Izzo demands to earn major minutes in his first season.
The 6-foot-11 Cooper and 6-foot-9 Kohler are bruisers who will set hard screens, rebound and provide depth when Sissoko gets into foul trouble. In a league with frontcourt players like Zach Edey and Cliff Omoruyi, Michigan State will have plenty of options to use defensively.
Bottom Line: If there's a program capable of challenging Purdue for the Big Ten title, it's Michigan State. The Spartans should have the best guard play in the conference. On the sidelines, Izzo is one of the best at molding his team to peak at the right time. It's easy to see why Michigan State is billed as a preseason top-10 team nationally and the second choice to win the conference.
Quotable: "Depth, we have it. Those of you that were upset with me last year for not going and getting more depth, I understood. Now that same set of people are asking how we're going to play 11 guys, but I think the biggest plus with having a deeper team is that I have enough veterans and they've done an incredible job in working with the four freshmen. And you know my theory is that a player-coached team is better than a coach-coached team and those players have done one hell of a job acclimating, relationships in this transaction-based world we're in. We still have a relationship-based program and we will as long as I'm standing in front of you. I'm excited about that and I think we do have some guys have improved a lot." – Izzo late last month.
Filed to: 2023-24 Big Ten preview, Michigan State Spartans