6-Banner Sunday: Indiana men and women complete season sweep of Purdue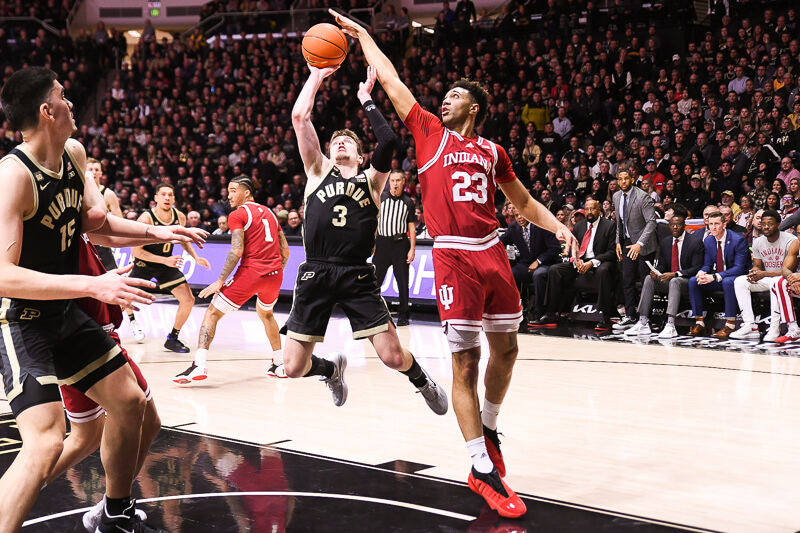 6-Banner Sunday is Inside the Hall's weekly newsletter in partnership with The Assembly Call. More than 9,000 Indiana fans receive the newsletter each week. In addition to appearing each week on the site, you can also opt to receive 6-Banner Sunday by email. A form to subscribe via email is available at the bottom of this week's 6-Banner Sunday.
Welcome to another edition of 6-Banner Sunday, a joint production between The Assembly Call and Inside the Hall, and presented by our friends at Trueblood Real Estate, where we highlight the five most essential IU basketball stories of the past week, plus take a look at how the other IU sports programs are doing.
IU has had success in the past against their biggest rivals from West Lafayette. However, the last week may have topped anything that has happened before against Purdue. Last Sunday, the women's team beat the Boilermakers at home to win their first conference title in 40 years, while the men upset Purdue in Mackey Arena yesterday for their biggest victory this season. In doing so, they swept the Boilers for the first time in a decade.
Besides defeating their arch-nemesis, the men's team lost at Michigan State earlier in the week. Away from the court, more bracketology came out, an injury update was given about an important piece for the Hoosiers, and Assembly Call and Inside the Hall had their weekly shows.
We will as usual conclude with a look at how other Indiana sports are doing, led by men's swimming and diving winning yet another Big Ten title.
• Men and Women have dream week against Purdue
• Hoosiers dominated by Michigan State on emotional night
• NCAA reveals top 16 teams for women's tourney again and more bracketology
• Xavier Johnson injury update
• Assembly Call shows and Podcast on the Brink
• Hoosier Roundup
Looking for tickets to upcoming Indiana games? Vivid Seats has you covered. This week Indiana hosts Iowa on Tuesday and Michigan on Saturday to close the regular season. Vivid Seats is a full-service provider – with an industry-leading customer service team, reachable by phone or online during extended business hours. (These links are Inside The Hall affiliate links, so a commission will be paid to ITH if you click and make a ticket purchase.)
Banner #1 – Men and Women have dream week against Purdue
IU has one-upped their arch-rivals from up north before. However, what has happened in the last few days will likely go down as all-time wins against the Boilermakers. For the first time since 1983, IU completed a four-game sweep in men's and women's basketball. That season was the last time both squads won the Big Ten title in the same year.
The women had not won the league since then, until now, when they routed Purdue 83-58 in Bloomington to win their first conference title since that memorable season last Sunday. Members of that squad from 40 years ago were honored and unofficially passed the torch down to this year's team who became the second to accomplish this feat. Sunday, was also the program's first-ever sellout crowd, and star Grace Berger was recognized on senior day. Mackenzie Holmes had a terrific game with 20 points and was named Big Ten player of the week again. Afterward, a net-cutting ceremony occurred to celebrate the championship as the team improved 26-1 overall and 16-1 in the league and face Iowa today at 2 p.m. ET on ESPN. The team will also get the number one seed in the conference tournament for the first time. Amanda Foster was there for Inside the Hall and wrote about an afternoon to remember and the site also provided a photo gallery. Meanwhile, Assembly Call had a column for subscribers of its Community about the historic day.
Not to be outdone, yesterday the men went into Mackey Arena and upset their arch-rivals for the first time in 10 years on the road 79-71. After a slow first half, Indiana played arguably their best final 20 minutes of the season and held off every Purdue run they attempted late. Jalen Hood-Schifino had 35 points, while Trey Galloway and Miller Kopp added 13 points each and had terrific nights. Trayce Jackson-Davis contributed just 10 points and was taken out of his rhythm by national player of the year frontrunner Zach Edey. However, it hardly mattered as the guards and wings were excellent for all 40 minutes. The team improves to 20-9 overall and 11-7 in the league. They have also put themselves in an excellent position for both a top-four finish in the Big Ten and a double bye in the conference tourney as well as a top-four seed in the NCAA Tournament.
Afterward, IU coach Mike Woodson spoke as did Purdue head man Matt Painter, Inside the Hall had a photo gallery, Justin Albers wrote a Minute After, Alex Bozich penned Five Takeaways, while Foster and William McDermott put together columns.
Banner #2 – Hoosiers dominated by Michigan State on an emotional night
Despite a strong start to open the game, Indiana was defeated 80-65 in East Lansing. It was an emotional evening on the Michigan State campus as the Spartans had their first home matchup following the tragic events of the week before. MSU was led by Tyson Walker who hit many tough baskets throughout the contest as his team was red hot from downtown. IU could not match their opponent's intensity for all 40 minutes in the defeat.
Afterward, Woodson spoke, Foster and McDermott had columns, Bozich penned Five Takeaways, while Albers wrote a Minute After.
Banner #3 – NCAA reveals top 16 teams for women's tourney again and more bracketology
Bracketology continues to guess where the Hoosiers will be for March Madness even though it was revealed last Saturday that Indiana is the first four-seed in Louisville. The Women's tourney also had an update from the committee this week where Indiana continues to come in as the second number-one seed.
This information does not say what teams the Hoosiers might play and where they would go for their first two matchups. That is still left to bracketologists like Inside The Hall's and Assembly Call's own Andy Bottoms. Bottoms as of last Tuesday had IU as a four-seed in Albany following the official information given last weekend. In his projection, Indiana would face 13-seed Hofstra opposite five-seed Creighton and 12-seed VCU with Alabama as the top overall seed in that region.
As for the women, they would head to Greenville S.C. for the Sweet 16 following two home games. ESPN's Charlie Creme as of Friday had the Hoosiers facing someone from a play-in game with Alabama and USC opposite them.
Banner #4 – Xavier Johnson injury update
There has been much speculation about when starting point guard Xavier Johnson might return to the court. On Thursday, Woodson provided an update during his media availability.
Woodson stated Johnson is doing some individual work but is not cleared for contact and they hope that can occur next week. However, when he might play again is unclear, and Woodson said the two would sit down and discuss it.
Banner #5 – Assembly Call shows and Podcast on the Brink
Both Assembly Call and Inside The Hall had new shows this week. ITH's Podcast on the Brink spoke with Bottoms to discuss bracketology.
Meanwhile, Assembly Call had postgame episodes following both men's games this week and AC Radio. Doing The Work also was on air following the win over Purdue and previewed the Iowa contest last Thursday.
Banner #6 – Hoosier Roundup
• Men swimming and diving won yet another Big Ten Championship. It was their second straight title and fifth in seven seasons.
• Men's soccer was victorious in their first spring exhibition match over Butler in Indianapolis 2-0. They also announced their 2023 recruiting class and have several former players in the MLS.
• Baseball took the series finale at Auburn to avoid the sweep and defeated Miami (OH) in their home opener. They then lost their first two to a top Texas squad this weekend.
• Softball fell to Arizona a week ago before beating Delaware twice and falling to UNC-Greensboro in the last couple of days.
• Wrestling defeated Chattanooga in dominant fashion. They also had two coaches inducted into the Indiana high school wrestling hall of fame and announced a recruit for the 2023 class.
• Water polo won two games to close the Indiana Classic last Sunday before losing twice in California this weekend.
• Women's tennis defeated Colorado and Western Michigan.
• Men's tennis beat Western Michigan before falling to ranked Cornell.
• Track and field had both the men and women finish in the top five of the conference at the Big Ten indoor championships.
• Women's golf finished sixth at a spring event.
• Volleyball will have four players compete in the women's national team open program.
Thanks for your continued support for The Assembly Call and Inside the Hall. We'll be back next weekend with a new roundup.
Now go enjoy yourself a 6-banner Sunday.
Aaron (Ari) Shifron
Assembly Call Contributor
Filed to: