"We call him 'crazy man' for a reason": Trey Galloway plays key role in Indiana's 79-71 win over Purdue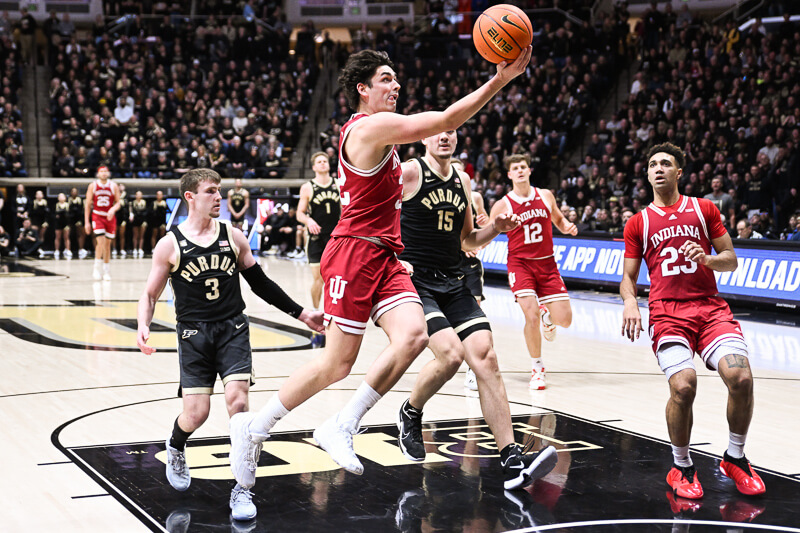 WEST LAFAYETTE, Ind. – The scoreboard at Mackey Arena showed 13:18 remaining in the game. Indiana led Purdue 51-42 after a 17-4 run to start the second half.
The Boilermaker pep band played Bonnie Tyler's "Holding Out for a Hero" during the timeout, summarizing what was on the mind of every Purdue fan.
The Hoosier faithful, on the other hand? While they may have appreciated the song, they weren't waiting for a hero. They already had one. In fact, they had a few.
In a situation as crazy as the one the Hoosiers were in, against their greatest rival with Trayce Jackson-Davis unable to buy a basket and no one able to play solidly except Jalen Hood-Schifino, it only stands to reason they would need something sort of crazy to happen.
Enter Trey Galloway, otherwise known as 'Crazy Man'.
The guard had a complete and impressive night in Indiana's 79-71 win against Purdue on Saturday, but was a standout in the second half. Galloway closed the night tied with Miller Kopp for second-most points on the team with 13, while also posting five assists, four rebounds and zero turnovers. He played for a career-high 38 minutes.
"Gallo's starting to really mature," Mike Woodson said postgame. "He does a lot of nice things, dirty things, that most players don't like to do. And that's play defense and get into people."
Throughout the season, Galloway has emerged as one of Indiana's top-notch defenders, as he's not afraid to scramble after a ball or a player, and doesn't back down against anyone — not even Zach Edey.
While Galloway wasn't the one guarding Edey — that job fell to Jackson-Davis and Race Thompson — he didn't shy away from a challenge. Fighting for a rebound, Edey, at 7-foot-4, towered over the 6-foot-4 Galloway. Edey's hand looked like it was the size of Galloway's head, but it didn't deter Galloway from fighting as hard as he could.
In the second half, Galloway attacked the rim, trying to get around Edey for what would have been the slam dunk to end all slam dunks. While his attempt fell short, it showed how far Galloway was prepared to go to do what he needed to win.
"He plays hard," Woodson said. "That's what I like about him."
Galloway was tasked with guarding Purdue's Braden Smith, the team's leader in assists and second-highest rebounder. Smith had his way with Indiana's defense for most of the first half, surpassing his averages in assists and rebounds with five and six, respectively. Galloway's energy came in flashes, but he moved around so much on the floor that he couldn't consistently stick to Smith. However, even that wasn't a detriment to the Hoosiers overall, as their defense kept them in the game in the first place.
"He played an excellent game," Jackson-Davis said. "He was excellent defensively, always pressuring the ball. We call him 'Crazy Man' for a reason."
Galloway's "crazy" tendencies truly came to light in the second half, and they were just what the Hoosiers needed. They began the half on a 10-0 run, and Galloway contributed eight of the 10.
By the time the Boilermakers were begging for a hero of their own, the Hoosiers had grabbed their first lead. They never gave it up.
After propelling Indiana forward offensively, Galloway also turned up the heat on the defensive end of the floor. Moving like his pants were on fire, he never relented.
Galloway stuck to Smith, holding him to only one assist and two rebounds. Smith didn't score in the second half and turned the ball over twice. As Galloway's confidence grew, so did that of the Hoosiers. They all started playing more coherently, often looking to the guard to direct play.
Jackson-Davis was one of the primary beneficiaries of Galloway's leadership. While he only finished with 10 points, all coming in the final 12 minutes of the game, four came due to Galloway's assists.
"He did all the little things," Jackson-Davis said. "He was on the floor, and he's gonna give it 110 percent when he's out there and that's what we need from him."
While Indiana's win clearly can't be credited solely to Galloway, it's tough to imagine how Indiana could have won without him. In both games against Purdue this season, Galloway has been one of the top contributors, and now he can confidently say he helped sweep the Boilermakers in the 2022-23 season.
He can say he was one of the heroes, the one who did all the little things and silenced Mackey Arena. And above all, he can say he was the Indiana kid who stopped the Boilermakers in their tracks.
Filed to: Purdue Boilermakers, Trey Galloway