Mike Woodson provides injury update on Indiana guard Xavier Johnson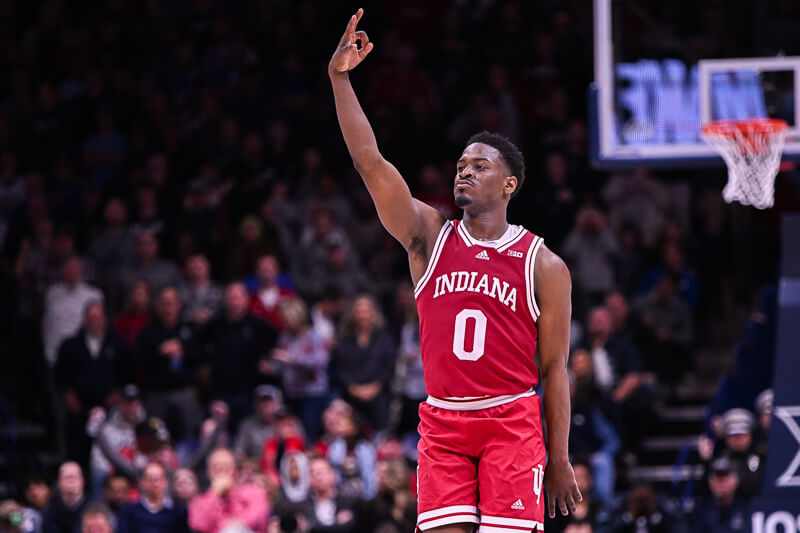 It's been more than nine weeks since Xavier Johnson underwent surgery on his foot for an injury sustained in IU's 84-62 loss to Kansas at Phog Allen Fieldhouse.
The Hoosiers are 19-9 overall, 10-7 in the Big Ten and travel to Purdue on Saturday for their final Big Ten road game of the season.
The status of Johnson, however, remains uncertain.
In a press conference Thursday morning, here's what Woodson had to say about the IU point guard and his rehab:
Q. Mike, we've asked this periodically, but it seems like we've seen little bits and pieces of X being able to do more basketball-wise. Where is he in his recovery, and has he been able to ramp up any activity, whether it's something in practice, whether it's individual workouts, whatever it is?
MIKE WOODSON: "Well, he is doing some individual stuff, but contact, you know, doing drills with the team, we haven't been able to get there yet. We are hoping next week.
"I'm going to sit down with X today and just see what his thinking is because my thing is it's going to come down to him being able to bang a little bit and cut and use his speed to do what he does, but if that's bothering him, then I don't know if he is going to play.
"I mean, only time will tell. That's all I can tell you guys right now. He is not doing enough for me to be on the floor to play. I know that. Not right now."
Q. I wanted to follow up on X just from the standpoint of if you do get comfortable that he is able to play physically, how challenging will that be to bring someone back at this stage of the season? As important as he is overall, how hard is it going to be to try to bring him back into the rotation and into what you are trying to do?
MIKE WOODSON: "Well, it ain't the first time I've done this, guys, in terms of, you know, even in the NBA and having key guys that get hurt, you have to fit them back into the rotation. I mean, you never run away from your talent.
"X is a talented player, and he has been good for our ball club, so somehow you have to fit him back in. You know, I don't know if I'll start him or bring him off the bench. A lot of that has to deal with once he warms up, is it good to start him instead of him sitting over there coming off cold? There's just a lot of intangible things that come into when players get hurt.
"I can relate back to when I was — when I came back, the coach never sat me down. I played every minute of the game. I never came out of the game. That's just how much he trusted where I was at the time.
"A lot of that's going to be on X, too. I've got to feel good. I don't want to mess up what chemistry we do have, but he is still a big piece to what we do. I mean, he changes — he is a game-changer to me.
"So if he is good to go, I've got to feel like I've got to put him back in there, and we've got to play off of him and see where we are."
Filed to: Mike Woodson, Xavier Johnson