Five takeaways from Indiana's win against Purdue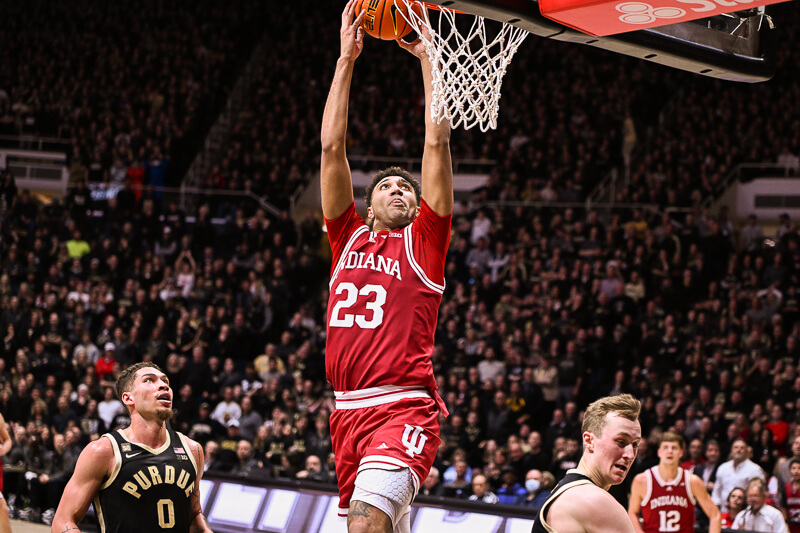 Indiana completed a regular season sweep of Purdue with a 79-71 win on Saturday night at Mackey Arena. The victory improved the Hoosiers to 20-9 overall and 11-7 in the Big Ten with two regular season games remaining.
Here are five takeaways from the victory:
Jalen Hood-Schifino dissected Purdue's guards
Purdue was intent on minimizing the impact of Trayce Jackson-Davis in Saturday's rematch in West Lafayette.
For a half, it worked. Jackson-Davis didn't score a point in the first half. Yet Indiana was right there with Purdue through 20 minutes.
The reason for that was freshman guard Jalen Hood-Schifino.
The Montverde Academy product scored 23 of his career-high 35 points in the first half and he earned every point. As Matt Painter astutely pointed out postgame, Purdue wasn't giving Hood-Schifino easy looks. Most of Hood-Schifino's buckets came off of jump shots in the midrange.
But Hood-Schifino certainly made it look easy.
No matter the defender or the coverage Purdue threw at the star freshman, Hood-Schifino had a counter. He went right. He went left. It didn't matter because the Boilermakers had no answer or method to slow him down. It was a fantastic display of shot-making and composure from a freshman in one of the most challenging road venues in college basketball.
Trey Galloway shines on both ends
After holding Purdue freshman guard Braden Smith to only four points on 1-for-8 shooting in Bloomington, Trey Galloway bottled him up again in West Lafayette.
Galloway kept Smith off balance and uncomfortable for most of the game as the Westfield product scored just six points on 3-for-11 from the field.
Smith has been terrific for much of the season, but his poor shooting against Indiana is largely related to Galloway's defense.
It wasn't just the defense that made Galloway special on Saturday. He also put together one of his most well-rounded offensive games of the season.
The 6-foot-4 guard scored 13 points and hit three of his four attempts from distance. He also dished out five assists, pulled down five rebounds and had a steal in 38 minutes.
On a night in which Indiana only got 10 points from Jackson-Davis, the offensive contribution from Galloway was pivotal.
Indiana slows down the Big Ten's best offense
After allowing Purdue to score 74 points on 1.14 points per possession in Bloomington earlier this month, Indiana's defense was much more sound on Saturday.
Purdue entered Saturday's game with the Big Ten's best offense in conference play at 1.118 points per possession. The Boilermakers scored just 1.03 points per possession in the loss.
The second half defensive numbers for Indiana were impressive.
Purdue shot only 10-for-33 from the field in the final 20 minutes. Zach Edey had 13 second half points, but needed nine field goal attempts and six free throw attempts to get there.
Edey's final line of 26 points and 16 rebounds was still impressive, but the lack of production from its complementary players shows a major vulnerability for Purdue.
The Boilermakers didn't make 3s on Saturday (5-for-23) and only one player beside Edey (Fletcher Loyer) scored in double figures.
On an off night, Jackson-Davis was still close to a triple-double
Jackson-Davis went scoreless in the first half of Saturday's win, but his second half was a major reason Indiana completed the season sweep of Purdue.
Jackson-Davis scored all 10 of his points in 17 second half minutes while adding six assists and four rebounds.
The senior forward finished with 10 points, eight rebounds and seven assists in his first-ever win at Mackey Arena.
The All-American candidate successfully navigated foul trouble – he still played 33 minutes – and his playmaking down the stretch was impressive.
Rather than trying to force the issue offensively, Jackson-Davis willingly deferred to his teammates.
He had half of Indiana's assists in the second half. Four of those assists came on IU's first seven buckets of the second half when IU went from trailing 38-34 to leading 51-42.
Indiana is now well-positioned for a double-bye in the Big Ten tournament
Saturday's win greatly boosts NCAA tournament resume and its Big Ten tournament seeding prospects.
The victory improved the Hoosiers to 11-7 and sole possession of third place in the Big Ten standings with two games left in the regular season.
If Indiana can take care of business at Assembly Hall next week with two wins, it will earn a double bye in next month's conference tournament in Chicago.
While Purdue is still in the driver's seat for the Big Ten regular season title, Indiana's win prevented the Boilermakers from clinching a share of the title on Saturday.
From an NCAA tournament seeding perspective, Indiana now has three road wins against tournament teams and 11 wins that fall in Quad 1 and 2.
Filed to: Jalen Hood-Schifino, Purdue Boilermakers, Trayce Jackson-Davis, Trey Galloway