Five takeaways from Indiana's loss against Michigan State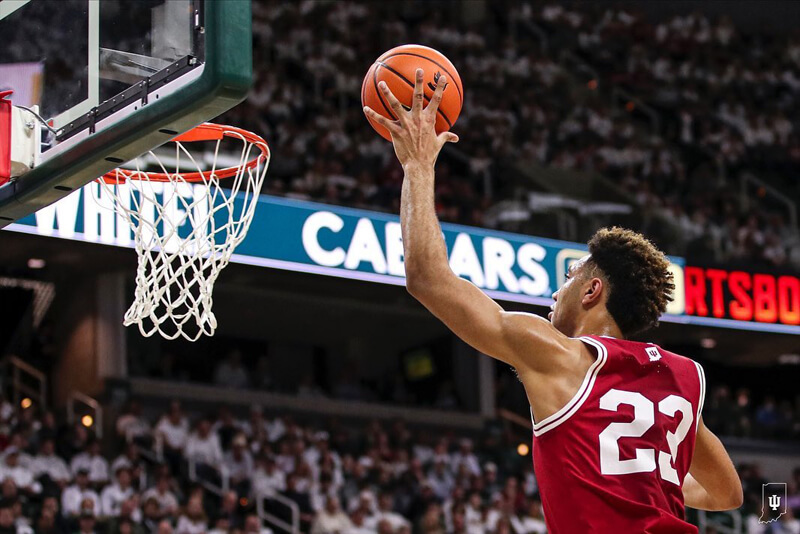 Indiana fell to 10-7 in Big Ten play with an 80-65 loss against Michigan State on Tuesday at the Breslin Center.
Here are five takeaways from the loss:
Fatigue looked like an issue for Trayce Jackson-Davis
The standard Trayce Jackson-Davis has set for his play this season is as high as any player in the country.
Jackson-Davis is playing the second-most minutes in the Big Ten and is delivering All-American stat lines every game. Mike Woodson is riding Jackson-Davis and the Center Grove product delivers almost every game.
In last week's road loss against Northwestern, Jackson-Davis had a tough first half but looked like a completely different player as he carried Indiana back from a 21-point deficit in a narrow loss to the Wildcats.
In Tuesday's loss against the Spartans, however, Jackson-Davis struggled by his standards and it's fair to wonder if all of the minutes are finally catching up to him.
Jackson-Davis scored a team-high 19 points and shot a solid 8-for-13 from the field, but went just 3-for-6 from the free throw line. Of more concern, though, was Jackson-Davis only grabbing seven rebounds, committing seven turnovers and not recording a blocked shot.
Unfortunately for Jackson-Davis and the Hoosiers, a daunting Big Ten schedule isn't going to relent with a game in which the All-American can get some rest. Indiana is back on the road on Saturday at Purdue before two critical home games against Iowa and Michigan next week.
Indiana's defense starts strong but quickly collapses
At the 7:21 mark of the first half, Michigan State had just 13 points and was scoring a putrid .62 points per possession. The Hoosiers led 22-13.
The Hoosiers looked solid defensively and forced the Spartans into tough shots in the half-court.
But Indiana's energy quickly regressed as Michigan State began to hit shots and feed off the crowd's energy. By halftime, Michigan State was up to 35 points and 1.08 points per possession.
And in the second half, Indiana's defense offered little resistance as the Spartans took complete control of the game.
Michigan State scored 45 points in the second half. The Spartans committed only four turnovers, shot 14-for-27 from the field overall, 5-for-8 on 3s and 12-for-12 from the line.
Michigan State scored 1.5 points per possession in the second half, eliminating any chance for the Hoosiers to make the game competitive.
After 17 points against Michigan State at Assembly Hall, Tamar Bates goes scoreless at the Breslin Center
Expectations for Tamar Bates entering his sophomore season were high.
The former top-30 recruit was on several preseason breakout candidate lists. While his shooting numbers have improved, a deeper dive into the numbers shows that Bates isn't producing against top competition.
Overall, Bates is shooting 40 percent on 3s and he's making 39.5 percent from the perimeter in Big Ten games.
But if you look more closely at the numbers on KenPom, Bates has been underwhelming against top competition. Against Tier A opponents – defined as top 50 opponents and adjusted for game location – Bates is just 6-for-25 from the perimeter and has an offensive rating of 59.4. Against Tier A opponents, Bates is 12-for-37 on 2s, good for just 32.4 percent. He also has a turnover percentage of 20.9.
Indiana has played 12 Tier A games, according to KenPom, and is 4-8 in those contests.
Tuesday, of course, was a Tier A game for Indiana. And in 13 minutes, Bates went scoreless. He didn't play at all in the second half.
Hoosiers outscored by 15 points from the perimeter
Michigan State beat Indiana by 15 on Tuesday night and that's also the margin by which the Spartans outscored the Hoosiers from the perimeter.
Michigan State shot a sizzling 10-for-21 on 3s and Indiana went just 5-for-14 from distance.
Indiana's 3-point shooting percentage is vastly improved this season. The Hoosiers sit at 15th nationally in 3-point shooting at 38 percent through 28 games.
But the 3-point volume for Indiana is even lower than last season. The Hoosiers rank just 337th in the country in point distribution from 3-pointers (23.7). The national average is 30.9 percent. Indiana is last in point distribution from 3s at 23 percent in Big Ten games.
The auto bench of Jalen Hood-Schifino for two fouls was costly
Woodson has been fairly consistent in his philosophy of benching players with two fouls before halftime.
While there have been times when the second-year IU coach has brought a player back into the game with two fouls out of necessity, he typically sticks to the two-foul auto bench when Indiana is leading or in the game.
On Tuesday, Jalen Hood-Schifino picked up his second foul at the 6:28 mark and with the Hoosiers leading 22-13. After Hood-Schifino went to the bench, the Spartans went on a 22-7 run and never looked back.
Postgame, Woodson said he would have made the same decision if he had to do again when asked by a reporter.
"I'm not going to let a guy pick up three. I'm not going to do that," he said. "There's been games we've done it, fine. You guys never made that comment about me doing that.
"At the end of the day, it's a decision that I make. I make it all the time. It's a 40-minute game. A 40-minute game is long. So a guy gets two fouls, now he's a little more conscious about really guarding. So that's why I took him out and went the other way."
(Photo credit: IU Athletics)
Filed to: Michigan State Spartans, Tamar Bates, Trayce Jackson-Davis