Message delivered? Indiana's bench continues to be porous on the road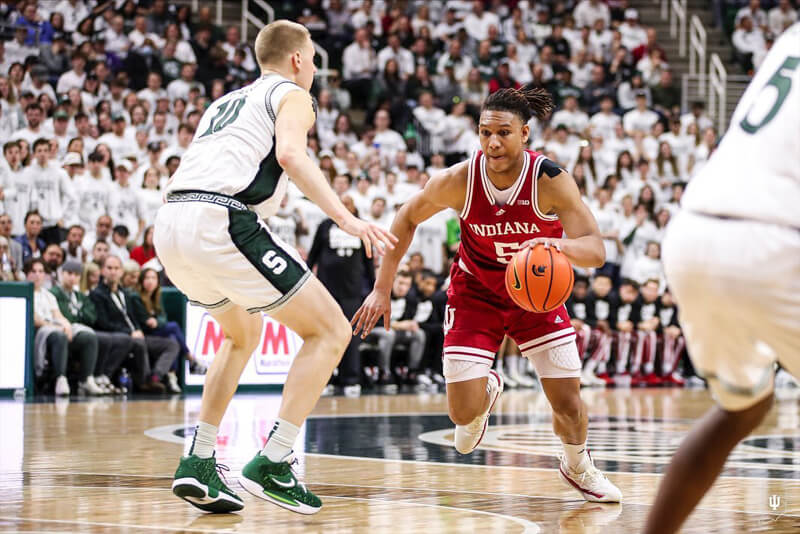 It felt like a message.
With 4:12 left to play and a 10-point deficit on the road at Michigan State, Anthony Leal trotted out onto the court from the scorer's table. It was the first time he's played since Jan. 28 against Ohio State.
Leal, who has only played in 10 games this season was the choice of the bench in the second half over Jordan Geronimo and Tamar Bates, who both average over 13 minutes a game. Leal is averaging 2.2 minutes a contest. Exactly one minute after the Bloomington native subbed in, Trayce Jackson-Davis came out.
Mike Woodson was throwing in the towel.
Indiana's 80-65 loss to Michigan State was their sixth Big Ten road loss. One statistic was glaring. Indiana's bench was outscored 17-to-6. Four of those six points came in the last three minutes of the game on garbage time free throws. The only "real" bench points came on a Malik Reneau hook shot with 12:03 to play in the second half.
Whether it was a message or not, Woodson had seen enough of Bates and Geronimo and subbed in other players to see what they had in them. It felt like a message was being delivered. Woody had to pull out all his cards.
For Indiana, this problem has existed all season. The bench continues to disappoint and isn't a difference-maker. No player has taken the leap that many thought they would. And no player has proved to be a consistent option.
In most cases, you want your bench to hold the lead, give your starters rest and provide an occasional energy boost. As long as your bench unit isn't a detriment or a liability, it is generally positive. On Tuesday night it appeared as if Michigan State's bench wasn't a liability and in most cases provided a spark. Indiana's was the opposite. It was so bad that having Jackson-Davis or Jalen Hood-Schifino sit for just a few minutes was enough for the game to turn on its head.
Hood-Schifino picked up his second foul with 6:28 to play in the first half, the Hoosiers led 22-13. Woodson couldn't afford for the team's primary ball handler and secondary scorer to pick up a third, so he subbed him out. The talented freshman guard never entered back into the game that half. The Spartans outscored Indiana 22-7 until the break and never looked back.
"It's a long game, we got enough players. You know, that was my call. I would do it again if I had to do it the same identical way. I'm not gonna let a guy pick up three (fouls)," Woodson said postgame. "And it cost us."
Whether Woodson made the right call on sitting his NBA draft prospect is up in the air. What's certain, is that Indiana's bench and substitutions couldn't hold steady with Michigan State's. They looked overmatched and overwhelmed.
Woodson has begun to shorten the bench in recent weeks, likely because of the struggles. Over the last five or six games, the only players getting 10+ bench minutes are Bates, Geronimo and Reneau.
All three have underwhelmed.
Over his last 63 minutes played, Bates, a former five-star recruit, is 1-for-14 from the field with four points. In Geronimo's last 44 minutes played, he's only attempted four shots and snagged five rebounds. Reneau has picked up 21 fouls in his last 106 minutes, while only totaling 10 made field goals.
While all three have underwhelmed, they have also had their moments this season. Bates was unconscious from deep when Michigan State visited Bloomington knocking down five 3s. Reneau had 12 points off the bench when Indiana visited and took down a now top-25 Xavier team. Geronimo had his best game in the cream and crimson when the Hoosiers took down Illinois on the road, scoring a season-high 13 points and snatching eight rebounds.
Where has it all gone? The three can't find it consistently and that's a big problem.
"We have struggled on the road coming off the bench," Woodson said. "We just gotta somehow…figure that out as we continue this journey. Cause eventually you're gonna have to go out on the road and win a game."
Xavier Johnson's imminent return to the lineup will help this, but the issue remains. And in the long term perspective, the lack of progress some younger players are making is starting to cause concern.
Four and potentially five of Indiana's day-one starters are gone next year. It would be reassuring if fans could count on someone stepping into a bigger role after notable improvement this season. That hasn't been the case. Uncertainty lingers in so many ways for next year's team, which shouldn't be the focus for now.
Woodson's "message" of waving the white flag and delegating to the deep depths of Indiana's bench will hopefully serve as a wake-up call. If not, Indiana's lack of depth could prove costly in March.
Filed to: Jordan Geronimo, Malik Reneau, Michigan State Spartans, Tamar Bates