Bracketology: NCAA tournament projection as of February 21, 2023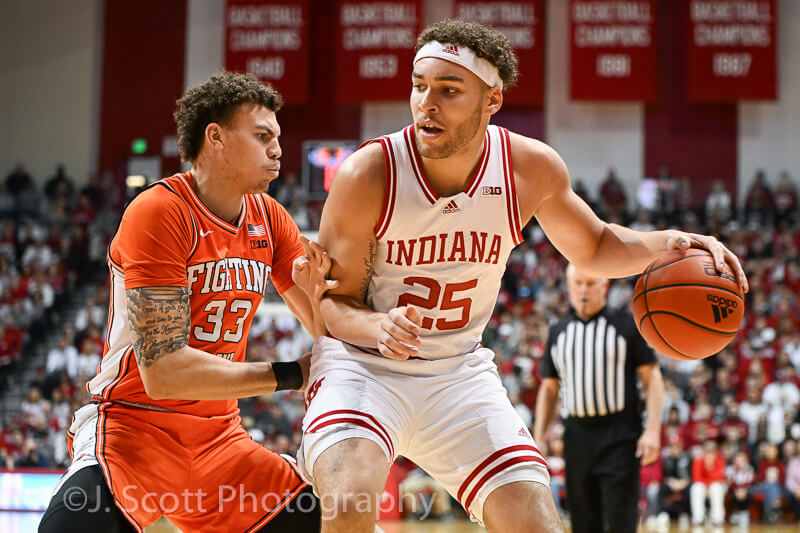 The selection committee revealed its top 16 teams on Saturday, and while for the most part there weren't many surprises, it does present bracketologists with a chance to get inside the minds of the committee and a glimpse of what particular things seem to matter in this iteration of the selection process. Rocco Miller and I spent some time discussing our reactions to the reveal on Monday's edition of Fielding the 68, but here are my quick thoughts on each seed line:
• 1 Seeds: The teams (Alabama, Houston, Purdue, and Kansas) certainly were no surprise, but it was notable that Houston was slotted as the second overall seed. There's no disputing that the Cougars are among the nation's best teams, but the AAC doesn't allow many opportunities for quality wins, leaving the predictive metrics to carry the day for a Houston team with just three wins against the projected field. A non-conference road win at Virginia was specifically mentioned during the reveal, as well as the fact that the Cougars are 11-0 in road and neutral contests. Kansas has picked up two more Q1 wins since the reveal and has leap-frogged Purdue in today's projections.
• 2 Seeds: It was a similar story here with Texas, Arizona, Baylor, and UCLA predictably landing on the two line, but again the order of those teams was notable, particularly with the Bruins. They boast strong predictive metrics but are just 3-4 against the field with wins over Maryland on the road, Kentucky on a neutral floor, and USC at home to go with no bad losses. Similar to Houston, the opportunities for marquee wins are limited in the Pac-12, which puts huge pressure on the season finale against Arizona.
• 3 Seeds: I was surprised to see both Iowa State and Kansas State on the three line. It would appear that ISU's eight Q1 wins heading into Saturday's action were enough to offset a 2-6 road mark, while KSU was buoyed by a pair of Q1A road wins at Baylor and Texas.
• 4 Seeds: That perceived emphasis on Q1A road wins also aligns with Indiana's selection as the 13th overall team. I wasn't totally stunned to see IU mentioned, but their placement as the top four seed was surprising. Those road wins at Xavier and Illinois certainly helped IU's case even though the Hoosiers were just 8-8 in the top two quadrants heading into Saturday. Conversely, Gonzaga was a bit lower than expected at 15th despite a number of solid neutral court wins, which seemed (key word) to indicate not all wins away from home were considered in the same way.
• 5 Seeds: Committee chair Chris Reynolds said that Creighton, Miami (FL), Saint Mary's, and UConn were the only other teams considered for the top 16, which would make them the five seeds in some order. The Huskies were the team that seemed like the biggest snub thanks to their five Q1 victories, including neutral court wins over Alabama and Iowa State. Perhaps it was their 4-5 road mark that held them back, but it certainly felt like the full body of work didn't carry the weight it has in years past.
Before we get to the bracket, here's a quick refresher about how the NCAA selection committee classifies wins based on the NET rating:
· Quad 1: Home vs. teams ranked 1-30 / Neutral vs. teams ranked 1-50 / Road vs. teams ranked 1-75
· Quad 2: Home vs. teams ranked 31-75 / Neutral vs. teams ranked 51-100 / Road vs. teams ranked 76-135
· Quad 3: Home vs. teams ranked 76-160 / Neutral vs. teams ranked 101-200 / Road vs. teams ranked 136-240
· Quad 4: Home vs. teams ranked 161-351 / Neutral vs. teams ranked 201-351 / Road vs. teams ranked 241-351
The Bracket
The projections below are based on all games played through February 20, 2023. Following the bracket, I included my current last four in and first five out.
| | | |
| --- | --- | --- |
| LOUISVILLE (SOUTH) | | KANSAS CITY (MIDWEST) |
| Birmingham – March 16/18 | | Birmingham – March 16/18 |
| 1) Alabama | | 1) Houston |
| 16) F. Dickinson / Howard | | 16) UNC-Asheville |
| 8) Rutgers | | 8) Maryland |
| 9) Missouri | | 9) Kentucky |
| | | |
| Albany – March 17/19 | | Orlando – March 16/18 |
| 5) Creighton | | 5) Saint Mary's |
| 12) VCU | | 12) Drake |
| 4) Indiana | | 4) Xavier |
| 13) Hofstra | | 13) Southern Miss. |
| | | |
| Greensboro – March 17/19 | | Greensboro – March 17/19 |
| 6) TCU | | 6) Providence |
| 11) Memphis / USC | | 11) West Virginia |
| 3) Virginia | | 3) Tennessee |
| 14) Colgate | | 14) UC Irvine |
| | | |
| Des Moines – March 16/18 | | Denver – March 17/19 |
| 7) Duke | | 7) Iowa |
| 10) Nevada | | 10) Auburn |
| 2) Baylor | | 2) Texas |
| 15) Youngstown St. | | 15) Kennesaw St. |
| | | |
| NEW YORK (EAST) | | LAS VEGAS (WEST) |
| Columbus – March 17/19 | | Des Moines – March 16/18 |
| 1) Purdue | | 1) Kansas |
| 16) Alcorn St. / Morehead St. | | 16) Texas A&M-CC |
| 8) Texas A&M | | 8) Arkansas |
| 9) NC State | | 9) FAU |
| | | |
| Albany – March 17/19 | | Sacramento – March 16/18 |
| 5) Miami (FL) | | 5) Connecticut |
| 12) Kent St. | | 12) Oral Roberts |
| 4) Marquette | | 4) Gonzaga |
| 13) Iona | | 13) Utah Valley |
| | | |
| Columbus – March 17/19 | | Orlando – March 16/18 |
| 6) San Diego St. | | 6) Northwestern |
| 11) Mississippi St. / Wisconsin | | 11) Boise St. |
| 3) Kansas St. | | 3) Iowa St. |
| 14) Yale | | 14) E. Washington |
| | | |
| Sacramento – March 16/18 | | Denver – March 17/19 |
| 7) Michigan St. | | 7) Illinois |
| 10) Oklahoma St. | | 10) Pittsburgh |
| 2) UCLA | | 2) Arizona |
| 15) Vermont | | 15) Samford |
Last Four In:
Memphis – While the Tigers are 7-6 in the top two quadrants, only two of those wins have come against teams in the at-large mix (home vs. Texas A&M and neutral vs. Auburn). They rate relatively well in both sets of metrics, but they could use another marquee win. Unfortunately, the only remaining chance for that comes in the season finale against Houston, which means Memphis just can't afford to drop any of the next three contests leading up to it.
Mississippi State – The Bulldogs managed to pull out a road win over Ole Miss in overtime on Saturday and are clinging to a spot in the field. They are 8-5 in road/neutral games but nearly half of their total victories fall in Q4. A couple of huge games await this week, as Mississippi State travels to Missouri before hosting red-hot Texas A&M.
USC – Home wins over UCLA and Auburn are USC's only ones against teams in the at-large picture. They also have one loss in Q3 and Q4 and are sub-.500 in road/neutral games. That means they can ill afford to slip up at Colorado and Utah this week before hosting the Arizona schools to close out the regular season.
Wisconsin – Somehow the Badgers just keep hanging on despite sitting outside of the top 75 in the NET. They boast five Q1 wins, including road wins at Marquette and Iowa, which presumably will mean a lot to the committee. The predictive metrics are poor though, and they are just 10-11 in Q1-3. This week features key games against Iowa at home and a road trip to Michigan.
First Five Out:
New Mexico – Road wins at Saint Mary's and San Diego State are huge, but three Q3 losses and another in Q4 have the Lobos in jeopardy. Injuries have played a role in a couple of those defeats, but New Mexico has a pair of huge games this week at Boise State and home against SDSU.
Charleston – At 25-3, the Cougars just need to keep winning as they sit tied atop the CAA with Hofstra, who beat them in their lone head-to-head matchup. Charleston is an impressive 11-2 away from home with a pair of Q2 wins over Virginia Tech and Kent State. The final two home games are winnable, so the Cougars have to take care of business while hoping others around them lose.
Utah State – The Aggies have gaudy results-based metrics but no Q1 wins and just two victories over teams in the at-large picture, both of which came at home. Utah State has racked up seven Q2 wins, but they have one loss in Q3 and Q4 to weight them down. Their NET ranks among the top 35, and an 8-5 road/neutral mark helps as well. The Aggies hit the road for their next two games (Wyoming, UNLV) before hosting Boise State to close out the season.
North Carolina – Following Sunday's loss at NC State, the Heels are in real danger. They are now 0-8 in Q1 games and have just one win over teams in the field (NC State). UNC is only 2-7 in true road games, and while the predictive metrics are solid, the results-based metrics are lagging, which is a bad sign for their selection hopes. The Heels cannot slip up at Notre Dame and Florida State, and home games against Virginia and Duke are critical.
North Texas – Much like Charleston, UNT just needs to keep winning. The Mean Green are now 21-5 with solid results-based metrics. A sweep of UAB and a road win at MTSU account for North Texas' trio of victories in the top two quadrants. A pair of Q3 losses won't help matters, but the Mean Green have still managed to rack up 13 road/neutral wins, which leads the nation. They need to win out and make a deep run in the C-USA Tournament at this point.
Conference Breakdown:
Big Ten (9): Illinois, Indiana, Iowa, Maryland, Michigan State, Northwestern, Purdue, Rutgers, Wisconsin
Big 12 (8): Baylor, Iowa St., Kansas, Kansas St., Oklahoma State, TCU, Texas, West Virginia
SEC (8): Alabama, Arkansas, Auburn, Kentucky, Mississippi State, Missouri, Tennessee, Texas A&M
ACC (5): Duke, Miami (FL), North Carolina State, Pittsburgh, Virginia
Big East (5): Connecticut, Creighton, Marquette, Providence, Xavier
Mountain West (3): Boise State, Nevada, San Diego State
Pac-12 (3): Arizona, UCLA, USC
American (2): Houston, Memphis
West Coast (2): Gonzaga, Saint Mary's
Atlantic 10: VCU
America East: Vermont
Atlantic Sun: Kennesaw State
Big Sky: Eastern Washington
Big South: UNC-Asheville
Big West: UC Irvine
Colonial: Hofstra
Conference USA: Florida Atlantic
Horizon: Youngstown State
Ivy: Yale
MAAC: Iona
MAC: Kent State
MEAC: Howard
Missouri Valley: Drake
Northeast: Fairleigh Dickinson
Ohio Valley: Morehead State
Patriot: Colgate
Southern: Samford
Southland: Texas A&M-CC
SWAC: Alcorn State
Summit: Oral Roberts
Sun Belt: Southern Miss
WAC: Utah Valley
Follow Andy on Twitter (@andybottoms) for more thoughts on college hoops and to receive an update whenever new brackets are posted.
Filed to: 2022-2023 Bracketology