Indiana clinches share of Big Ten title, finishes regular season undefeated at home with win against Purdue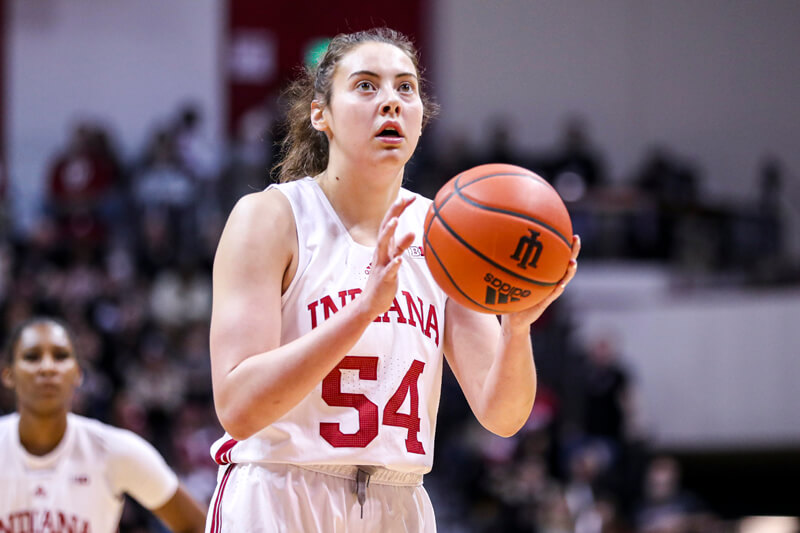 At Hoosier Hysteria on Oct. 7, Teri Moren stood in a throwback convertible on the floor of Simon Skjodt Assembly Hall, winding her arm like she had a lasso in her hand, ready to catch her prey. On Sunday, February 19 she did the same motion. But this time, she was standing on top of a ladder, holding a piece of the basketball net.
Because just over four months later, Moren caught what she was looking for, what all of Indiana women's basketball had been looking for since the 1982-83 season. In beating Purdue Sunday afternoon, the Hoosiers clinched at least a share of the Big Ten title for the second time in program history, and the first time since 1983.
Indiana beat the Boilermakers 83-60 in front of a sold-out Assembly Hall — the first sellout in program history — to finish the regular season undefeated at home with a 16-0 record.
"Just really proud of this group, and they set out to do this," Moren said postgame. "I'm not surprised by it. This was one of their goals. They have other goals as well, and so this is sort of what their expectations were."
At this point in the season, it takes a lot to surprise Indiana, or Indiana fans. So when Mackenzie Holmes struggled to break through Purdue's defense in the first half, or the Boilermakers found holes in Indiana's defense, or when the Hoosiers led by only three points at halftime, there was little concern among the team or fans.
For one, the Hoosiers are known for their ability to step on the gas in third quarters to dominate opponents; they did so against the Boilermakers in West Lafayette. But beyond that, the team is simply confident enough to know what they're capable of.
"We've been there before," Grace Berger said. "We have a lot of people that have played a lot of games, a lot of college basketball, so we know never to freak out, just trust in the game plan."
Indiana did just that, outscoring Purdue 27-12 in the third quarter. Berger and Holmes got the ball rolling — or more accurately, falling — from the get-go to score Indiana's first 13 points of the quarter. There was no doubt about it after that.
Berger, the heart and soul of Indiana basketball, is known for her ability to stay calm regardless of the situation, good or bad. Pre-game and post-game senior day festivities honored the graduate student, alongside Alyssa Geary, but no one would have guessed that by watching Berger.
She remained cool, calm and collected — with the exception of a scathing glance or two at the referees — throughout the game, recording 14 points and 10 assists for her third double-double of the season. She didn't even know Indiana was about to win the title until she sat down on the sideline.
"I was just so focused on the game, honestly," Berger said. "I didn't even realize when I came out that we had just won the championship. I think Mackenzie told me."
By the final minutes of the fourth quarter, all of Indiana's starters were on the bench. Their work for the day was done, each of them scoring in double figures. But the fight on the court was still going on.
Players like Henna Sandvik, Lexus Bargesser and Kiandra Browne still fought for rebounds and baskets down to the last possession. They remained focused on one thing: winning the game.
"Our kids never take their eye off the ball," Moren said. "They understand what's ahead of them. They don't look ahead. We don't allow them to do that."
Whether literally or figuratively, the Hoosiers' sights remain on the thing directly in front of them. It's been that way all season. No matter what their ultimate goals are, every game means the same, and they never look past the next opponent on their schedule.
So while Sunday's win was important for everyone involved, it's not the end of the road, by any means.
"It's really special and I realized that now, but I think for me, at this moment, I feel like we still have a lot of work to do," Berger said.
The Hoosiers have one final game in the regular season, as they're set to face off against Iowa in Carver-Hawkeye Arena next Sunday. Iowa has a chance to fight for a share of the Big Ten title, and just like when the Hawkeyes came to Assembly Hall, it will be a matchup of epic proportions.
But no matter how that final game goes, the story of Indiana women's basketball isn't just about single-game victories anymore. It's about the growth of a program and the contributions of some of the best basketball players in program history. And it's about a team that wants to take the nation by storm.
"We want to be the best, but we don't want anybody to know it," Moren said.
Filed to: