The Minute After: Michigan State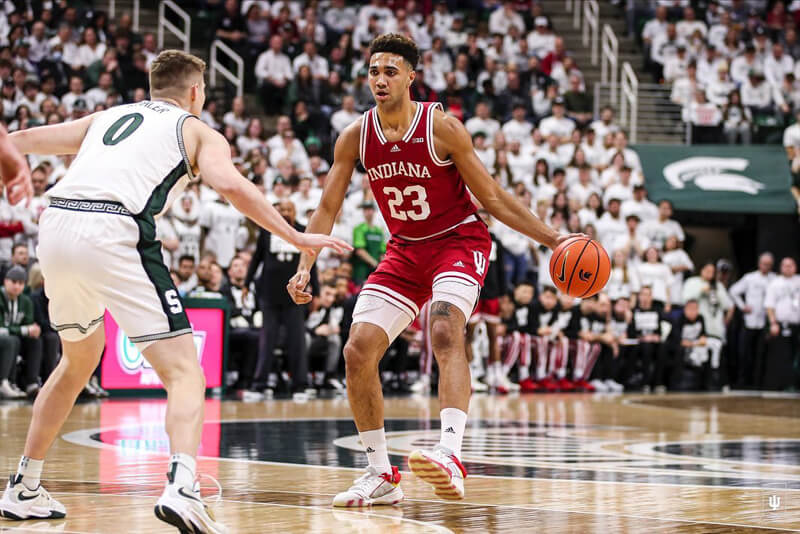 Editor's note: Ryan is out on paternity leave. Justin Albers will be writing The Minute After in his absence.
Thoughts on an 80-65 loss against the Spartans:
At this point, Trayce Jackson-Davis is used to regular double teams, and he welcomed it early on Tuesday night. A patient Jackson-Davis waited for the double to come, and when it did, carved Michigan State up by passing out of it.
That, combined with solid Indiana defense and an anemic offensive start for Michigan State, helped the Hoosiers build a 22-13 first-half lead.
But when they look at the film, the Hoosiers will regret the missed opportunities that followed that could have put the Spartans in a deep hole during Tuesday's 80-65 loss.
Freshman Malik Reneau made three straight questionable decisions on the offensive end as the Hoosiers went empty on three straight. You knew the Spartans would eventually settle in, and that Indiana drought proved the perfect opportunity.
Tyson Walker's 3-pointer at the 6:12 mark opened what would become a 22-7 Michigan State spurt to close the half and a 31-9 overall run extending into the second half.
Walker, who finished with 23 points and four assists, scored 15 points on five deep 3-pointers during that important stretch. Walker's five 3-pointers were his most in a game for the Spartans.
Mike Woodson has been looking for opportunities to steal some rest for Jackson-Davis, and may have finally had an opportunity if the Hoosiers could have built on their nine-point lead. Ultimately, the Indiana All-American had to play all 20 minutes in the first half, and looked a bit worn down as Michigan State made its run to close the half.
Michigan State opened the second half by making four consecutive 3-pointers to push the lead to double digits, and the Hoosiers never fully recovered. The Spartans were 10-of-21 from beyond the arc in the game, making nine of their final 15 attempts.
When the Spartans weren't knocking down 3-pointers, they found success in working Jackson-Davis or another Indiana big into a switch against a guard and then playing one-on-one. It was just that kind of night for the Hoosiers in East Lansing.
Michigan State also dominated the boards, outrebounding Indiana 33-24 overall and 10-5 on the offensive glass, leading to 13 second-chance points.
Indiana's bench continued to be a concern against the Spartans. The Hoosiers got only six points on 1-of-7 shooting from its bench on Tuesday night – and four of the six came during the closing minutes with the game out of reach.
Jackson-Davis looked fatigued at times, and who could blame him? Entering Tuesday night's game, he had played 39 or more minutes in seven of Indiana's previous nine games. Jackson-Davis missed two point-blank attempts early in the second half and became careless with the ball after showing such patience early.
Michigan State's defense was certainly a factor as Tom Izzo continually mixed coverages to ensure Jackson-Davis couldn't get comfortable. Jackson-Davis finished with a career-high seven turnovers – his third straight game with at least four miscues – to go with his 19 points, seven rebounds and five assists.
This was another game where the Hoosiers desperately missed Xavier Johnson, who is expected back soon. Indiana struggled to defend Michigan State's many guards as Woodson continues to look for other answers in the backcourt.
Freshman Jalen Hood-Schifino had 16 points on 6-of-13 shooting and Trey Galloway was solid again with 11 points, but Tamar Bates struggled again. Bates was scoreless in 13 minutes, and has averaged only 2.4 points per game on 19 percent shooting in nine games since his 17-point outburst in the first meeting with the Spartans.
The Hoosiers may look back at the final six minutes as an opportunity missed. Either way, they'll need to play much better for 40 minutes when they visit Purdue on Saturday night.
(Photo credit: IU Athletics)
Filed to: Michigan State Spartans