Enjoy him while he's here: Jalen Hood-Schifino gives a masterpiece of a performance at Purdue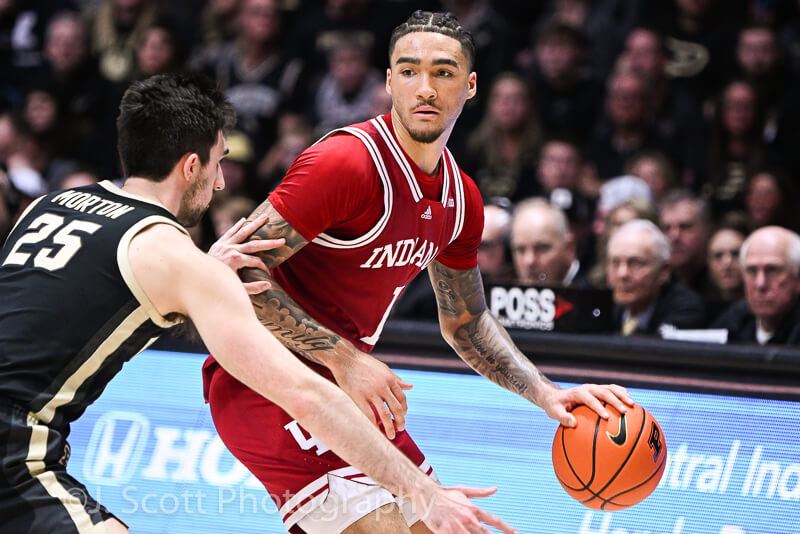 WEST LAFAYETTE, Ind. — The way it was trending, Jalen Hood-Schifino was headed for the NBA at season's end. But after Indiana's 79-71 road win against No. 5 Purdue, the only question is how high Hood-Schifino will go in June's draft.
Hood-Schifino was dominant. The freshman scored 35 points on 14-for-24 shooting and grabbed seven rebounds. Every dribble was under his command and every possession ran through him. Two national player of the year contenders were going at it, but he was still the best player on the floor. And it wasn't close.
In a game where Trayce Jackson-Davis had zero points and two fouls at halftime, Indiana trailed by just four at the break. You can credit Hood-Schifino for that. He scored 23 first-half points as only two other Hoosiers scored in those 20 minutes.
This season, Hood-Schifino has struggled on the road. At Maryland in January, he was a brutal 1-for-14 from the field with four turnovers. Coming into Saturday night's win, the Montverde product was shooting 32.6 percent and averaging three turnovers on the road.
At Purdue, he knew he had it going after his first shot left his hands.
In its simplest form, he was getting to his spots and making shots. But Hood-Schifino was taking everything Purdue was giving him. The Pittsburgh native's midrange stroke is one of the best in the conference and once he got to his places of comfort on the floor, the shots kept falling. The Boilermakers continued to shade him on his right hand heavily and forced him to his left. Instead of fighting that, the 6-foot-6 guard took what they gave him in the mid-range, where he looked poised.
"We feed off of him," Jackson-Davis said postgame. "I told him before the game even started, I said you're gonna get your opportunities… coach Woody was trying to get me baskets and I told him 'coach not right now, we're riding him.' When a guy's hot like that you gotta keep giving him the ball."
Hood-Schifino's poise is one of his best traits. His patience and lack of panic when he gets caught in the lane are astounding for his age. He doesn't get frantic when working through pick-and-rolls when the initial slip isn't there. He can control the game at his own pace.
"It was an unbelievable display of basketball," Mike Woodson said of the performance from his freshman. "We knew when we recruited him he could get to those spots and make shots, so I try to put my offense around him. And tonight we ran a lot of pick and rolls with the ball in his hands and he made a lot of good offensive plays."
Indiana has won 10 of its last 13 and a big part of that has been the two-man game between Jackson-Davis and Hood-Schifino. When Xavier Johnson broke his foot in December, the season fell on Hood-Schifino's shoulders. Without Johnson, he has answered all the questions and silenced the noise.
It felt like remnants of last season's trip to West Lafayette for Indiana. Last season Johnson was a man on a mission at Mackey Arena as he put up 18 points, dished out 12 assists and only turned it over twice. Hood-Schifino had a similar level of focus. But the difference from last year? Hood-Schifino's performance propelled Indiana to victory.
"I think with 'X' being out it just gave me a chance to have the ball in my hands," Hood-Schifino said. "Coming in, I knew I was going to have a big impact on this team."
For a freshman to have the impact of Hood-Schifino on this Indiana team, it not only means a lot for this season, as the Hoosiers push for Big Ten and NCAA Tournament seeding, but it means a lot for the future of the program.
Romeo Langford showed off his talent in his impressive freshman year in Bloomington, but Indiana didn't win. Yes, one roster is better than the other but for JHS to play the way he's playing while Indiana has been winning, puts a message out there. That message is that top high school players can come to Indiana, perform at a high level for their draft stock and win games on the biggest of stages.
That type of precedent and culture hasn't existed at Indiana recently. Hood-Schifino has become a catalyst for that change.
The Hoosiers' win was easily the best of the Woodson era. Jackson-Davis wasn't at his best and the Hoosiers still ran away with things, you can credit a freshman for that.
Filed to: Jalen Hood-Schifino, Purdue Boilermakers