The Minute After: Purdue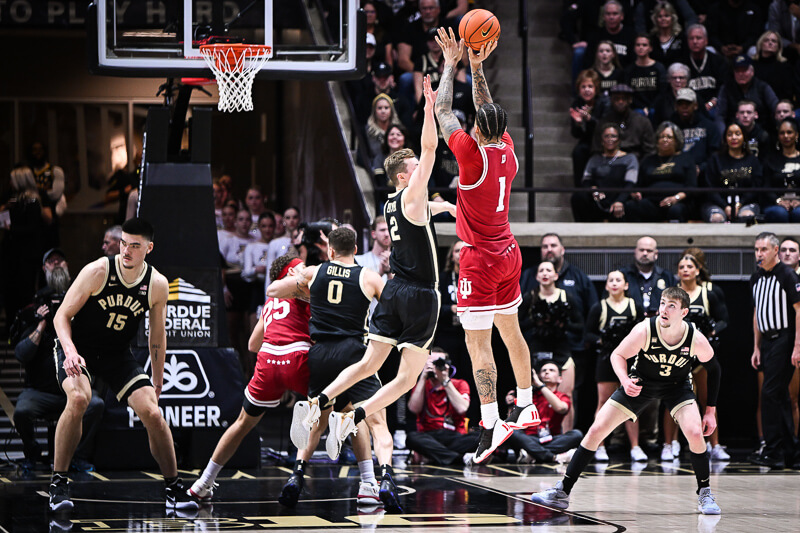 Editor's note: Ryan is out on paternity leave. Justin Albers will be writing The Minute After in his absence.
Thoughts on a 79-71 win at Purdue:
Indiana went without a point from its best player for more than 32 minutes on the road, and it didn't matter – the resilient Hoosiers found a way to sweep their in-state rival, with a 79-71 win against No. 5 Purdue at Mackey Arena on Saturday night.
Indiana beat then-No. 1 Purdue 79-74 on February 4 at Assembly Hall.
All-American Trayce Jackson-Davis didn't score until 11:44 remained in the game, and yet the No. 17 Hoosiers (20-9, 11-7) found other ways to hang in with the Big Ten's best team.
Jalen Hood-Schifino showed why he's a projected lottery pick on what became his night in West Lafayette. The freshman guard kept the Hoosiers close in the first half, and helped them take control down the stretch with his surgical-like approach to beating the Purdue defense.
If there's one area that Zach Edey hurts the Boilers, it's against guards that thrive in the midrange as his drop coverage of pick-and-roll actions leave Purdue in danger against guards like Hood-Schifino.
The Hoosiers took full advantage of that weakness all night long, and when Purdue adjusted, Hood-Schifino and the Hoosiers made the right plays out of it.
Hood-Schifino played his best game of the season when the Hoosiers needed it most, finishing with a career-high 35 points on 14-of-24 shooting with seven rebounds in 40 minutes.
The Hoosiers went to the high pick and roll repeatedly on Saturday night, and Hood-Schifino patiently took what the defense gave him. When they dropped their coverage, he worked comfortably against a trailing defender either in the midrange or with soft floaters over the top of Edey. When he beat his defender, he either got to the rim, or forced Edey to come over to the point that Jackson-Davis had an easy basket inside, or a shooter had a wide-open look.
Throughout the night, though, Hood-Schifino showed remarkable patience, waiting to see how the defense would play him on each possession before deciding how to attack. During one media timeout, Purdue coach Matt Painter told his team to adjust, take away Hood-Schifino's space and, his "wiggle." The Boilers could never successfully take that wiggle away.
Jackson-Davis still ended up with a near triple-double –10 points, eight rebounds and seven assists – despite sitting more than six minutes with foul trouble. After a slow start, he forced the action on a couple of possessions, but eventually settled in as the second half wore on, making the right play out of double teams to find open shooters.
Those shooters – namely Trey Galloway and Miller Kopp – showed up again. Galloway went for 13 points, five assists and four rebounds on 3-of-4 shooting from beyond the arc, and Kopp matched him with 13 points on 5-of-9 shooting and 3-of-7 from deep.
But as good as Indiana's offense was when it needed to be, the Hoosiers' defense was just as impressive. The Hoosiers outscored Purdue 45-33 in the second half, holding the Boilers to 10-of-33 (30 percent) shooting and 3-of-15 (20 percent) from beyond the arc.
That helped the Hoosiers survive being outrebounded 46-30 – including 21-5 on the offensive glass, and another game with only two bench points. Purdue also outscored Indiana 22-10 at the foul line, but struggled in the second half – the Boilers finished 22-of-33 from the charity stripe.
Edey, a leading candidate for both Big Ten and National Player of the Year, still got his numbers – he finished with 26 points and 16 rebounds – but the Hoosiers successfully slowed everybody else and took advantage of Edey on the other end. Purdue was just 5-of-23 from beyond the arc in the game.
This felt like a character win for Indiana. None of the current Hoosiers – including coach Mike Woodson – had ever won at Mackey Arena. It had been 10 years since the Hoosiers won in West Lafayette. But they clawed their way to a signature road win on Saturday night in front of their rival's raucous crowd.
The Hoosiers maintain sole possession of third place in the Big Ten with two games to go, but just as importantly, they hold bragging rights over their in-state rival for at least one year.
Filed to: Purdue Boilermakers