6-Banner Sunday: IU men pick up 10th Big Ten win; women to play for Big Ten title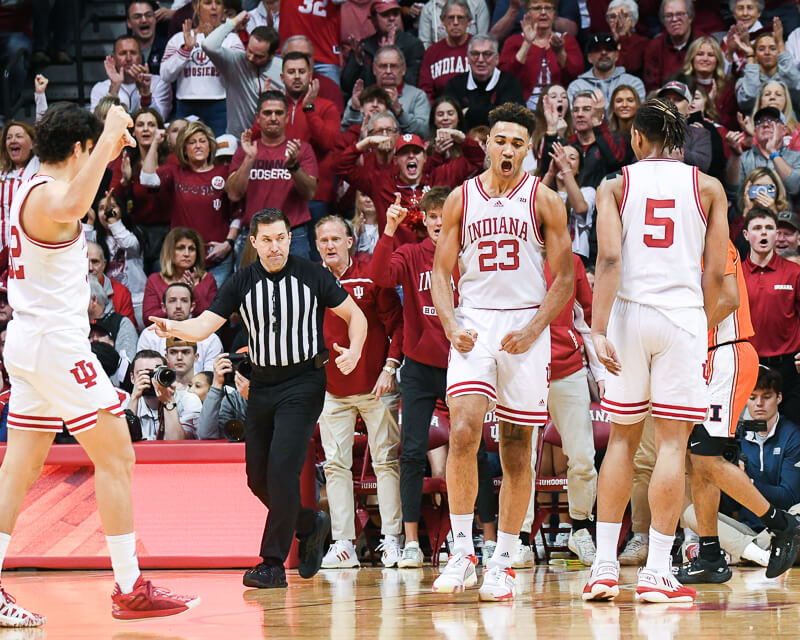 6-Banner Sunday is Inside the Hall's weekly newsletter in partnership with The Assembly Call. More than 9,000 Indiana fans receive the newsletter each week. In addition to appearing each week on the site, you can also opt to receive 6-Banner Sunday by email. A form to subscribe via email is available at the bottom of this week's 6-Banner Sunday.
Welcome to another edition of 6-Banner Sunday, a joint production between The Assembly Call and Inside the Hall, and presented by our friends at Trueblood Real Estate, where we highlight the five most essential IU basketball stories of the past week, plus take a look at how the other IU sports programs are doing.
It was another good week for both the men's and women's teams for the most part. The men's squad did suffer a loss to Northwestern despite a valiant comeback effort. However, they rebounded nicely with a thrilling win over Illinois.
Meanwhile, it was all roses for the women's side. They once again steamrolled over highly ranked opposition to put themselves on the verge of winning the conference today.
Away from the court, the Hoosiers got good news on their NCAA tournament prospects, Assembly Call and Inside the Hall had new shows, and we will as usual conclude with a look at how other IU sports are doing led by a strong showing at the Big Ten championships by women's swimming and diving.
In a brief story, IU coach Mike Woodson had his normal weekly radio program.
• IU defeats Illinois at Assembly Hall
• Women's Basketball to play for Big Ten title on Sunday
• Comeback falls short for IU at Northwestern
• NCAA reveals top 16 seeds in bracket preview
• Assembly Call and Podcast on the Brink
• Hoosier Roundup
Looking for tickets to upcoming Indiana games? Vivid Seats has you covered. This week Indiana travels to Michigan State on Tuesday and to Purdue on Saturday. Vivid Seats is a full-service provider – with an industry-leading customer service team, reachable by phone or online during extended business hours. (These links are Inside The Hall affiliate links, so a commission will be paid to ITH if you click and make a ticket purchase.)
Banner #1 – IU defeats Illinois at Assembly Hall
On Saturday, No. 14 IU struggled for much of the day but found a way to beat Illinois for a second time this season for a two-game sweep, 71-68.
Trayce Jackson-Davis had another incredible performance with 26 points and 12 rebounds (and confirmed after to Jeff Goodman that he will depart for the NBA draft in June and not use his COVID year). Jalen Hood Schifino struggled for much of the day but made several huge plays late and scored 13 points. Miller Kopp hit four massive three-pointers to add 12 points, while Race Thompson rounded out the double-figure scorers with 10 points.
The Cream and Crimson improve to 19-8 overall and 10-6 in the league. They have two incredibly tough road games against Michigan State (9 p.m. ET Tuesday on ESPN) and Purdue (Saturday 7:30 p.m. ET on FOX) up next.
Afterward, Woodson spoke as did Illinois coach Brad Underwood, Inside The Hall had a photo gallery, Justin Albers wrote a Minute After, Alex Bozich penned Five Takeaways, while William McDermott put together a column about Kopp.
Banner #2 – Women's Basketball to play for Big Ten title on Sunday
The women's side faced two top-15 squads in Ohio State and Michigan and trounced them for easy victories. On Monday, No. 2 IU took apart a very good, but banged-up Buckeyes team on the road and won easily 83-59. Mackenzie Holmes dominated in the post with a career-high 33 points on 15-18 shooting. Sara Scalia also had her best game in an Indiana uniform with 24 points and six threes while Grace Berger added a double-double with 16 points and 10 rebounds.
On Thursday, the Hoosiers returned home and defeated undermanned Michigan 68-52 in a contest that was never particularly close. Holmes led all scorers with 27 points but had a rare inefficient night from the field going just 11-for-22. Chloe Moore-McNeil was the only other double-figure scorer with 13 points including a trio of three-pointers  Afterward, Amanda Foster wrote about Moore-McNeil who has played a pivotal but underappreciated role all season.  
Indiana is now 25-1 overall and has already set the program record for wins in a season. They are now 15-1 in the league and will play Purdue on senior day today (noon ET on BTN) for a share of their first Big Ten title in 40 years in front of their first-ever sold-out crowd. It is also senior day for IU star Grace Berger and backup big Alyssa Geary. Mackenzie Holmes and Sara Scalia have also been in Bloomington for four years. However, it was confirmed to Assembly Call before the showdown against the Wolverines that both will use their COVID years and play again in 2023-2024. Holmes also reiterated the same to Goodman. Also, Teri Moren was named a potential candidate for national coach of the year and ESPN's College Gameday will head to Iowa City next week for the Big Ten finale between IU and Iowa.
Banner #3 – Comeback falls short for IU at Northwestern
On Monday, IU fell behind by 19 points at halftime but made a furious rally to nearly pull off the improbable. Egged on by a split crowd full of Hoosier alumni in Chicago, Indiana came all the way back to tie the contest at 62 before Northwestern hit a game-winning shot in the final few seconds for a 64-62 victory. The Wildcats are having their best season in program history and the environment mimicked the Big Ten and NCAA tourney atmosphere both teams will see throughout the postseason.
Jackson-Davis once again was terrific with 23 points and was the catalyst for the second-half comeback. Hood Schifino and Thompson were the other double figure-scorers with 13 points each.
Afterward, Woodson spoke, Albers had a Minute After, McDermott and Foster wrote columns, Bozich penned Five Takeaways, while Zion Brown put together a Film Session.
Banner #4 – NCAA reveals top 16 seeds in bracket preview
Bracketology has guessed where the Hoosiers would be in March Madness. However, there is no longer a need to estimate what spot IU will get in the NCAA Tournament as the committee revealed on Saturday that Indiana is the first four seed and would be in the Louisville Regional for the Sweet 16 if competition started today.
What this does not say is what teams the Hoosiers might play and where they would go for their first two matchups. That is still left to bracketologists like Inside The Hall's and Assembly Call's own Andy Bottoms. Bottoms as of last Monday had the Hoosiers as a five-seed before the official information was given yesterday. Bottoms had IU going to Albany for the first weekend to play 12-seed Liberty. He correctly predicted Indiana would be in Louisville for the second weekend should they make it that far with Alabama as the one seed in that region.
As for the women, it was put out last week that they were the second number one-seed and would head to Greenville S.C. for the third round. ESPN's Charlie Creme as of Friday had IU facing someone from a play-in game with Ole Miss and Miami opposite them. No matter what, the first two contests will take place in Assembly Hall as the top 16 teams host those.
Banner #5 – Assembly Call and Podcast on the Brink
Both Assembly Call and Inside The Hall had new shows this week. ITH's Podcast on the Brink spoke with Tony Adragna to preview the Illinois game and took questions from readers.
Meanwhile, Assembly Call had postgame episodes following all four men's and women's contests this week. They also had a Banner Friday with Mike DeCourcy and John Gasaway.
Banner #6 – Hoosier Roundup
• No. 8 Women's Swimming and Diving finished runner-up at the Big Ten Championships for their 17th straight top-three conference finish. They were bested by the only team ranked higher than them in the league, No. 6 Ohio State.
• No. 12 Water polo defeated St. Francis and No. 13 Wagner.
• Softball beat South Alabama last Sunday but lost this weekend to four highly ranked teams.
• Men's Tennis swept Southern Indiana in a doubleheader before losing to No. 23 Louisville.
• Baseball lost their first two games this season to an elite Auburn squad.
• Wrestling lost a close match to Michigan.
• Women's tennis lost to Utah.
• Track and Field set a program record in the distance medley relay.
• Women's Golf sits in seventh place at the Reynolds Lake Oconee Invitational following a terrific day from Alexis Florio.
• Football hired a Co-Defensive Coordinator.
• Men's soccer released its spring exhibition schedule.
Thanks for your continued support for The Assembly Call and Inside the Hall. We'll be back next weekend with a new roundup.
Now go enjoy yourself a 6-banner Sunday.
Aaron (Ari) Shifron
Assembly Call Contributor
Filed to: