No place like home: Indiana's role players continue road struggles at Northwestern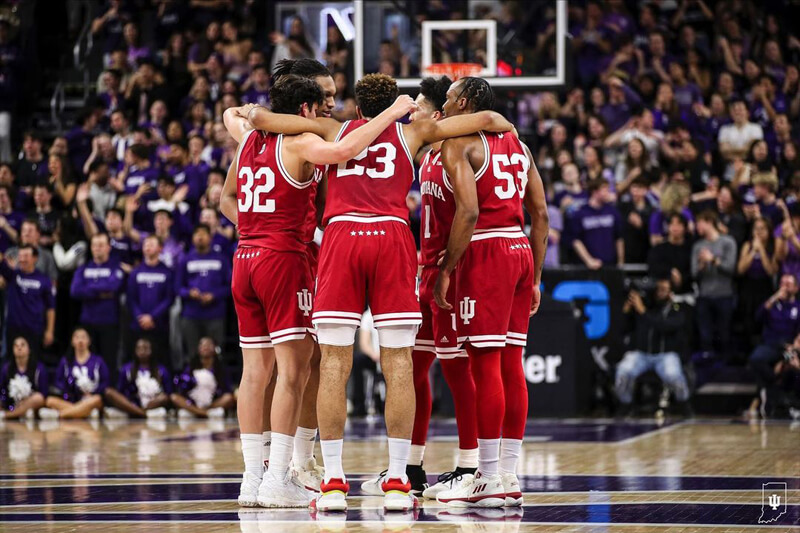 There's no place like home. For Indiana that isn't a cliche, it's reality.
The Hoosiers are 3-5 away from Bloomington in the Big Ten this season. And while it's a commonality for teams to have better records at home, Indiana looks like two different teams based on its location. And some players look like entirely different players.
In Indiana's heartbreaking 64-62 loss at Northwestern on Wednesday, the Hoosiers lacked production from their role players, again.
Trayce Jackson-Davis and Jalen Hood-Schifino were their usual selves and reliable and combined for 36 points and 14 rebounds. Race Thompson had his best game since returning from his knee injury in January, putting up 13 points and was 4-for-4 from the floor. Other than that, the rest of the roster combined for 13 points and shot 5-for-14.
This issue on the road has been continuous all season long. Against Michigan in a narrow win, Hoosiers not named Jackson-Davis and Hood-Schifino were 3-for-15 from the field and no one scored more than four points.
Against the Wildcats, Malik Reneau made freshman mistakes by picking two fouls and turning the ball over in the heat of IU's attempted comeback. The Miami (FL) native had a +/- of -14. Tamar Bates looked overmatched, hoisting up two ill-advised jumpers and committing a bad turnover. In his second time back at Northwestern since transferring, Miller Kopp looked rattled and uncomfortable. The sharpshooter was 1-of-4 from deep and one miss hitting the side of the backboard. Indiana had just three bench points.
With play like that from guys who continuously play almost 20 minutes a game, it's tough to win.
"Miller (Kopp) had a few open looks, but we missed shots…the first 10 possessions I bet we had five or six turnovers, you can't run offense that way. It's impossible," Woodson said postgame.
Bates's home and away splits are staggering. As his sophomore season comes to a close, it's getting to the point where he should be starting to feel comfortable away from Assembly Hall. There's a maturation that happens for college players around a certain number of games, where you really see them begin to find their role. The former top-30 recruit doesn't seem to be there yet.
Entering the Northwestern game, Bates was averaging 9.5 points on 53.3 percent shooting in home games, but just 4.1 points on 28.8 percent shooting on the road.
On Wednesday, Jackson-Davis, Thompson and Hood-Schifino were able to carry the load enough in the second half to get the Hoosiers back in the game. But the rough start, which induced a 19-point Northwestern lead at the break, was too much to overcome. The Hoosiers only had 20 points at the half.
But the game plan never changed defensively for the Wildcats. Indiana's All-American was shown the same double teams in the second half as he did in the first. But in the first, Indiana just didn't make open looks and the role players didn't make enough plays to help their star.
"I think that's on everybody. I think it just comes with us slowing down a little bit, taking our time," Thompson said postgame. "We panicked a little bit. Had a couple of turnovers to start and that's never the way you want to start the game."
If Indiana is to win games on the road in the Big Ten, or in tournament play, role players must step up.
Wednesday night's display was more evidence of why Indiana continues to miss Xavier Johnson, who has been out since mid-December with a broken foot.
Johnson's spark is critical in games like Wednesday's. Not only does the addition of the senior provide more minutes and depth, but he also provides experience. A lot of pressure has been put on JHS and TJD in recent weeks and that pressure can be alleviated with Johnson on the floor. His defense and ability to get downhill will help IU on both ends.
Even though Indiana has won eight out of its last 10, don't forget about 'X' and the areas where IU misses him. But, with his timetable for return still uncertain, the Hoosiers will continue to look to others to help with the offensive load.
Indiana proved it's a good enough team to win games they shouldn't. Grinding out a win at Michigan where the Hoosiers didn't play their best was an example of that. Coming back from down 19 at half at Northwestern in a hostile environment to tie the game with less than a minute to play shows a lot of toughness. But sometimes, toughness isn't enough, you just need more from everyone. Indiana needed more from its role players against Northwestern and will continue to need more out of them.
(Photo credit: IU Athletics)
Filed to: Malik Reneau, Miller Kopp, Tamar Bates