The Minute After: Northwestern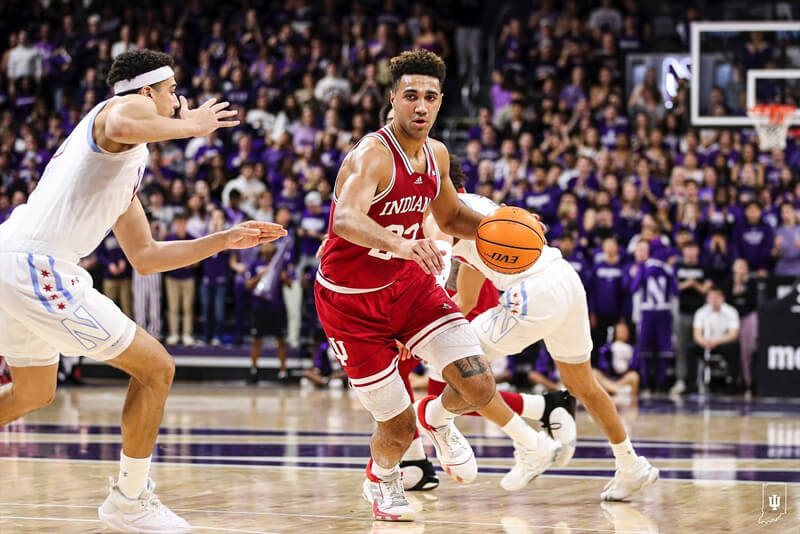 Editor's note: Ryan is out on paternity leave. Justin Albers will be writing The Minute After in his absence.
Thoughts on a 64-62 loss to the Wildcats:
If you went to bed at halftime, you missed another wild Indiana finish.
After hard-fought wins over Purdue, Rutgers and Michigan, the Hoosiers nearly pulled off another last-second win at Northwestern on Wednesday night.
Despite a historically poor first-half stretch and a 21-point deficit, the Hoosiers tied the game at 62-all with 28 seconds remaining after Miller Kopp stole the inbounds pass and Trayce-Jackson Davis made a layup.
But Northwestern's Boo Buie made a floater with less than two seconds left and Jalen Hood-Schifino's half-court heave hit the rim and bounced off as time expired to seal the 64-62 win for Northwestern – which earned sole possession of second place in the Big Ten with the victory.
Buie was huge again for the Wildcats, and seemed to have an answer every time Indiana made a run. He made five tough floaters in the second half alone and finished with 21 points, six rebounds and four assists. Buie had 26 points in Northwestern's 84-83 win at Indiana earlier this season.
Say this for the Hoosiers: While they haven't always played beautiful basketball, nobody can question the resilience of this team.
After taking an early 12-11 lead, the Hoosiers seemingly couldn't do anything right for the rest of the first half. Over the last 13:03 of the half Indiana:
– Had two technical fouls.
– Missed two front end of 1-and-1s.
– Had only one field goal.
The Hoosiers were outscored 28-8 during that stretch as Northwestern took a 19-point lead into the locker room – and it felt like it should have been worse. Indiana had the same number of turnovers (6) as made field goals in the first half.
Northwestern, one of the best defensive teams in college basketball, had a lot to do with that.
From the very start, Northwestern disrupted Indiana's offense by sending an aggressive double team at Jackson-Davis on every catch, and the Hoosiers struggled to find an answer. The Indiana All-American was loose with the ball and out of rebounding position in ways he rarely is, and when he found open teammates, the shots weren't falling.
Jackson-Davis attempted only three shots and four free throws in the first half, with two turnovers.
But like they have all season, Jackson-Davis and the Hoosiers responded in the second half. They made the Wildcats pay when they doubled by knocking down a few perimeter shots and finding open guys inside for easy baskets – and they turned up the defensive intensity.
Indiana outscored Northwestern 42-25 in the second half, holding the Wildcats to 33 percent shooting (10-of-30) and 20 percent from beyond the arc (3-of-15). But like the first matchup between the two teams, Northwestern's early lead proved to be too much for the Hoosiers to overcome.
Even after the slow start, Jackson-Davis finished with a near triple-double – 23 points, 10 rebounds and 8 assists in 39 minutes.
"You can't spot a team at home 19 and expect to win," Indiana coach Mike Woodson said postgame. "We got off to such a rocky start. I thought we were too pumped and hyped for the game. I just didn't see the comfort starting this ballgame, and it showed. We just couldn't make shots and we were throwing the ball all over the gym."
Like the first matchup against Northwestern, turnovers were a key factor in this one. The Hoosiers turned it over 13 times against a swarming Wildcats' defense, while Northwestern had only four miscues.
But against all odds, this game was there for the taking late in front of a raucous crowd at Welsh-Ryan Arena. Unfortunately for the Hoosiers, Buie and Northwestern made one more play than they did.
Things couldn't have gone worse for the Hoosiers in the first half, and they almost stole a road game against a good team. Even if you don't believe in moral victories, the toughness this Indiana team continues to show bodes well as we head toward March.
(Photo credit: IU Athletics)
Filed to: Northwestern Wildcats