Five takeaways from Indiana's win against Illinois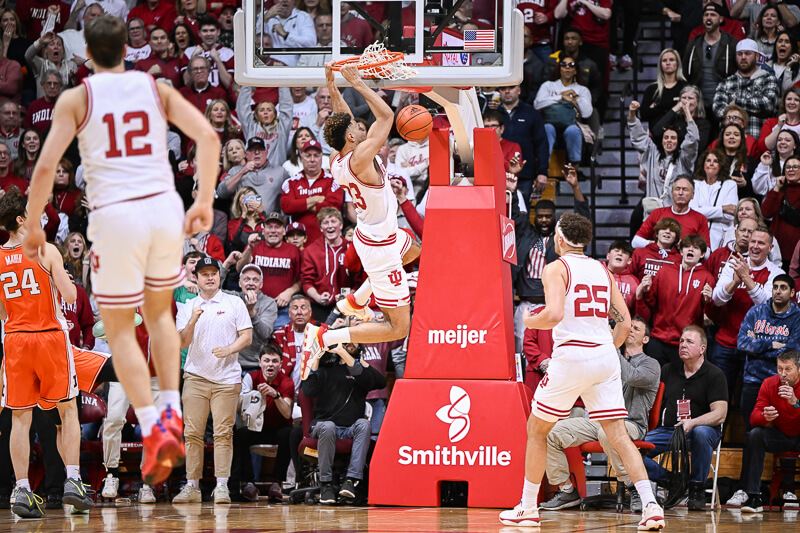 Indiana improved to 19-8 overall and 10-6 in Big Ten play with a 71-68 win against Illinois on Saturday at Assembly Hall.
Here are five takeaways from the victory:
A dominant second half from Trayce Jackson-Davis is pivotal for IU
It wasn't the most efficient performance from Trayce Jackson-Davis, but the senior forward logged a monster second half that was pivotal to Indiana's victory.
Jackson-Davis went 7-for-13 from the field in the second half and grabbed nine rebounds while playing all 20 minutes.
For the game, Jackson-Davis recorded another double-double with 26 points and 12 rebounds and also passed Mike Woodson on the all-time scoring list at Indiana.
"I'm going to probably look at it (the scoring list) more during the end of the year, but I'm just glad that we found a way to get that one," Jackson-Davis said postgame. "They were fighting. They were clawing. They were without one of their best players, and those dudes showed a lot of heart here. Just finding a way down the stretch and getting stops when we needed to, it was big for us."
While Jackson-Davis did struggle with the pressure Illinois brought at times – he committed five turnovers – his dunk with just over six seconds left pushed the Indiana lead to three.
In two games against Illinois this season, Jackson-Davis averaged 30.5 points, 10.5 rebounds, four blocked shots and 3.5 assists.
Jalen Hood-Schifino plays through struggles and shines late
Saturday's game was a roller coaster for Jalen Hood-Schifino.
The freshman guard was just 1-for-8 in the first half and his shot selection was often questionable.
After a stepback jumper with 8:10 remaining and a 3-pointer with 6:54 to go, it looked like Hood-Schifino had finally found his footing offensively.
But a costly bad pass turnover from Hood-Schifino gave Coleman Hawkins a dunk and Illinois the lead at 67-65 with 1:28 remaining.
Hood-Schifino, though, had an answer. On IU's next possession, his jump shot with 1:17 to go tied the game at 67. And he then hit a pair of free throws to give Indiana the lead for good with 30 seconds remaining.
"He made every right play except for throwing the ball away out of the time-out," Mike Woodson said postgame. "As a coach, that kind of tears you up. But I thought he made winning plays coming down the stretch to help us win it."
Indiana buckles down defensively in the second half
Indiana had no answer for Matthew Mayer in the first half.
The Baylor transfer was on a roll offensively and scored 16 points on 6-for-10 shooting from the field.
Woodson admitted postgame that he gave Miller Kopp an earful at halftime for his defense on Mayer in the first 20 minutes.
"I thought that they were the most aggressive team the first half," Woodson said. "And we were just playing on our heels. A ball was just floating around the perimeter easily. Guys were just freelancing, beating us off the drive. It wasn't pretty basketball the first half I didn't think."
To Indiana's credit, the Hoosiers were more aggressive and cohesive defensively in the second half.
Mayer made only one field goal in the second half and it was a major reason Illinois couldn't generate any offense. Without Terrence Shannon Jr. (concussion protocol) available, Illinois didn't have many options other than Mayer. The Illini scored just 30 points after halftime and shot only 9-for-26 from the field.
"I thought the second half, especially as the game started to get tighter, our defense started to pick up and eliminated a lot of the threes and the good looks that they had the first half," Woodson said.
Kopp bounces back from tough shooting night at Northwestern
Miller Kopp's struggles against Northwestern are well-documented.
Wednesday's performance at Welsh-Ryan Arena was even tougher for Kopp as profanity-laced cheers rained down from the Northwestern students for most of the game.
But Kopp put that performance behind him quickly for a major bounceback on Saturday. The 6-foot-7 senior shot 4-for-5 on 3s and scored 12 points in 31 minutes against Illinois.
Through 16 Big Ten games, Kopp is now 27-for-47 on 3s, which ranks second-best in the league percentage-wise.
"It was just about locking into this game," Kopp explained postgame. "And my teammates needed me and I needed them, and we got it done."
Indiana's bench production continues to underwhelm
After scoring only three points at Northwestern, Indiana's bench wasn't much better on Saturday afternoon in Assembly Hall.
Four players logged minutes off the bench and combined for only four points in 40 minutes.
In his postgame press conference, Woodson acknowledged that he's hoping to get more from his bench as the stretch run of the regular season nears.
"Somehow I've got to get Tamar (Bates) and (Jordan) Geronimo — Malik (Reneau) is playing at a good level," Woodson said. "I've got to get them back in the swing of things because we're going to need guys like that as we continue this journey.
"We've still got a long way to go, and I just don't want to pile up. Trayce is playing damn near the whole game. I think he played 37 tonight. We've got to start scaling him back if we can with Malik and Geronimo giving us some minutes up front."
The reality for this team, however, might be a tighter rotation when Xavier Johnson returns.
While it's true that Reneau has played better of late, Geronimo and Bates have been inconsistent for most of the season. And it's hard to see them playing more frequently in high-stakes games when the calendar turns to March.
Filed to: Illinois Fighting Illini, Jalen Hood-Schifino, Miller Kopp, Trayce Jackson-Davis