Indiana's 83-59 dismantling of Ohio State shows yet another way these Hoosiers can win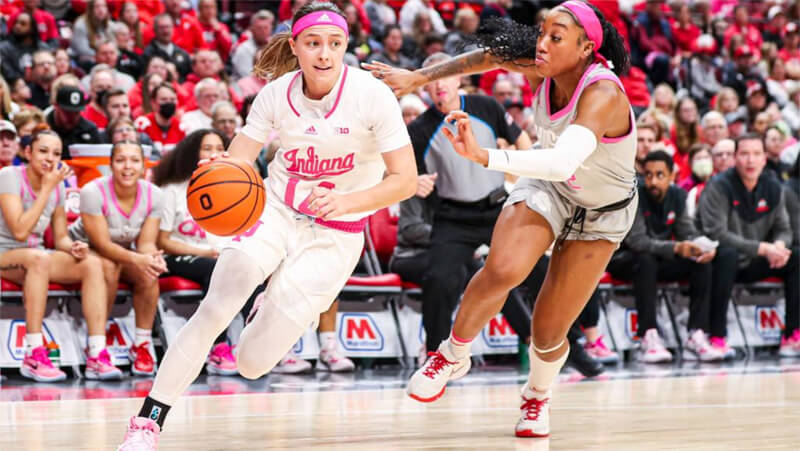 Teri Moren's team is good at basketball. That's not a surprise to anyone. With one of the most efficient post players in the nation, multiple 3-point shooting threats, an indomitable force on defense and a whole-team mentality of "we have more to accomplish", how could they not be?
In some ways, Indiana's games are as predictable as clockwork. With a record of 24-1, on a 12-game win streak and without a loss to any of the eight ranked teams they've faced, the Hoosiers are having unprecedented success, and everyone knows it.
But just how they go about that success isn't as predictable. That's what makes them so good.
The last time Indiana played Ohio State, a third quarter completely focused on the Hoosier offense was the key to a win. Outscoring the Buckeyes 27-4, the Hoosiers won 78-65 as Mackenzie Holmes and Yarden Garzon combined for 46 points.
Holmes is one of the most predictable factors for Indiana; she's averaging 22.1 points per game for sixth best in the country and is second in the country in field goal percentage at 69.1.
In Indiana's 83-59 win over Ohio State Monday, Holmes was indeed the stalwart performer, with a career-high 33 points on 15-of-18 shooting. Her elite ball-handling, footwork and versatility under the basket were on full display in the 32 minutes she played. Her case to be a candidate in the national player of the year conversation only grows stronger.
In a postgame interview on Big Ten Network, Moren praised Holmes' soft hands and elite footwork, calling her a "throwback player". Moren added at the end that she believes Holmes is one of the best post players in the country.
Clearly, Holmes is a key part in every Hoosier win. But, in a way, she's one of the few constants. And that's a good thing.
Of course, the big parts of the game are always there. The Hoosiers' defense consistently plays at the highest level, and their offense consistently shoots at or above 50 percent.
The unpredictability of the Hoosiers comes in who else besides Holmes will have a standout night. Against Iowa, it was Grace Berger. Against Purdue, it was Sydney Parrish. Against Ohio State the first time, it was Yarden Garzon.
Against Ohio State the second time, it was Sara Scalia.
Monday night was Scalia's best performance as a Hoosier, as she recorded season-highs in points, with 24, and 3-pointers, with six. Scalia's proficiency with the ball forced Ohio State to defend her heavily, thus freeing up the floor for her teammates, namely Holmes.
"I have to give credit to a player like Sara, who opens up the floor for all of us," Holmes said postgame. "6-for-8 from the three is insane. And it's hard to double-team someone when you have someone like Sara and Yarden and Sydney out on the perimeter who will make you pay for doing that."
Scalia isn't the only long-range threat on the Hoosier squad. In fact, she's behind both Parrish and Garzon in 3-pointers made and 3-point shooting percentage. Garzon averages 2.24 per game and Parrish is averaging 1.84. Scalia is just below Parrish at 1.68.
Against Ohio State, Garzon and Parrish each just had one 3-pointer, scoring five and three points, respectively. They didn't play at the top of their game, and they didn't need to.
That's the beauty of this Indiana team; there are many scenarios where the Hoosiers can walk away with a dominant win, and they don't always need everyone to play at peak performance levels.
In fact, an argument can be made that the Hoosiers have yet to play a game where every single player played all out. Some wins have brought out the best in the trio of Holmes, Berger and Parrish. Others have included Holmes, Garzon and Parrish. A few have simply been Holmes.
Whether or not the Hoosiers will ever have a game where everyone puts up their best numbers is unknown. But if this season up until now is any indication, they don't need that, by any means, to be successful against just about any opponent.
(Photo credit: IU Athletics)
Filed to: