Miller Kopp's resilience and poise is exactly what Indiana needed against Illinois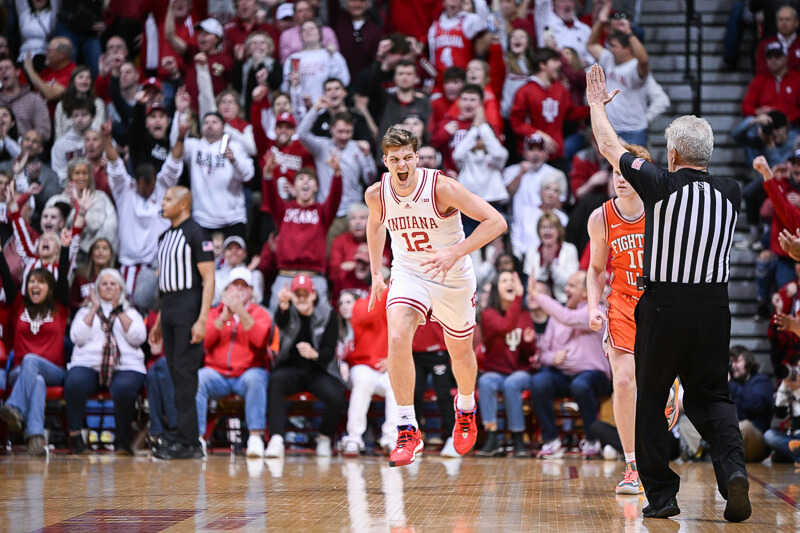 After Jalen Hood-Schifino tied the game at 67-67 with a left elbow jumper, Illinois had the ball with under a minute to go and a chance to take the lead. The Illini's Ty Rodgers drove on the baseline and had it stripped away by Miller Kopp. Kopp corralled it and Indiana responded by taking the lead off of two Hood-Schifino free throws. The Hoosiers never trailed again.
In a game that it led for only 7:31, Indiana prevailed 71-68 over Illinois. And while Kopp's steal was huge, he also lit it up offensively and made the winning plays.
The fifth-year senior had an emotional week. He returned to Evanston, to play his former team Northwestern and had a performance he wishes he could forget. In 26 minutes, Kopp was 1-for-6 from the field and 1-for-4 from deep. One miss hit the side of the backboard. The Houston native looked rattled.
Northwestern's student section rattled off obscenities at their former player. The university's athletic department even released a statement condemning the acts of its fans.
"People forget you're human too…I lost a lot of respect for the university," Kopp said on the radio before the Ilinois game.
The Northwestern situation would have been tough for anyone. The transfer didn't deserve what was coming at him, but he didn't let that shake him into the next game.
"Miller has been around a long time, and that Northwestern scene is not a good scene for him, going back to last season," Woodson said postgame. "The bottom line, he's played well here at home for us. So I expect him to make shots here. He's got the fan base, and he's got everybody in his corner, so it makes it a lot easier for him."
In the win over Illinois, Kopp responded. He finished with 12 points, 4-for-5 shooting from beyond the arc, zero turnovers and that critical steal down the stretch. Kopps first shot of the game was a deep 3-pointer from the top of the key. Swish, Kopp skipped back on defense and clapped his hands. From then on, he knew the day was his.
However, it wasn't all pretty from the fifth-year senior. While he has good size at 6-foot-7, Kopp isn't the most athletic player on the floor. So despite his smart positioning, it can be difficult for him to guard on the ball. As he drew the assignment of guarding Illini sharpshooter Matthew Mayer, Kopp struggled to keep up with him. In the first half, Mayer had four threes and 16 points. Woodson challenged Kopp at the half.
"Miller got an earful, and guys that didn't switch up on him, at halftime — hell, I thought he was going to go for a career-high here the way he was playing," Woodson said. "He was playing extremely well. But second half we kind of closed in on him and took away a lot of the gaps where he was able to work on."
Kopp responded again. In the second half, Mayer was 1-for-7 from the field, with six of his eight points coming from the foul stripe. Woody's conversation with Kopp centered around getting up on Mayer early in the possession and being aware off the ball.
The consistency Kopp has shown in his shot and steady presence on defense is a breath of fresh air for Indiana fans. At times last season, Kopp made some mental errors, struggled defensively and wasn't aggressive in looking for his shot. After the Illinois game, Kopp has now attempted the same amount of 3s as he did all of his first season in the cream and crimson, 108. Last year he made 39 of those. This season, he's already made 50.
Even though the deadeye shooter has been more aggressive this season, his teammates still want him to shoot more.
As Kopp was answering a postgame question about getting involved in the offense early, Trayce Jackson-Davis interrupted him with a smile.
"He doesn't shoot it enough," Jackson-Davis demanded. "I'm so angry if he doesn't shoot it. Every time he touches it I want the ball up. Every single time."
"I know, I know," Kopp replied. "He knows I want to do the best thing."
Kopp probably should be shooting more. As a 46.3 percent 3-point shooter, he should be getting up at least four or five 3s a game. But for him, this season has been all about being comfortable.
Kopp admitted in the offseason that he hadn't been embracing his role his first season and that going into this season, he felt better after some time in Bloomington. It's been clear that wasn't a lie.
When the shots aren't falling, it can be easy to look at the senior's game and question what he provides. But, time and time again like at Minnesota and against Illinois, he shows poise and resilience in the big moments. And that's something you can't teach.
Filed to: Miller Kopp