The Minute After: Illinois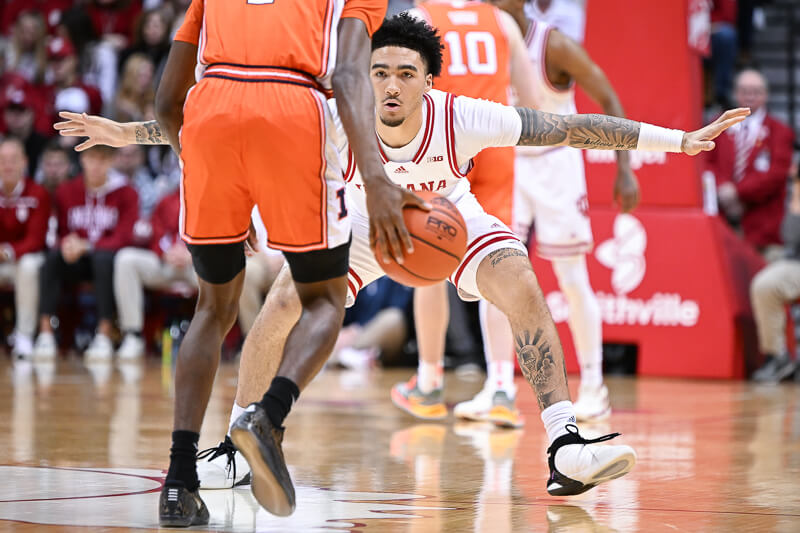 Editor's note: Ryan is out on paternity leave. Justin Albers will be writing The Minute After in his absence.
Thoughts on a 71-68 win against the Illini:
The Hoosiers were loose with the ball in critical moments. They missed 4-of-7 free throws in the second half. And they trailed for more than 23 straight minutes of game time.
All of those things are usually a recipe to be upset at home – and yet, the game was right there for the taking late, and Indiana snatched this one away from Illinois with a 71-68 home win on Saturday afternoon at Assembly Hall.
The Hoosiers pulled out another game you weren't quite sure how they won when the final buzzer sounded. Such is the 2023 Indiana basketball experience. It's certainly not for the faint of heart, but it's always entertaining late with this team.
With the win, the No. 14 Hoosiers (19-8, 10-6) secured sole possession of third place in the Big Ten with four games to play. A loss would have dropped them into a tie for 7th.
"This was a separation game," Indiana coach Mike Woodson said afterward. "Illinois was trying to move up, too, and they played that way. But we made the plays down the home stretch that we needed to make."
This Indiana team has grown accustomed to staying within striking distance until the final few possessions, and then figuring things out from there. That was the case again Saturday, when the Hoosiers seemingly answered every Illinois score with one of their own over the final seven minutes, and had the game tied 65-all with the ball at the 1:31 mark.
But out of a timeout, a careless pass from Jalen Hood-Schifino led to an uncontested dunk from Coleman Hawkins on the other end. The freshman had a short memory, immediately answering with a mid-range jump shot on the other end to tie the game again.
"That's a coach's worst nightmare," Woodson said. "When he was coming back down, I was screaming at him, and he took it upon himself to run a pick-and-roll and go make up for it. Go figure."
After a Miller Kopp steal, Hood-Schifino got himself to the foul line with 30 seconds left and made both to give Indiana the lead, and after a Jayden Epps free throw, Trayce Jackson-Davis dunked it home with six seconds remaining to give Indiana a 71-68 lead.
With no timeouts remaining, Illinois was forced to go the full length of the floor, and not only did Mike Woodson choose not to foul, but the Hoosiers gave up a wide open 3-pointer to RJ Melendez. Fortunately for Indiana, the shot hit the rim and fell harmlessly to the floor. Like they did at Michigan last Saturday, the Hoosiers somehow escaped with a win – and that's ultimately all that matters.
Illinois came into the game with an edge the Hoosiers did not match early. As if avenging their 80-65 home loss to Indiana from earlier this season wasn't enough motivation, the Illini looked like a team that knew their effort had to be at a different level when their leading scorer and best player Terrence Shannon Jr. ruled out on Friday night with a concussion.
Illinois took a 25-23 lead at the 9:10 mark of the first half and wouldn't trail until the 5:41 mark of the second half – a stretch of 23 minutes, 29 seconds. The Illini outplayed the way too casual Hoosiers on both ends for much of the afternoon.
Baylor transfer Matthew Mayer – who struggled in the first matchup with the Hoosiers – looked like a man on a mission in the first half, scoring 16 of his team-high 24 points over the first 20 minutes with four 3-pointers, five rebounds, and two blocked shots. Indiana seemed fortunate to trail by only three heading into the locker room.
Illinois immediately stretched the lead to seven to start the second half, and led by nine two different times, but it would never get any larger than that as the Hoosiers refused to allow the Illini to run away from them.
"We were moving in slow motion," Woodson said. "But we just kept scrapping and scraping."
Indiana hung around primarily by going back to what has been its bread and butter all season – defense and hustle plays. Freshman forward Malik Reneau made two such plays back-to-back when the Hoosiers trailed 56-51 with under seven minutes remaining. The first was an offensive rebound that led to a big 3-pointer from Hood-Schifino, and the second was a steal and pass to Jackson-Davis that quickly evened the score at 56-all.
The Hoosiers held Illinois to 30 second-half points on 9-of-26 shooting, and 0-of-8 from beyond the arc after the Illini had made six 3s in the first 20 minutes. Jackson-Davis, the Big Ten's leading shot blocker, added five more on Saturday, to go with a game-high 26 points, 12 rebounds and three steals.
Indiana also successfully slowed down Mayer, who missed his final five shots and went without a field goal over the final 16 minutes, 30 seconds.
That defensive effort helped the Hoosiers survive their 14 turnovers, four missed free throws, stretches of extremely poor shot selection, and very little production from its bench (eight points). Unlike the first matchup between the two teams when Illinois was content to let Jackson-Davis play one-on-one in space, Brad Underwood's team swarmed the Indiana All-American on Saturday. That strategy was effective for most of the game.
Jackson-Davis and Hood-Schifino turned it over five times apiece – but to the credit of both players – they never stopped coming. They epitomized the resilience of this Indiana team throughout the season.
As did guys like Miller Kopp and Race Thompson. After a tough night in his return to Northwestern on Wednesday night, Kopp scored 12 points on four huge 3-pointers against the Illini, and Thompson was good for the second straight game. The veteran took advantage of a size mismatch against Illinois' Luke Goode late, scoring four huge points straight as Indiana found late success with high-low action.
As for Hood-Schifino, he finished just 5-of-17 from the field, but he made huge plays down the stretch. He scored seven of his 13 points over the final 6:54, including four of Indiana's final six points over the last 77 seconds.
"You're not going to shoot it well all the time, but I always judge players at the end of the game about who they are as a player," Woodson said. "And he made the plays down the stretch that counted. That's what I look at."
With road games against Michigan State and Purdue looming, it was a game the Hoosiers had to have. Earlier in the season, Hood-Schifino likely would've let his past miscues impact his future production. But the freshman has clearly grown up in a big way in the absence of Xavier Johnson – and as a result, the Hoosiers found a way to win, as ugly as it may have been.
That's life in the Big Ten. That's the 2023 Indiana basketball experience.
Filed to: Illinois Fighting Illini