Indiana's loss to Northwestern shows that only 20 minutes of good basketball isn't a winning formula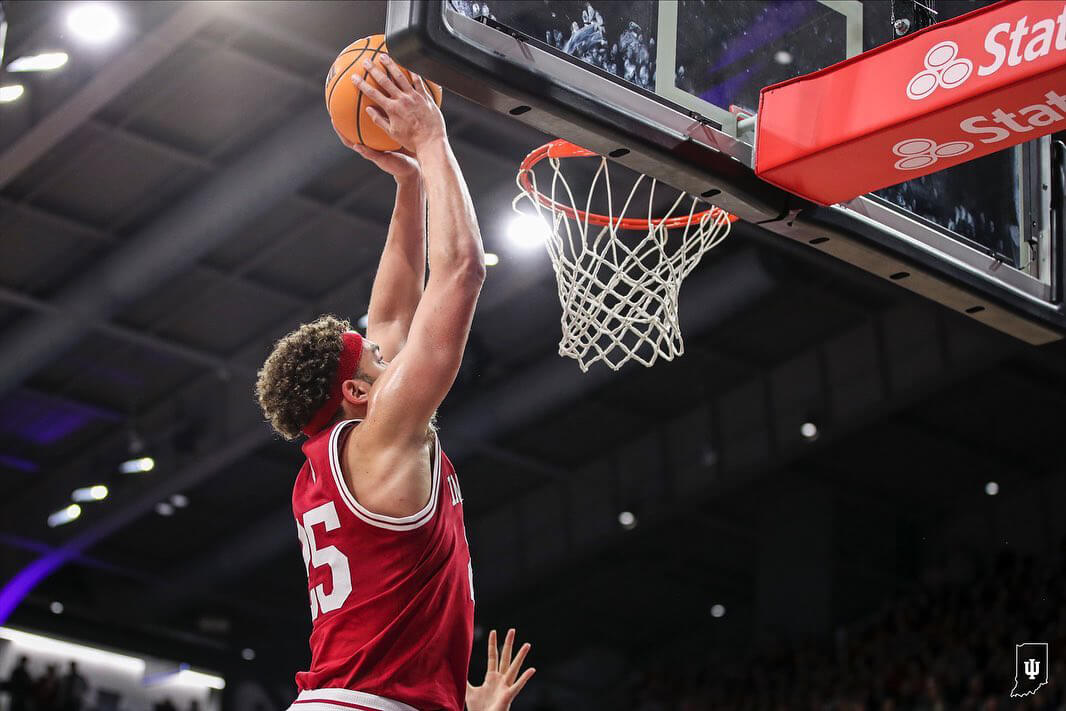 The final heave from Jalen Hood-Schifino sailed across half-court, hitting the rim before bouncing out of bounds. The crowd at Welsh-Ryan Arena erupted as the buzzer went off, securing Northwestern's 64-62 win over Indiana.
Had that final heave gone in, it would have been the perfect way to close out a gritty, impressive second half. But like so many things Wednesday night, it didn't go Indiana's way. With the loss, the Hoosiers are 18-8 overall and 9-6 in Big Ten play. Northwestern took sole possession of second place in the Big Ten standings, bumping the Hoosiers down to third. They're now just a game ahead of Illinois in the loss column and the Illini come to Bloomington on Saturday.
"To be able to get back in it and have a shot at the end says a lot about the character of our ballclub, but you can't do that on the road," Mike Woodson said postgame. "These teams are too good in the Big Ten."
Indiana's second-half performance was one of their most intense, determined efforts in recent weeks. Led by Trayce Jackson-Davis' 18 points, the Hoosiers outscored the Wildcats 42-25 to come back from a 19-point halftime deficit.
"We just kind of slowed down a little bit," Race Thompson said. "(We) saw it on the film and just took our time a little bit more."
Jackson-Davis was effectively shut down for the majority of the first half, scoring only five points, but surged into the second half with a clear goal: to lead his team as he had so many times before. Whether he was facilitating plays, heaving the ball cross-court to an open teammate or driving into the rim himself, Jackson-Davis was the force behind the Hoosiers.
He finished with 23 points, 10 rebounds and eight assists, coming close to achieving his second triple-double of his career, and the season.
Jackson-Davis wasn't completely alone, though, as Thompson also came into the second half with increased intensity to score nine of his 13 total points. Thompson played his most efficient minutes since returning from injury in January, posing a real threat in the paint.
And yet, those performances, and Indiana's moxie, wasn't enough. Because the fact of the matter is, no team can play good basketball for 20 minutes and expect to walk away with a win. Especially on the road, especially in the Big Ten and especially in February.
"You can't spot a team at home 19 and expect to win all the time," Woodson said. "I thought we fought hard the second half to get back in it, so I applaud our team. But we just, we got off to such a rocky start."
Even in their better half of the game, the Hoosiers still struggled continuously with turnovers and missed opportunities. Seven of their 13 turnovers came in the second half, with perhaps the most egregious coming when Hood-Schifino tried to lob a pass inside to Jackson-Davis but ended up hitting the edge of the backboard with 1:11 left.
Grittiness may have defined the second half, but bad passes, poor shot selection and up-and-down energy defined the entire game.
"I just didn't see the comfort starting this ball game," Woodson said. "That showed. (We) couldn't make shots and we were throwing the ball all over the gym."
Indiana looked rattled and low-energy from the jump, turning the ball over on each of its first two possessions. Jackson-Davis was double or triple-teamed every time he had the ball, and no one else stepped up to take, or make, shots.
"Honestly, it's my fault," Jackson-Davis said. "I wasn't ready to play in the first half. I didn't get my teammates ready. Being a leader on this team, I gotta be up, I gotta be ready to go and I wasn't."
The Hoosiers also had no answer for most of Northwestern's offense, which took advantage of turnovers and Indiana's inability to make shots, running plays through Boo Buie and Chase Audige. Both finished the first half with 11 points, and Indiana couldn't adjust in-game on either end to slow them down.
"The first 10 possessions I bet we had five, six turnovers," Woodson said. "You can't run offense that way, it's impossible. You're just giving it back to the other team, and they were scoring. We weren't getting stops."
Woodson only played eight players Wednesday, a strategy similar to his against Michigan where he used only seven players. Michigan was another game in which Indiana struggled most of the time, coming alive at the end to pull out a narrow victory.
Both games against Michigan and Northwestern — while ending differently — displayed a key issue for the Hoosiers: they have difficulty playing a full 40 minutes of basketball. Sometimes, certain players taking charge for 20 minutes is enough to win a game. Just a few defensive stops can be crucial and lead to wins. But that can't, and shouldn't, be the case in every game.
Indiana is an NCAA tournament team with a resume full of positives. But with under one month to go until the tournament begins, the Hoosiers need to figure out how to play competitive, high-level basketball for more than just 20 minutes if they want to have more than a short stay in the madness.
(Photo credit: IU Athletics)
Filed to: Northwestern Wildcats