"It's about time I believe in myself": Chloe Moore-McNeil continues to prove herself as one of the integral parts of Indiana's record-setting team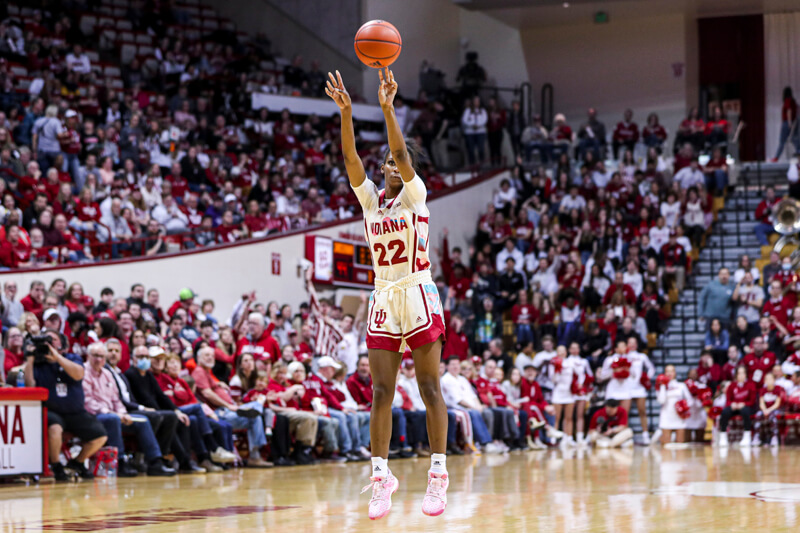 Chloe Moore-McNeil is playing on a team full of superstars. Mackenzie Holmes is a national player of the year candidate. Grace Berger is known for her stoicism, playmaking and midrange shot. Multiple other players consistently make headlines for various achievements and awards.
But without Moore-McNeil, that team full of superstars wouldn't have a program-high 25 wins. They wouldn't be 15-0 at home, 9-0 against ranked opponents or on a 13-game winning streak.
Because Moore-McNeil is a star too, shining just as bright. She just might be one that's a little smaller, or a little farther away than all the rest.
She's flown under the radar throughout her career as a Hoosier, and while emerging as a routine starter and stalwart defender this season, she still goes relatively unrecognized. Moore-McNeil plays with an energy similar to Berger; laser-focused on her job and barely cracking a smile, even when she makes back-to-back 3-pointers.
In Indiana's 68-52 victory over No. 12 Michigan Thursday night at Simon Skjodt Assembly Hall, Moore-McNeil was the unsung hero of the game — as she has been throughout the entire season. Tasked with guarding Michigan's Leigha Brown, she flew around the court and played aggressively in every second of the 34 minutes she played.
"She just continues to be such a high-level, elite defender for us," Teri Moren said postgame. "Really proud of the job that she did."
Brown, who entered averaging 17.9 points per game, scored only nine against the Hoosiers. The Wolverines tallied 25 points fewer than their season average of 77 points per game. Indiana's defense ultimately won the game, and Moore-McNeil was the driving force behind it.
But one year ago, that wouldn't have been the case. Moore-McNeil has grown in every single aspect of her game, shifting from a bench player who had good — but not great — minutes to a player that can do everything required of her and more.
Even in preseason talks, everyone said Moore-McNeil would be the one to watch out for. She'd shown flashes of her defensive abilities in guarding players like Caitlin Clark in the postseason, but still had lots to improve upon.
Fast forward to this season, and Moore-McNeil is matching up against the best offensive performer on each opposing team. She's bringing the ball up the court, calling out plays, jumping up for blocks and lunging for steals, all without batting an eye.
"I think my growth has come from a mental standpoint, being confident in myself," Moore-McNeil said. "My teammates, my coaching staff, they believe in me and I think it's about time that I believe in myself."
Sometimes, that confidence doesn't always manifest in the final statistics. That's one of the reasons why she can go largely unnoticed by the casual viewer. But Thursday night, it did. Moore-McNeil finished the night second in scoring with 13 points, behind Holmes' 27 points, while also grabbing four rebounds to go along with three assists and three steals.
Moore-McNeil also led both teams in 3-pointers, shooting 3-of-5 from deep. Two of her long-range shots came in the third quarter in back-to-back possessions, propelling Indiana's lead to 20. And yet, you wouldn't have known that just by watching her face.
As soon as the second shot went in, Hoosier fans erupted. Fans, players and coaches were all on their feet, hands in the air. Where was Moore-McNeil? Running to get set up for the next possession, not even a smile on her face.
She's not a flashy or loud player, and she doesn't need to be.
"She's not one of the people that are constantly talking, but when she has something to say everyone listens because we know it's going to be something important," Holmes said. "Everyone respects her and knows that when Chloe's saying something, we gotta listen and follow suit."
Moore-McNeil, while always having the respect and trust of her teammates and coaches, has finally begun to earn that from everyone else — and it's been a long time coming. But in a way, that's one of the beautiful things about this Indiana team.
So many good things happen every time the Hoosiers take the court that it's almost impossible to capture all of them every time. And while Moore-McNeil has flown under the radar for so long, so too have the Hoosiers as a whole.
Now, the entire country is taking notice of both.
(Photo credit: IU Athletics)
Filed to: