Five takeaways from Indiana's loss against Northwestern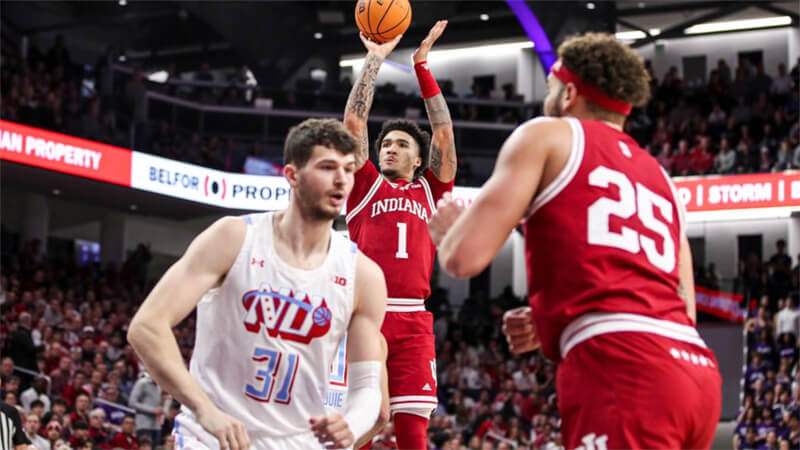 Indiana fell to 18-8 overall and 9-6 in Big Ten play with a 64-62 loss against Northwestern on Wednesday night at Welsh-Ryan Arena.
Here are five takeaways from the loss:
Indiana's first-half defense was porous
It was a rough opening 20 minutes for Indiana defensively against Northwestern.
The Wildcats, for the most part, got what they wanted against the Hoosiers. Chase Audige, known as one of the streakier shooting guards in the league, got comfortable early as Indiana went under screens and paid for it.
But it wasn't just Audige that had open looks. Indiana's shot contests weren't great in the first half and Northwestern was getting a plethora of open looks from the perimeter. The Wildcats attempted 18 3-pointers in the first half and most of them were good looks. Fortunately for the Hoosiers, only five of the perimeter attempts went down.
By halftime, Northwestern had amassed 39 points on 1.27 points per possession. The Wildcats had five dunks or layups and got to the line 12 times, making every attempt.
While Indiana also did a good job of getting to the line in the first half, its inability to defend without fouling continues to be a major problem. Through 15 conference games, Indiana is now 11th in opponent free throw rate (FTA/FGA) at 30.6 percent.
Race Thompson shines in 25 minutes
After missing Saturday's win at Michigan for what Indiana called precautionary reasons, Race Thompson was back in the starting lineup against Northwestern.
And he delivered his best performance since returning from a knee injury that forced him to miss four games in January.
Thompson, who is now in his sixth season in Bloomington, shot 4-for-4 from the field and 5-for-6 from the free throw line to finish with 15 points. With Thompson on the floor, Indiana was +15, easily the highest mark on the roster.
Most encouraging about the performance, though, was how Thompson was moving and the number of minutes he was able to log.
Thompson played 25 minutes in the narrow loss and looked much closer to 100 percent than he has in weeks.
While it might not be realistic for Thompson to play more minutes than he did on Wednesday consistently, his performance was a step in the right direction for an Indiana team searching for consistency outside of Trayce Jackson-Davis and Jalen Hood-Schifino.
Indiana showed resilience by tying the game in the final minute
This group of Hoosiers has far bigger goals than moral victories, but certainly deserves credit for the resilience shown on Wednesday.
Indiana trailed by as many as 21 in the first half and could have easily folded when Robbie Beran answered a mini IU run to start the second half with a 3-pointer that pushed the margin back to 18 with 17:45 to play.
The Hoosiers didn't quit, though.
Indiana was far more connected defensively in the second half and strung together stops. Northwestern's offensive output in the second half was just 25 points.
And offensively, the Hoosiers were more comfortable handling Northwestern's doubling of the post. On many occasions, Indiana made the Wildcats pay with 3-pointers or easy looks at the rim.
Boo Buie's shot with just over two seconds left ultimately won the game, but Indiana's fight and adjustments on both ends were commendable.
Another dominant stat line from Trayce Jackson-Davis
It was a slow start from Trayce Jackson-Davis on Wednesday, but his second half showed why he's a first team All-American.
Jackson-Davis looked a step slow in the first half as Northwestern blitzed him in the post with double teams. By halftime, Jackson-Davis had only taken three shots and had committed two turnovers.
The second half, however, brought a dominant TJD.
He was an ultra-efficient 6-for-8 from the field in the second half, hit six of his seven free throw attempts and scored 18 points. More impressively, Jackson-Davis had six second-half assists as he effectively worked a two-man game with Thompson and found shooters on the perimeter.
By the final buzzer, Jackson-Davis amassed 23 points, 10 rebounds, eight assists and two blocked shots in 39 minutes.
Jackson-Davis continues to play a staggering number of minutes in conference play. Through 15 games, he's playing 92.7 percent of available minutes, which ranks second in the conference behind Penn State's Jalen Pickett. In previous seasons, Jackson-Davis has never played more than 84.2 percent of available minutes in league play.
Miller Kopp's struggles against Northwestern continue
In his second return to Evanston since transferring to Indiana in the spring of 2021, Miller Kopp again struggled against his former team.
As the Northwestern students shouted profanities at Kopp for most of the evening, he shot just 1-for-6 from the field and scored only three points.
In three games against Northwestern, Kopp has scored a total of 11 points on 3-for-15 shooting from the field.
Kopp, of course, continues to be a vital part of this Indiana team.
While his scoring numbers are modest, his defense is underrated by most and he's fourth in the Big Ten in 3-point shooting percentage at 44.2.
(Photo credit: IU Athletics)
Filed to: Northwestern Wildcats