6-Banner Sunday: Hoosiers fall at Iowa and lose Race Thompson indefinitely with leg injury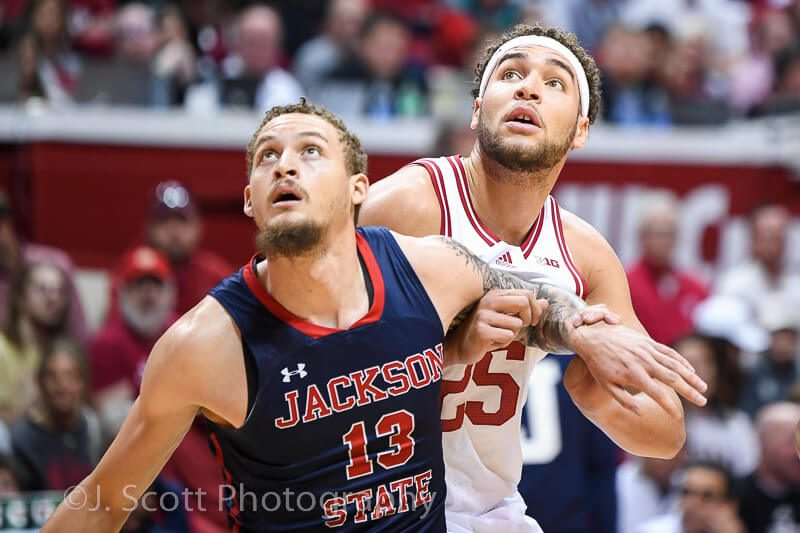 6-Banner Sunday is Inside the Hall's weekly newsletter in partnership with The Assembly Call. More than 9,000 Indiana fans receive the newsletter each week. In addition to appearing each week on the site, you can also opt to receive 6-Banner Sunday by email. A form to subscribe via email is available at the bottom of this week's 6-Banner Sunday.
Welcome to another edition of 6-Banner Sunday, a joint production between The Assembly Call and Inside the Hall, and presented by our friends at Trueblood Real Estate, where we highlight the five most essential IU basketball stories of the past week, plus take a look at how the other IU sports programs are doing.
IU returned to action Thursday in Iowa City. Carver-Hawkeye Arena went from a place of celebration for the Hoosiers early to a house of horrors by the end for multiple reasons as Indiana lost more than just a game Thursday night.
In other news, NIL took in a large sum of money, two of IU's current stars were honored, Assembly Call had its normal shows, and former Hoosiers are playing professional basketball. We will as usual conclude with a look at how other Indiana sports are doing led by a nail-biting victory for women's basketball.
In brief headlines, Mike Woodson had his weekly radio show and Inside the Hall broke down IU's scholarship athletes during nonconference play.
• Hoosiers collapse against Iowa after Race Thompson injury
• IU raises over $1 million for NIL securing matching gift from anonymous donor
• Trayce Jackson-Davis and Mackenzie Holmes named to midseason Wooden Award watch list
• AC Postgame and Doing The Work
• Hoosiers in the NBA
• Hoosier Roundup
Looking for tickets to upcoming Indiana games? Vivid Seats has you covered. This week Indiana hosts Northwestern on Sunday and Wisconsin next Saturday. The Hoosiers also travel to Penn State on Wednesday. Vivid Seats is a full-service provider – with an industry-leading customer service team, reachable by phone or online during extended business hours. (These links are Inside The Hall affiliate links, so a commission will be paid to ITH if you click and make a ticket purchase.)
Banner #1 – Hoosiers collapse against Iowa after Race Thompson injury
A problem that has happened far too often against the Hawkeyes recently reemerged. Several times in the last few seasons IU has jumped out to a huge lead against Iowa only to let them back into the game and lose eventually. This contest took that problem to the extreme as Indiana jumped out to a 21-point advantage early and still managed to come out on the wrong end of the scoreboard. The final score was 91-89 as IU fell to 1-2 in league play and 10-4 overall. The Hoosiers also built a six-point lead into the final media timeout before going cold in defeat.
Trayce Jackson-Davis and Jalen Hood-Schifino had terrific nights with 30 and 21 points respectively. Jackson-Davis was especially impressive while battling a bad back and was grimacing at times throughout the game. However, it was a struggle for the rest of the squad, and a team that prides itself on defense could not contain a high-powered Hawkeye offense.
The worst news of the night though was the potentially serious leg injury to Race Thompson who IU announced Saturday is out indefinitely. Thompson joins Xavier Johnson who is sidelined for an extended period as Jackson-Davis battles through his bad back. Plenty of questions about this team's ceiling are now relevant with two starters not playing at all and a third hobbled.
The team looks to rebound against Northwestern today at noon on FS1 in Assembly Hall.
Afterward, Jackson Davis and Woodson spoke, Ryan Corazza had his Minute After and Film Session, Amanda Foster and William McDermott wrote columns, while Alex Bozich penned Five Takeaways.
Banner #2 – IU raises over $1 million for NIL securing matching gift from anonymous donor
NIL Dollars continue to roll in for Hoosiers For Good and Hoosiers Connect. The goal of these organizations was to raise $1 million for Name, Image, and Likeness by the end of the year and it was announced they did much better than that.
As a result of the robust fundraising over the final six weeks of 2022, the previously announced matching donation from an anonymous donor kicked in, further upping the total.
Banner #3 – Trayce Jackson-Davis and Mackenzie Holmes named to midseason Wooden Award watch list
IU has arguably the two best centers in the country in Jackson-Davis for the men's team and Mackenzie Holmes on the women's side. Both are the stars that stir the drink for their respective squads with their dominant play in the post. Also, each one is the leading scorer for their team and they shoot well over 60% from the field for the season. Jackson-Davis is averaging 16.4 points per game while Holmes is even better at 20.9 points per game.
Accordingly, both of these standouts have been named to the Wooden Award midseason top 25 watch list for the best player in college basketball. Holmes also got a more immediate honor by receiving Co-Big Ten player of the week last Monday.
Banner #4 – AC Postgame and Doing The Work
Both Assembly Call and Doing The Work had shows following the games this week. AC Postgame broke down the Iowa contest while DTW did the same for Nebraska.
Banner #5 – Hoosiers in the NBA
IU now has six former players in the NBA in OG Anunoby, Thomas Bryant, Eric Gordon, Romeo Langford, Victor Oladipo, and Noah Vonleh. All but Vonleh have had several strong games lately. However, Anunoby has been the most successful overall averaging roughly 18 points a game this season for the Raptors. Gordon, who has by far the longest professional tenure of any x-Hoosier, is also averaging in double figures for the Rockets as is Bryant for the Lakers. Oladipo is at just under 10 points a game for the Heat while Langford is having his best year as a pro at over six points a contest for the Spurs. Vonleh, meanwhile, continues to struggle to find playing time in the league. He was recently traded from the Celtics to the Spurs and was released and is currently a free agent.
While not playing in America, Devonte Green and Yogi Ferrell are continuing their basketball careers in Sweden and Slovenia.
The women's team at Indiana has no players in the WNBA currently but does have several playing overseas at the moment. Recent grads Aleksa Gulbe and Nicole Cardano-Hillary compete professionally in Spain, while 2011 graduate Jori Davis is in Italy. Also, program greats Tyra Buss and Amanda Cahill are on teams in the European countries of Lithuania and Luxembourg, respectively.
Banner #6 – Hoosier Roundup
• A season-high crowd of over 7,000 watched an instant classic as No. 6 women's basketball pulled out a heart-stopping victory that was decided in overtime. The score was even through regulation but Indiana took over in the extra session and scored all 12 points for a 74-62 victory. The team improved to 3-1 in the conference and 13-1 overall and faces Northwestern in Evanston today at 3 pm on BIG+.
• Football has several very recent players competing at the Senior Bowl. Also, WDRB's Rick Bozich is reporting IU is looking to get out of its upcoming series with Louisville.
• Women's Soccer announced its 2023 recruiting class.
• Wrestling fell to Ohio State.
Thanks for your continued support for The Assembly Call and Inside the Hall. We'll be back next weekend with a new roundup.
Now go enjoy yourself a 6-banner Sunday.
Aaron (Ari) Shifron
Assembly Call Contributor
Filed to: