Five takeaways from Indiana's loss at Iowa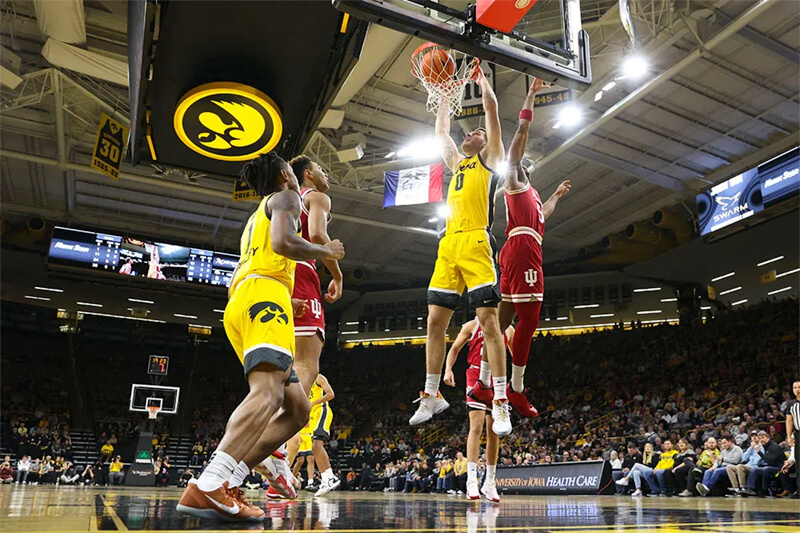 Indiana dropped below .500 in Big Ten play with a 91-89 loss to Iowa on Thursday at Carver-Hawkeye Arena.
Here are five takeaways from the loss against the Hawkeyes:
Injuries aside, there's no sugarcoating this loss
Plenty of things haven't gone right for Indiana this season. Xavier Johnson is currently sidelined indefinitely with a foot injury. Race Thompson left Thursday's game with 4:27 remaining in the first half with an apparent knee injury and didn't return. Trayce Jackson-Davis has been in and out of the lineup with a sore back. Jalen Hood-Schifino has also missed time with a back injury.
But Mike Woodson has been steadfast in saying it's a "next man up" situation when a player gets hurt.
On Thursday, Indiana built a 21-point first-half lead at Carver-Hawkeye Arena. The Hoosiers led by 10 at halftime and by six with under four minutes to go.
Iowa still won the game.
There's no way to sugarcoat this loss. This was a game Indiana had many chances to take control of and didn't. Iowa is headed for a bottom half of the Big Ten finish and represented one of IU's best chances at a road Big Ten victory this season. The Hoosiers had ample opportunities to win and didn't.
Indiana had performances like this a season ago, but this team was supposed to be different. Thursday showed that, right now, this group is much closer to last season's team than a real contender in the Big Ten.
Indiana's defense in the second half was abysmal
Indiana won Big Ten games last season with defense.
Through three league games, the Hoosiers have regressed significantly defensively. Indiana allowed 91 points in Thursday's loss, including 51 points in the second half. The Hawkeyes scored more than 1.45 points per possession after halftime.
Indiana currently has the eighth-best defense in the conference in league play with 1.023 points per possession. The Hoosiers have played two teams headed for bottom half of the league finishes in Iowa and Nebraska. They've also played Rutgers, a team that wins because it can defend, not because it can score.
If the slide defensively continues, Indiana will be hard-pressed to finish above .500 in conference play.
Jalen Hood-Schifino looks capable of running the offense
Thursday's game was freshman Jalen Hood-Schifino's best yet in an IU uniform.
Hood-Schifino logged 37 minutes, scoring 21 points and dishing out nine assists. He was 6-for-13 from the floor and made five of his eight 3-point attempts.
With Hood-Schifino at the helm, Indiana went on the road and scored 89 points, which is more than adequate to win.
It's the type of performance the Hoosiers will need from their best guard with Johnson sidelined for the foreseeable future and no ball-handling depth on the roster.
Free throws, rebounding problematic in loss
As well as Indiana played offensively, the Hoosiers had a rough night from the free throw line. IU shot only 17-for-26 from the stripe, which was good for just 65.4 percent.
Conversely, Iowa made free throws down the stretch and finished the game 22-for-25 from the line (88 percent). The ability of the Hawkeyes to make free throws late allowed Fran McCaffery to keep fouling in the final 15 seconds. That kept Indiana from getting off a 3-pointer and a chance to tie the game back up.
Rebounding also continues to be a challenge for Indiana. Iowa had four more offensive rebounds than the Hoosiers and four more second chance points.
Through three Big Ten games, Indiana is the fourth-worst defensive rebounding team in the conference. Big Ten opponents are grabbing 31.2 percent of their missed shots against the Hoosiers.
Mike Woodson rips the officiating in postgame and he made some valid points
It's rare that officiating is mentioned in five takeaways, but the egregiousness of some of the decisions made by Courtney Green, Paul Szelc and Larry Scirotto made an impact on Thursday.
Postgame, Mike Woodson was asked about a late-game situation where McCaffery came past halfcourt and near the Indiana bench. McCaffery had already been assessed a technical foul earlier in the game.
"I'm not even going to comment on that. Because that's bull—-. That's what it is. And you can print that," Woodson said. "Because, again, when you can allow coaches to come across halfcourt into your space, that's bulls—-. It is.
… He (the official) did call the tech and he pulled it back, which was bulls—. Guy (McCaffery) should've been thrown out of the godd— game."
It's rare that a coach speaks so openly about officiating, but Woodson's points are valid.
Scirotto was also on the crew that allowed a decisive Ohio State 3-pointer to count against Rutgers that shouldn't have been allowed back on December 8.
Green also called a delay of game technical foul against Jordan Geronimo after he threw the ball to the official after a made Indiana basket which resulted in a free throw for Iowa.
After McCaffery was whistled for a technical foul in the first half for complaining about a call, Indiana was assessed seven more fouls than Iowa the rest of the game.
(Photo credit: Iowa Athletics)
Filed to: Iowa Hawkeyes, Jalen Hood-Schifino